Stepping In 4-Respect is a multi-institution collaboration led by the University of Virginia called "Stepping In: Creating a Culture of Respect and Inclusion." The Stepping In 4-Respect workshops are led by trained Department of Medicine Faculty and Staff.
This new component of our civility efforts is designed to teach faculty and staff the skills needed to step in (be an "upstander") in the moment, with a particular focus on race-, ethnicity- and gender-based incidents. Participation in the Stepping In 4-Respect workshops is part of an IRB-approved prospective quality improvement study to assess change in attitudes and behaviors toward discrimination and harassment in the work and learning environment.
If you would like to sign up for a workshop, please send the name of your division/cohort, a contact person name, and the date and time you are requesting a workshop to Kimberly Dorman.
Leadership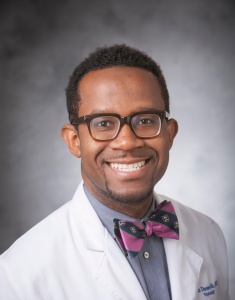 John V. Duronville, MD
Faculty Leader, Stepping In 4-Respect