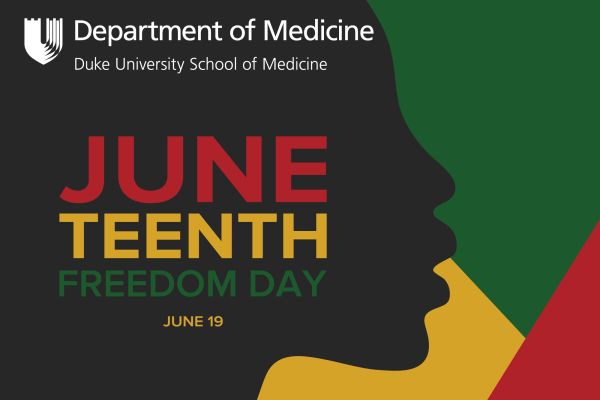 Dear Department of Medicine Community:
As we approach June 19, we want to take a moment to acknowledge and commemorate Juneteenth, a significant day in American history. 
Juneteenth represents the emancipation of enslaved African Americans and serves as a powerful reminder of the ongoing journey towards freedom, justice, and equality.
This date symbolizes the long-overdue recognition of the fundamental human rights and dignity that had been unjustly denied for far too long. It also is a day where we should continue to reflect and act to increase equity and stand for those who are marginalized. 
As we strive to foster an inclusive and equitable environment within our department and institution, it is essential that we take the time to reflect on the significance of this day and its relevance to the ongoing fight against systemic racism and social injustice.
Let us embrace Juneteenth as an opportunity to deepen our understanding, foster empathy, and reinforce our commitment to creating a diverse, inclusive, and equitable environment within our institution and beyond.
Fatima Zahara Syed, MD, MSc, FACP
Associate Professor
Vice Chief for Diversity, Equity, and Inclusion
Duke University School of Medicine
---