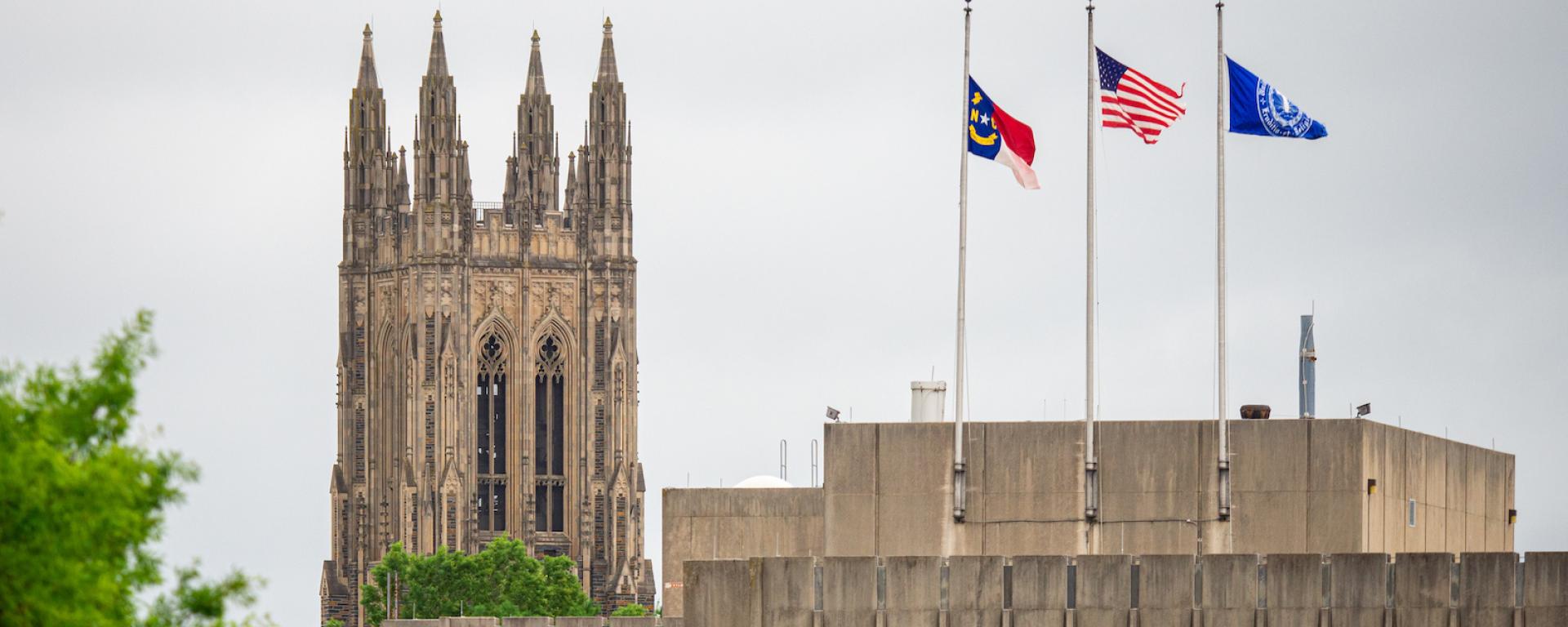 The Department of Medicine is the largest of 23 departments in the Duke University School of Medicine. The Department drives world-class clinical and academic research at Duke and beyond. From G protein-coupled receptors to cancer care to kidney research to lung transplants and aging, our faculty are focused on finding new discoveries and improving patient care.
And they don't do it alone, sequestered away.
They work together, across boundaries and beyond silos.
What truly sets Duke apart is our passion for the three-part mission of academic medicine, our dedication to excellence and our focus on creating partnerships – both within Duke University Medical Center and around the world.
Our Mission
The Duke Department of Medicine strives for excellence and equity by providing compassionate health care for all individuals, creating an inclusive environment to train the next generation of health care providers and leaders, and driving new knowledge to improve the health of our population locally and globally. 
Value driven and data informed
In the Department of Medicine, we make decisions through data. As we look at change and what impact we have on the future of medicine and the future of Duke, we promise to make informed decisions driven by data.
Increase inclusivity
With a growing focus on diversity, inclusion, and anti-racism efforts and activities, we continue our pledge to be one Duke, standing against racism, bias, and hate. 
Our Faculty
It helps that the Department of Medicine has more than 800 of the finest faculty around.
They are national leaders of their societies – Carl Berg in the United Network for Organ Sharing, Virginia Kraus in the Osteoarthritis Research Society International, and Barbara Alexander in the Infectious Disease Society of America.
They are principal investigators in huge national networks that draw on the expertise of Duke colleagues and resources – Bart Haynes in the Center for HIV/AIDS Vaccine Immunology and Immunogen Discovery, Vance Fowler in the Antibactierial Research Leadership Group.
They are the leaders in campus institutes and centers that facilitate team science – the Duke Clinical Research Institute, an internationally known institute that grew from its roots in the department, is the largest academic clinical research organization today.
They are the chiefs and clinical leads and training directors and faculty and house staff in our 12 divisions, waking every day and dedicating themselves to being collaborators par excellence.
Clinical Leadership
Our faculty physicians strive to provide innovative and quality care to all our patients. 
Our doctors have treated more than 1,000 successful heart-transplant patients, and discovered drugs for reducing the pain of gout. They are advancing cancer treatments and palliative medicine and ways to care for older patients. They're finding the best ways to treat people with hepatitis c, and helping others to manage chronic diseases such as diabetes and kidney failure and lupus. They're leading national efforts to write guidelines and educate patient advocates.
Learn more about what each of our 12 divisions is doing to advance diagnosis, treatments and outcomes in that area. Start on the Divisions page.
Or, make an appointment to see a physician today – go straight to DukeHealth.org to find the right physician.
Research Success
The Department of Medicine is an important driver of the research enterprise at Duke University. Our faculty receive more funding, and publish more research articles, compared to other departments in the School of Medicine, while at the same time partnering with investigators across the institution. In U.S. News & World Report's 2023 America's Best Graduate Schools edition, Duke University School of Medicine received top marks in research at No. 6.
Our faculty are also leaders of major institutional centers and grants, including the Duke Clinical Research Institute, Duke Global Health Institute, Duke Human Vaccine Institute, and the Duke Clinical and Translational Science Award.
Innovations in Medical Education
The Department offers competitive training programs that identify and mentor the next generation of physicians and physician-scientists. Whether in the intensive internal medicine residency program, which ranked No. 5 in U.S. News and World Report's 2023 America's Best Graduate Schools edition, or one of 12 fellowship programs, our trainees work side-by-side with our faculty and clinical investigators.
Learn more in the Education and Training section, and see how you can participate in specialized programs for global health, ambulatory care leadership, health care leadership and clinician-investigator pathways.