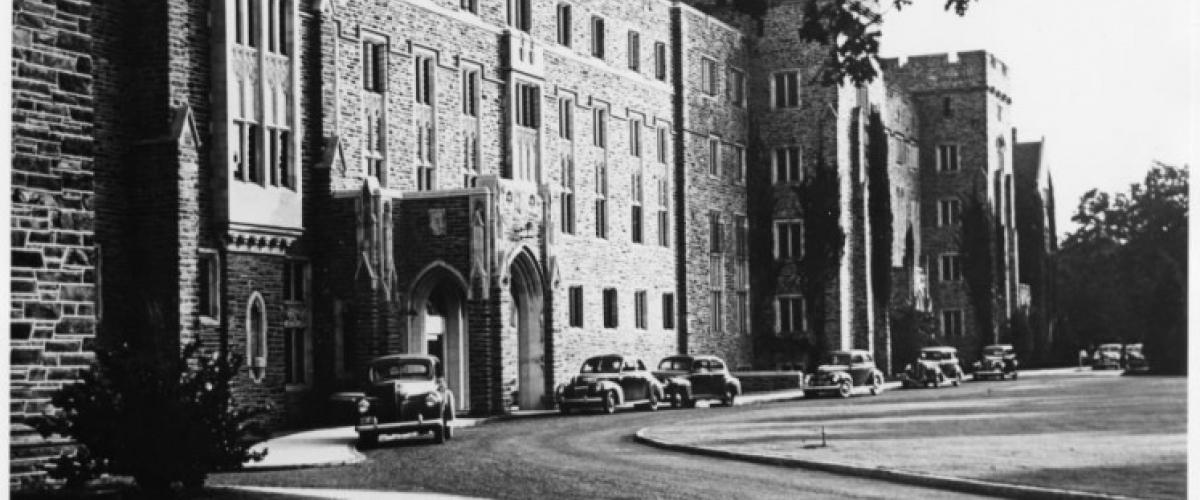 Since 1930, the Department of Medicine has forged vital partnerships to advance research, patient care and medical education at Duke University.
See below for a timeline of highlights from the history of the Department.
Past leaders
Previous chairs of the Department of Medicine:
Harold L. Amoss, 1930 - 1933
Frederick M. Hanes, 1933 - 1946
Eugene A. Stead, Jr., 1947 - 1967
James Wyngaarden, 1967 - 1982
David T. Durack, (Acting), 1982 - 1983
Joseph C. Greenfield, 1983 - 1995
Barton F. Haynes, 1995 - 2003
Pascal J. Goldschmidt, 2003 - 2006
Harvey J. Cohen, (Interim) 2006 - 2007
Harvey J. Cohen, 2007 - 2010
Mary E. Klotman, 2010 - 2017
Joseph Rogers, (Interim) 2017-2018
Kathleen A. Cooney, 2018-current
A list of our past division chiefs is on this page.  
Highlights
1930
The Duke University School of Medicine, Duke University Hospital (pictured above, circa 1940) and Department of Medicine are established. Harold L. Amoss, MD, becomes the first department chair, and in 1931 the first three internal medicine residents begin at Duke.
1937
Duke establishes the nation's first brain tumor program, launching what will become one of the world's foremost cancer programs. Duke will later open the Duke Comprehensive Cancer Center in 1971. In 1992, Duke Comprehensive Cancer Center develops the nation's first outpatient bone-marrow transplantation program. In 2009, the Duke Cancer Institute is created to combine the university's cancer research and patient care programs. In 2012, the seven-story, 267,000-square-foot Duke Cancer Center opens.
1950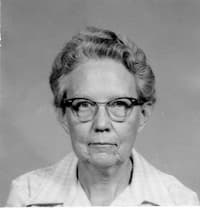 Grace Kerby, MD, serves as the Department of Medicine's first female chief resident in the Internal Medicine Residency Program.  In 1966, Dr. Kerby becomes the first female division chief (Rheumatology). Kerby is also the first woman to be promoted to the rank of professor. Today, 38 percent of medicine faculty are women, and 51 percent of internal medicine residents are women.
1955
Ewald W. Busse, MD, chairman of Psychiatry, establishes the Duke University Center for Aging, the first research center of its kind in the nation. It is the oldest continuously running aging center in the United States and has pioneered long-term studies of health problems among the elderly. Now renamed the Center for the Study of Aging and Human Development, more than 126 faculty and staff conduct age-related research, garnering more than $20 million in annual funding. The center is led by Harvey J. Cohen, MD, former chair of the Department.
1969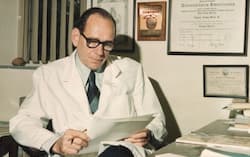 The Duke Databank for Cardiovascular Diseases is established by Eugene Stead, MD, chair of the Department of Medicine, and becomes one of the world's largest repositories of follow-up on patients who have coronary heart disease. Duke Clinical Research Institute, established in 1996, grew out of the databank and is now devoted to conducting innovative, multi-center clinical research, working with more than 14,000 investigators at nearly 37,000 sites in 65 countries, and includes 22 from medicine among its faculty and leaders. Robert M. Califf, MD, served as its first director. DCRI has conducted more than 870 phase I-IV studies and outcomes research projects with a combined enrollment of more than 1.2 million patients, generating more than 7,300 publications in peer-reviewed journals.
1972
Sadye Curry, MD, is the first Black woman to complete post-graduate medical training at Duke in internal medicine and gastroenterology. Dr. Curry was the first Black woman gastroenterologist in the nation.
1973
Robert E. Lefkowitz, MD, professor of medicine (Cardiology), arrives at Duke and mentors and collaborates with more than 200 fellows, residents and students. Lefkowitz is awarded the Nobel Prize in Chemistry 2012 with Brian K. Kobilka of Stanford University School of Medicine, who was a post-doctoral fellow in Lefkowitz's lab in the 1980s. Lefkowitz and Kobilka were recognized for their work on G protein-coupled receptors that catch chemical signals from the outside and transmit their messages into the cell, providing the cell with information about changes occurring within the body.
1974
Wendell F. Rosse, MD, professor of medicine (Hematology), creates the Duke Sickle Cell Center. In 1986, the center incorporated UNC Sickle Cell Center in and became an NIH-funded Comprehensive Center, and in 1991 it incorporated East Carolina University Sickle Cell Center. The Duke Comprehensive Sick Cell Center is committed to a standard of excellence in its comprehensive services to patients with sickle cell disease and other hemoglobinopathies throughout North Carolina. The center has held large research studies, including the Cooperative Study of Sickle Cell Disease and Multicenter Study of Hydroxyurea, which led to the only FDA-approved drug for sickle cell disease. Marilyn Telen, MD, professor of medicine (Hematology) became director in 1996.
1980
The new $94.5-million, 616-bed Duke University Hospital opens bringing the total number of patient beds to more than 1,000 and leading to growth of faculty and the Department.
1982
Eugene Oddone, MD, MHS, professor medicine (General Internal Medicine), received the grant that founded the Durham Center for Health Services Research and Development in Primary Care at the Durham VA Medical Center. HSR&D conducts creative, high-quality health services research to enhance the delivery, quality, and cost-efficiency of primary care for Veterans.
1985
Duke becomes one of two hospitals to conduct the first human clinical trials of AZT, the first drug to offer a substantial improvement in quality of life for AIDS patients. In 2005, Duke is chosen by the National Institutes of Health to lead the $300-million Center for HIV/AIDS Vaccine Immunology (CHAVI), a consortium of universities and academic medical centers dedicated to solving major problems in HIV vaccine development and design, led by Barton Haynes, MD, professor of medicine and former chair of the Department.
1992
Duke performs its first lung transplant and its first heart/lung transplant. The Duke Lung and Heart-Lung Transplant Program is a leading referral center for patients with advanced lung disease and the critically ill. The program is one of the busiest lung transplant programs in the U.S. The waiting times are the shortest in the country and the survival rates consistently beat the national averages. Duke has performed more than 1,000 lung transplants. In 1995, Duke scientists, with colleagues at Princeton University, generated the first clear images of the human lung using magnetic resonance imaging (MRI).
1995
Joanne Wilson, MD, becomes the second woman, and first Black woman, in the Department of Medicine to achieve the rank of full professor. Dr. Wilson was the first woman and first African American to serve as secretary of the American Gastroenterological Association (1997-2003) and she has served on the organization's board. In 1973, Wilson was the second Black woman to graduate from the Duke University School of Medicine.
2000
The $200-million Duke Institute for Genome Sciences and Policy is founded. The Institute represents Duke University's comprehensive response to the broad challenges of the genomic revolution and includes among its faculty 14 members of the Department of Medicine.
2005
Duke University and National University of Singapore establish Duke-NUS Graduate Medical School Singapore, a strategic partnership designed to produce highly trained medical leaders that has led to collaborations with the Department. Thomas Coffman, MD, chief of the Division of Nephrology, leads the Duke-NUS Cardiovascular & Metabolic Disorders Program.
2006
Duke launches the university-wide Global Health Institute to promote education, research, and service in health care to underserved populations locally, regionally and around the world. Among its faculty are 11 members from the Department of Medicine. Duke Global Health Institute opened Western Kenya's first cardiac care unit at Moi Teaching and Referral Hospital in Eldoret in 2013.
2010
Mary E. Klotman, MD, is the first woman to become chair of the Department of Medicine. Dr. Klotman earned her undergraduate and medical degrees at Duke and then completed her internal medicine residency and fellowship in Infectious Diseases in the Department of Medicine. Klotman's research interests include molecular pathogenesis of Human Immunodeficiency Virus (HIV) infection.
2013
Vance Fowler, MD, professor of medicine (Infectious Diseases), is awarded a $72-million grant by the NIH to establish the Antibactierial Research Leadership Group, a national network that will address the problem of antibacterial resistance by developing new research and improving patient care, building on work by the Duke Infection Control Outreach Network.
The Duke Molecular Physiology Institute is formed, and its mission is to use integrated multi-omics and physiologic profiles of chronic human diseases to develop new disease detection strategies, novel therapies and insights into disease mechanisms. The institute will integrate several founding units under one roof to increase synergies among groups that are already highly collaborative. The founding groups include the Sarah W. Stedman Nutrition and Metabolism Center led by Christopher Newgard, PhD, professor of medicine and pharmacology and cancer biology; the Duke Center for Human Genetics led by Elizabeth Hauser, PhD,  and the labs of William Kraus, MD, professor of medicine (Cardiology), and Virginia Kraus, MD, PhD, professor of medicine (Rheumatology).
L. Ebony Boulware, MD, MPH, joins the Department of Medicine as chief of the Division of General Internal Medicine. Dr. Boulware is vice dean for Translational Sciences and in 2015 she became the director of Duke's Clinical and Translational Science Award and the Duke Clinical and Translational Science Institute. In 2019, Boulware was named to the National Academy of Medicine, and she received the Duke Medical Alumni Association's 2020 Distinguished Faculty Award.
Duke Medicine Pavilion, the 608,000-square foot surgical imaging and critical care facility, opens in June. In includes a cardiac center, 160 critical care beds and 18 operating rooms. In photo below, Duke Medicine Pavilion is on the right, with the Duke Cancer Center is on left.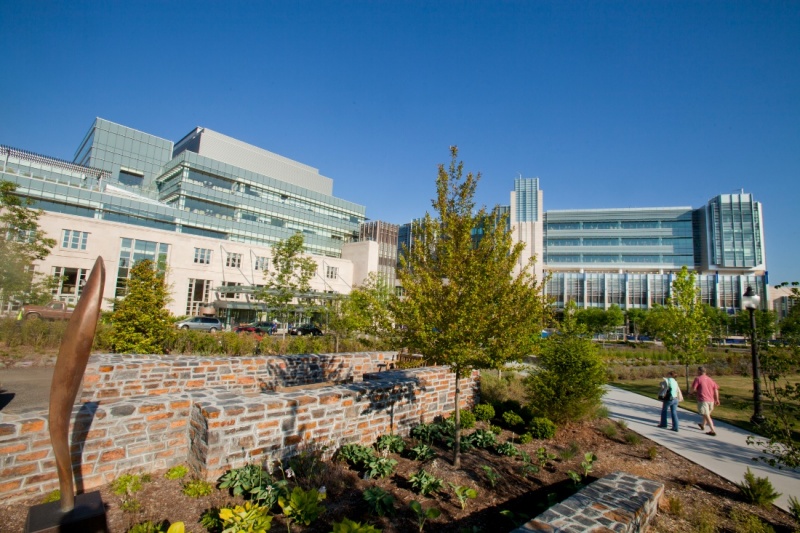 2014
Duke Center for Applied Genomics & Precision Medicine is formed, combining two previous successful enterprises at Duke - The Center for Genomic Medicine and the Duke Center for Personalized and Precision Medicine. The Center is housed in the Department of Medicine and led by Geoff Ginsburg, MD, PhD.
Victor Dzau, MD, James B. Duke Professor of Medicine, leaves his role as Chancellor for Health Affairs and President and CEO of Duke University Health System, to become president of the National Academy of Medicine. In 2015, A. Eugene Washington, MD, became Duke's next Chancellor for Health Affairs and CEO of Duke University Health System. Dr. Washington is an internationally renowned clinical investigator, health-policy scholar and executive.
2015
Duke University launches the Duke-Robert J. Margolis, MD, Center for Health Policy, to develop ideas on health reform and connect the intellectual resources at Duke with policymakers and policy analysts in the public and private sector. The center's inaugural director is Mark McClellan, MD, PhD.
Thomas Coffman, MD, James R. Clapp Professor of Medicine and former chief of the Division of Nephrology, is named Dean of the Duke-NUS Medical School.
Paul Modrich, PhD, professor of biochemistry and Howard Hughes Medical Institute Investigator, receives the 2015 Nobel Prize in Chemistry for his groundbreaking work in the area of DNA repair.
2016
Robert Califf, MD, professor of medicine (Cardiology), is confirmed as the next commissioner of the U.S. Food and Drug Administration. 
2017
Mary Klotman, MD, is named Dean of the Duke University School of Medicine.
Kimberly Johnson, MD, receives an award from the NIH to fund the Duke Center for Research to Advance Healthcare Equity (REACH Equity), which addresses racial and ethnic disparities in health by developing and testing interventions to improve quality of patient-centered care in the clinical encounter.
Laura Svetkey, MD, MHS, vice chair for faculty development and diversity, receives the Diversity Award, one of Duke University's highest honors that recognizes employees who foster collaboration, cooperation and open communication as a team or demonstrate a respect and value for differing backgrounds and points of view.
2018
Kathleen Cooney, MD, is named Chair of the Department of Medicine. A medical oncologist focused in caring for men with prostate cancer, Dr. Cooney is internationally known for her investigations focused on the genetic epidemiology of prostate cancer. She previously was chair of the Department of Internal Medicine at the University of Utah, and a faculty member and division leader at the University of Michigan.