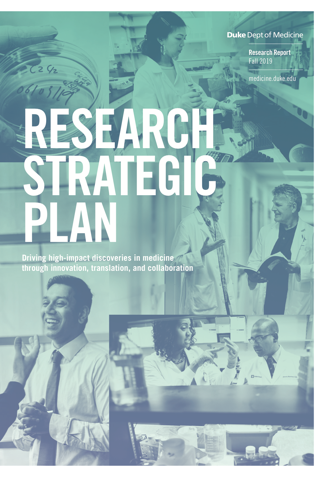 In 2019, the Department of Medicine invested considerable effort and resources to devising a strategic plan that will provide a roadmap for our research mission today and into the future.
This work was guided by a Research Planning Committee that convened throughout the first half of 2019, reviewing the current state of research in the Department, generating recommendations for strengthening our research efforts, and developing the following plan. Many of our faculty and research administrators participated and contributed ideas as part of this process—through interviews, a survey, and robust discussions at the 2019 Research Retreat.
The result of this combined effort is the clear, direct, ambitious, and ultimately achievable research strategic plan that follows.
Strategies
We identified five strategies for achieving our vision.
We will foster the success of our current faculty by enhancing our faculty development, mentoring, and funding programs while also strengthening the pipeline of the next generation of outstanding investigators in Medicine.
Lead: Andrew Alspaugh, MD
Initiatives:
Strengthen faculty career development programs (Xunrong Luo, Matthew Crowley)
Build a diverse and inclusive Department of Medicine (Laura Svetkey, Julius Wilder)
Foster a culture of outstanding mentorship in the Department (Alspaugh, Cathleen Colon-Emeric)
Expand physician-scientist recruitment and programmatic support (Rodger Liddle, Matt Hirschey)
Launch a Department partnership hires program (Xunrong Luo, Chris Holley)
Expand cadre of independent PhD investigators (Scott Palmer, Amy Porter-Tacoronte)
We will enhance our partnerships with other departments, centers, institutes, schools, and programs across Duke University.
Lead:  David Simel, MD, vice chair for veterans affairs
Partners:
Duke Clinical Research Institute
Duke Cancer Institute
Durham VA Medical Center
Duke Molecular Physiology Institute
Pratt School of Engineering and MEDx
Duke Human Vaccine Institute
Duke Global Health Institute
Center for Applied Genomics and Precision Medicine
and others
We will solidify a leadership position in data science by leveraging the clinical disease expertise of our faculty; building our data assets; and improving our data collection, storage and analytics resources.
Lead: Chetan Patel, MD, vice chair for clinical affairs
Initiatives:
Cultivate DOM data assets into open science platform
Augment biostatistics & bioinformatics resources
Create new leadership role for data science
Implement learning health units
Continue implementation of Science Culture and Accountability Plan
We will foster a community and culture of rich scientific investigation by making research easier while achieving the highest levels of research integrity.
Lead: Erica Malkasian
Initiatives:
Provide outstanding grants and administrative support to investigators
Position Duke as a leader in site-based research
Develop next-generation biorepository capabilities
Catalyze innovation and entrepreneurship
Expand international research efforts
We will invest in emerging research content and method areas that leverage our strengths and address important unmet patient-centered medical needs.
Lead: Heather Whitson, MD
Cross-cutting themes:
Immunology, inflammation & fibrosis
Aging, resilience & pain
Energy, obesity & metabolic disease
Methods:
Precision medicine
Population health & disparities research
and more
Contact Us
To learn more about our research strategies and initiatives, contact
Scott Palmer, MD, MHS, vice chair for research