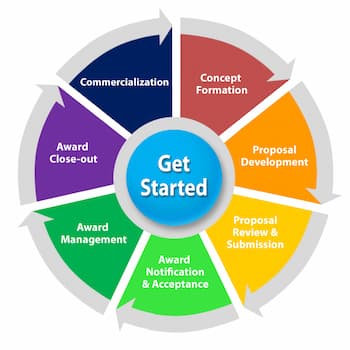 The Principal Investigator (PI) and Grants and Contracts Administrator (GCA) will work to ensure timely and accurate proposal submission.
To provide a high level of customer service, DoM-RA appreciates advance notice.
The PI should submit an intent to submit:
At least 30 business days prior to sponsor submission deadline for standard solicitations, including fellowships.
At least 60 business days prior to sponsor submission deadline for large proposals, such as proposals with subcontracts or international components (e.g. Federal contracts).
4-6 months prior to sponsor submission deadline for complex proposals such as complex center grants, institutional training grants and cooperative agreements
If these above guidelines cannot be met, the GCA will make every effort to submit a proposal but cannot guarantee a sponsor and University compliant proposal or an on-time submission.
All proposals require vetting by Duke's institutional offices prior to submission.  PIs must submit proposal components to their GCA in accordance with the timeline below, and the GCA will then obtain necessary Duke approvals.
Proposal Review Timeline: Federal and Non-Profit Sponsor Grants and Fellowships
 
Intent to Submit (30-60 business days prior to Sponsor Deadline)
See above for guidance
16-30 Business Days Before Sponsor Deadline: Working Period

Ongoing collaboration between DoMRA and PI

15 Business Days Before Sponsor Deadline: Documents to GCA

Final documents encompassing all feedback

10 Business Days Before Sponsor Deadline: Institutional Review 

Proposal routes in SPS for departmental and ORA review

Notes

For proposals submitted electronically, sponsors recommend submitting at least 48 hours before deadline. The PI should check for any errors, especially in era Commons, after submission.
After the final budget is submitted for institutional signature, it will not be possible to make changes in the budget.
If ORA's deadline is missed, the PI and the GCA need to give a justification for the late submission. A pattern of late submissions for any one Division or PI will affect performance metrics for the PI.

 
Submission Process
Once all necessary approvals have been obtained, the following processes may be used for submission to the agencies:
This website provides the Duke community the ability to submit grant proposals electronically to NIH. The Sponsored Projects System (SPS) populates Grants.duke to allow PI to attach supporting documents to the grant proposal and, when ready, to release the proposal for submission.
Once the SPS record is approved from the Office of Research Administration (ORA), the record will be changed to the Awaiting Submission status which allows the PI to release/submit the application to NIH in Grants.duke.
PIs need to submit applications by 5:00 pm Duke local time for receipt by eRA Commons, without any error, to be considered on-time. Grants.duke electronically transmits the proposal to Grants.gov, where it is then transmitted to eRA Commons for NIH receipt.
When a funding opportunity is NOT supported by Grants.duke (e.g. T32 grants, or atypical RFAs), a Grants.gov pdf package will need to be completed and attached to the SPS record Internal Documentation. GCAs will complete the package once all the necessary documents have been received.
ORA will review the application and expects to receive the Research Plan components 2 business days prior to the application due date. Upon receipt of the completed Research Plan components, ORA submits the application through the Grants.gov portal by 5:00 pm Duke local time for receipt at eRA Commons without any errors.
The PI and GCA, along with Duke's Institutional Offices, will review the submission requirements and due dates/times and will follow accordingly. In the case of many Foundations, documents must be uploaded through their website directly, or emailed to a certain individual. The GCA will coordinate submission in the requested format.
Federal Contracts: ORA is responsible for Federal contracts, outgoing and incoming Federal subcontracts/subawards, and shares the Non-Federal contract workload with the Office of Corporate Research Collaborations (OCRC). Send any non-Federal contracts to ORA for task assignment. ORA and the GCA will generate a checklist based on the required documents and any special issues identified in the RFP and work with the PI to complete the application. A PI should never sign any documentation on Duke's behalf without Duke approval.
Industry Contracts: OCRC is responsible for the negotiation of industry sponsored clinical trials, site agreements, material transfer agreements, intellectual property management, and shares the non-Federal contract workload with ORA. Submissions to OCRC should include:

A complete statement of work
A budget if available at the time (the financial practice manager (FPM) can generate the clinical trial budget)
SPS number (if available at the time)
Any relevant IACUC or IRB numbers relating to the proposed research
The name of the Clinical Research Unit, if relevant.

The GCA will work in concert with OCRC to obtain all the necessary Duke approvals and signatures.