Faculty members in the Department of Medicine are leaders in internal medicine and biomedical research. They have earned many accolades from national and international organizations. 
See highlights below, or visit MedicineNews to read the latest news items about faculty awards and honors.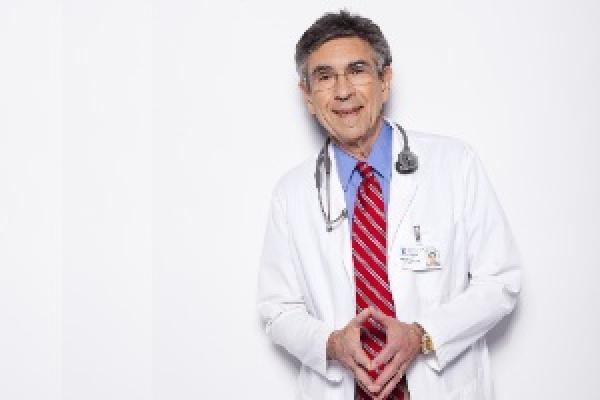 Robert Lefkowitz, Nobel Laureate
In October 2012, Robert Lefkowitz, MD, was honored with the Nobel Prize in Chemistry 2012 for studies of G-protein-coupled receptors.
Association of American Physicians
The Association of American Physicians (AAP) is a nonprofit, professional organization founded in 1885 by seven physicians, including Dr. William Osler, for "the advancement of scientific and practical medicine."
The following Medicine faculty have been inducted into the AAP:
Robert Califf
Thomas Coffman
David D'Alessio
Pamela Douglas
Vance Fowler
Barton Haynes
Michael Hershfield
Virginia Kraus
Rodger Liddle
Kristin Newby
Eric Peterson
David Pisetsky
Wendell Rosse (Emeritus)
Ralph Snyderman (Chancellor emeritus)
Laura Svetkey
J. Brice Weinberg
Nelson Chao
Harvey Jay Cohen
Anna Mae Diehl
Victor Dzau
Joseph Greenfield
Adrian Hernandez
Mary Klotman (Councillor)
Robert Lefkowitz (Kober Medal recipient)
Daniel Mark
John Perfect
Claude Piantadosi
Christopher Plowe
Howard Rockman
Keith Sullivan
Marilyn Telen
Myles Wolf
American Society for Clinical Investigation
The American Society for Clinical Investigation (ASCI) is dedicated to the advancement of research that extends understanding and improves the treatment of human diseases, and members are committed to mentoring future generations of physician-scientists. Because members must be 45 years of age or younger at the time of their election, membership reflects accomplishments by its members relatively early in their careers.
The following Medicine faculty have been inducted into ASCI:
Amy Abernethy
Sana Al-Khatib
Murat Arcasoy
​L. Ebony Boulware
Thomas Coffman
Anna Mae Diehl
Victor Dzau
Vance Fowler
Augustus O. Grant
Barton Haynes
Adrian Hernandez
John Hollingsworth
Thuy Le
Robert Lefkowitz
Daniel Mark
S. Tiong Ong
Manesh Patel
Claude Piantadosi
Geoffrey Pitt
Howard Rockman
Paul Rosenberg
Herbert Saltzman
Kevin Schulman
Dorothy Sipkins
Marilyn Telen
J. Brice Weinberg
Yiping Yang
​John Alexander
Andrew Alspaugh
Gerard Blobe
Gerald S. Bloomfield
Robert Califf
Sandeep Dave
David Durack
Michael Felker
Rasheed Gbadegesin
Joseph Greenfield
Mark A. Herman
Michael Hershfield
Raymond Kim
Dennis C. Ko
Rodger Liddle
Michael Morse
Scott Palmer
Eric Peterson
Jonathan Paul Piccini
David Pisetsky
David Rizzieri
Robert Rosati (Emeritus)
Wendell Rosse (Emeritus)
​Stefanie Sarantopoulos
Svati Shah
Ralph Snyderman (Chancellor Emeritus)
Eric Velazquez
Myles Wolf