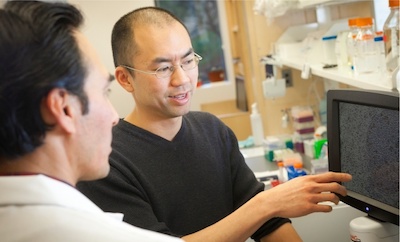 Although the Duke Department of Medicine is a clinical department within the School of Medicine, it is home to many faculty members who are primarily basic scientists and translational researchers.
We have a broad research portfolio that is well supported by multiple resources, including the National Institutes of Health, foundations, and industry.
Areas of research focus include cell receptors and signaling, vascular biology, immunology, and cancer pharmacology.
Collaboration
Duke provides a collaborative research environment and promotes interactions between investigators in the basic science and clinical departments.
The Duke Molecular Physiology Institute (DMPI) unites 'omics core laboratories with expertise in basic science research, metabolomics, genomics and epigenetics, computational biology, and clinical translation. Using this bank of talent, the DMPI Storefront laboratory assists collaborators with all facets of their research from project design to data generation and analysis.
Many faculty members are also key investigators in research institutes at Duke, including the Institute for Genome Sciences & Policy and the Center for HIV-AIDS Vaccine Immunology (CHAVI).
Duke Translational Medicine Institute
The Duke Translational Medicine Institute, established by a Clinical and Translational Sciences Award (CTSA) from the NIH, is devoted to the development of translational research programs with a particular interest in early drug development and "first in man" trials.
Many investigators in the Department of Medicine have ongoing research projects that benefit from programs available through this institute.
Research by Division
Basic research is conducted in each of the 12 divisions of the Department of Medicine. Visit the division section to learn more about basic and translational research efforts in that division.
Leadership
Scott Palmer, MD, MHS
Vice Chair for Research
Susannah Naggie, MD
Director, Medicine Clinical Research Unit 
Thomas L. Ortel, MD, PhD
Director, Lab-Based Research
Watch a video of Robert Lefkowitz, MD, professor of medicine, talking about his research of G-protein coupled receptors.