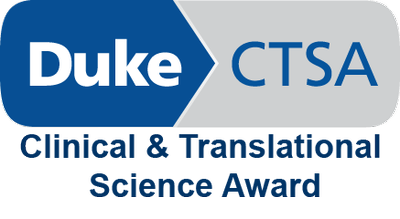 In 2013, the National Institutes of Health (NIH) awarded Duke a five-year grant of more than $47 million as part of the Clinical and Translational Science Awards (CTSA) program.
The Duke CTSA grant provides infrastructure for researchers at Duke to conduct clinical trials, train young scientists and share developments across a consortium of more than 60 other leading centers throughout the country and beyond.  The CTSA is the NIH's largest single investment in biomedical research.
Ebony Boulware, MD, MPH, professor of medicine and chief of the Division of General Internal Medicine, and vice dean for translational medicine, serves as the contact principal investigator for the Duke CTSA. Dr. Boulware's co-PIs are Jennifer Li, MD, MHS, chief of the Division of Pediatric Cardiology, and James McNamara, MD, director of the Center for Translational Neuroscience.
The Duke CTSA offers the following services directly to investigators:
Funding for research projects through the Duke Translational Research Institute Pilot Programs
Project Management consultation through the Duke Translational Research Institute
Duke CTSA Research Career Development Award Program (Duke CTSA KL2) for junior faculty
CTSA Scholarship for Predoctoral Students (Duke CTSA TL1 )
No-cost regulatory and quality assurance support through CTSA Regulatory Affairs, including workshops and training programs  
Free consults and fee-for-service collaboration with biostatisticians through the CTSA Biostatistics Core
Research Management Team assistance through the Duke Office of Clinical Research
Consults and training for research ethics through the Trent Center for Bioethics
​Assistance with small, multi-site clinical trials management through the DCRI Small Trials Program
Translational Medicine Career Development Network for PhD students
The Duke CTSA also supports the following research and training infrastructure at Duke
Biobanking
Clinical Research Training Program (CRTP)
DCRI Center for Community and Population Health Improvement
Duke Center for Health Informatics (DCHI)
Duke Office of Clinical Research (DOCR)
Office of Faculty Mentoring for the School of Medicine
Duke Office of Research Informatics
Master of Management in Clinical Informatics (MMCI)
MURDOCK Study and other Population Health programs
Research support
The Duke CTSA Research Career Development Award Program provides skilled and personalized mentoring, a coordinated and tailored scientific and career development curriculum, and the opportunity to conduct clinical or translational research.