Duke University Hospital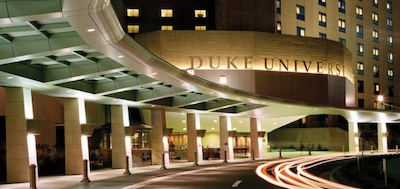 A tertiary and quaternary care hospital, Duke University Hospital is consistently rated as one of the top hospitals in the United States. It offers comprehensive diagnostic and therapeutic facilities, including a regional emergency/trauma center; a major surgery suite containing 35 operating rooms; an endosurgery center; the Ambulatory Surgery Center with nine operating rooms; an Eye Center with five operating rooms; and an extensive diagnostic and interventional radiology area.
The facility also functions as a research hospital where medical advances are achieved and applied, and as a teaching hospital for students of medicine, nursing, and the allied health sciences.
Learn more about Duke University Hospital.
Duke Regional Hospital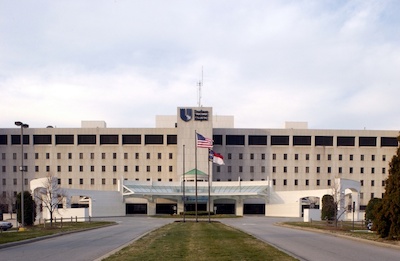 Duke Regional Hospital (formerly Durham Regional Hospital) is a 369-bed acute care facility serving the health care needs of Durham, Orange, Person, and Granville counties and the surrounding communities for more than 30 years. Duke Regional places a strong focus on providing outstanding medical care with compassionate, personalized service in a comfortable community hospital setting.
The hospital offers medical, surgical, and diagnostic services, including orthopaedics, weight-loss surgery, women's services, and heart and vascular services, and also offers care at the Durham Rehabilitation Institute and Davis Ambulatory Surgical Center.
Learn more about Duke Regional Hospital.
Duke Raleigh Hospital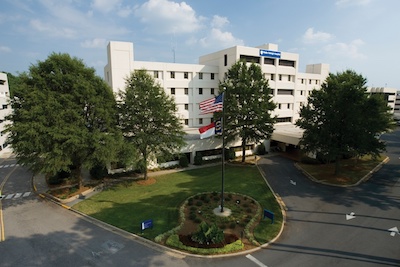 Since 1998, Duke Raleigh Hospital has been an important part of Duke Medicine. Their affiliation with one of the country's best health systems provides patients with access to the most advanced technology and leading-edge medicine available.
Located off the beltline in North Raleigh, Duke Raleigh Hospital has 186 beds and an impressive array of programs and services.
Learn more about Duke Raleigh Hospital.
Durham VA Medical Center
Located across the street from Duke University Hospital, the Durham VA Medical Center is a 270-bed tertiary care teaching facility affiliated with the Duke School of Medicine. All faculty members at the Durham VAMC are also faculty members at Duke, and many members have privileges at both hospitals.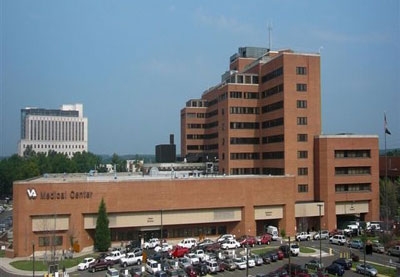 The facility, which has been in operation since 1953, provides general and specialty medical, surgical, psychiatric-inpatient and ambulatory services, and serves as a major referral center for North Carolina and surrounding states. Ninety beds are allocated to the General Medicine Service. The acute care and subspecialty clinics are key components of our ambulatory rotations, and the PRIME clinic is an outstanding multidisciplinary clinic which serves as the continuity clinic site.
The hospital campus also includes the 120-bed Extended Care and Rehabilitation Center (ECRC), which is one of the sites for training in geriatrics, and the VA Prime Clinic.
Duke Outpatient Clinic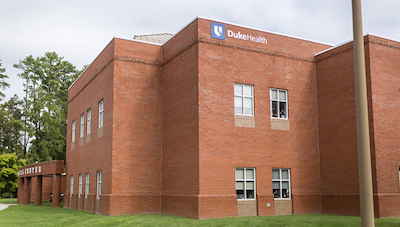 The predecessor of the Duke Outpatient Clinic (DOC) was established shortly after Duke University Hospital (DUH) opened in 1930, as a medicine outpatient clinic to serve the public, regardless of ability to pay. Today the DOC has continued that safety-net tradition since moving to its current location in north Durham in 1997. Conducting 20,000 visits for 5,000 adult internal medicine patients each year, the patient population is majority-minority (nearly two-thirds African American), female, lower-income, including more than half covered by Medicare or Medicaid and 10% uninsured.
An interdisciplinary team-based and patient-centered approach to care is emphasized, supported by several resources in the clinic, including: two clinical social workers, a clinical pharmacist, two ambulatory case managers, two advanced practice providers, a chaplain, financial care counselors, along with many other committed staff. A range of specialty care is also available on-site, including Endocrinology, Cardiology, Dermatology, Physical Therapy and Smoking Cessation.  
Residents develop their own primary care patient panels and share clinical messages within practice partnerships based on  availability. The faculty of the Division of General Internal Medicine, the Ambulatory Chief Resident and other Medicine faculty staff the clinic and precept residents.
The DOC is also continually trying to innovate. The diverse patients at the DOC are generally medically complex with a high rate of psychiatric and social drivers, which prompted the development of the HomeBASE Plus program, launched in 2013, providing intensive team-based case management for our highest utilizing patients. More recently, beginning in 2019, a weekly Big Pool complex care team meeting has allowed any patient to be discussed with high needs. These approaches have been effective at shifting care from the ED and hospital back to the clinic. The DOC is also collaborating with the Duke Population Health Management Office (PHMO) on shared care for high-needs patients.
Duke Clinics
Duke Clinic houses many of Duke's renowned specialty services in a single building located near the Duke University School of Medicine and Duke University Hospital.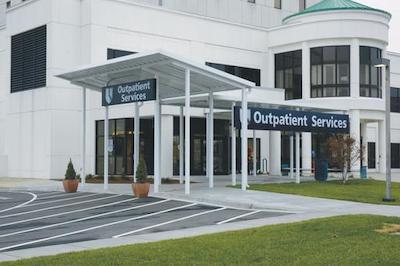 Each division also offers training at sites that cater to each curriculum.
Please visit each division's Training Sites page to learn more.