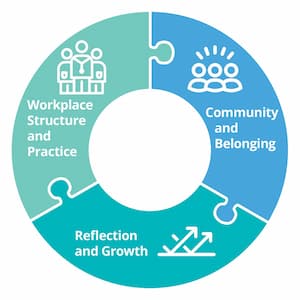 Duke's Internal Medicine Residency Program is committed to providing an optimal, adaptable training and clinical environment focused on the clinical, professional and personal development of physicians at all levels.
We recognize that residents, fellows, and faculty experience high rates of burnout driven by factors that span numerous domains. Our program strives to take a multi-faceted approach to address these contributing factors.
Each person has an individualized concept of well-being. Our program provides opportunities and programs to enable each resident to flourish, and we strive to improve our resources and better support each other.
We have a layered support network, including program faculty, chief residents, advisors, and coaches to help you navigate life in and outside of the hospital.
Our Mission
To enable individual well-being and to encourage a culture of self-reflection and compassion in which residents can be thoughtful stewards of patient-centered medical decision-making, can develop tools for self-care, and can become leaders and advocates for themselves and others.
Our Vision
All residents are able to reflect on their experiences as physicians, to identify and cultivate aspects of work that are personally meaningful and provide a sense of belonging, and to develop their practice of self-improvement.
Resources for you
If you need immediate assistance for your mental or emotional health, you may always reach out to your chief residents, or please call PAS at 919-416-1727, identify yourself as a GME trainee, and schedule an appointment. For urgent issues you may also call the Behavioral Health Urgent Access team at  919-681-1631.

| Enabling and Assisting Self-Care |   |
| --- | --- |
| Concierge GME services | This service helps you chedule primary care appointments across the medical system, including skype home visits. Primary Care Concierge Appointment Scheduling: To schedule, call 1 (866) 303-3659, Monday - Friday, 7:00 a.m. - 7:00 p.m. |
| Fatigue Ride Home | The GME Office will provide all GME Trainees transportation services to assist in the management of fatigue. This service will pick-up Trainees who experience fatigue and provide transportation home and back to work the following day. |
| Free Lunches | Daily via the Internal Medicine Residency Program and intermittent breakfasts and lunches provided by GME. |
| Residency Council | Each class elects members to serve on the Residency Council as a liaison between the resident classes and the program leadership, provided a safe mechanism for concerns and feedback to be shared. The Residency Council also facilitates a number of social events throughout the year, including bimonthly Thursday Gatherings, which are often hosted by divisions in medicine to facilitate networking and meeting mentors. |
| Duke Human Resources | Duke Human Resources provides a number of benefits, such as on-site exercises facilities, discounts to gyms and retailers in the area, among others. A full list can be found here. |
| Scheduling |   |
| 4+2 Block Scheduling | The program implemented a balanced schedule of inpatient ward rotations and outpatient or consultative experiences. |
| Flexible Self-Care scheduling system | Residents are allotted time away from clinical duties that can be scheduled for self-care activities, in addition to the time they are already provided for attending academic meeting presentations and fellowship or job interviews |
| Programmatic Debriefs |   |
| Debrief sessions | These sessions are led by faculty from palliative care that provide residents an opportunity to discuss difficult patient situations or rotations. These are incorporated into the schedule for some rotations, such as the Duke MICU, as well as the core residency curriculum |
| Patient Safety and Quality Council (PSQC) | This resident-driven committee leads projects on improving safety in the hospital, as well as improving the efficiency of practice for our clinicians and staff |

| | |
| --- | --- |
| Civility Champions | A cohort of faculty and trainees receive training to provide support in responses to incidents of bias, harassment, or other unprofessional behaviors. |
| Engaged Academics | The program supports a number of initiatives for interested individuals to meet and discuss the medical literature as well as the humanities in medicine. These include the General Internal Medicine Journal Club and the Department of Medicine Book Club, among others. |
| Minority Recruitment and Retention Committee (MRRC) | Our institution and program strongly value diversity. The MRRC supports efforts to both recruit minority men and women, as well as to support their personal and professional growth. |
| Program for Women in Internal Medicine (PWIM)​ | PWIM hosts regular women faculty meetings, a women's advisorship committee, and social events for trainees and faculty |
| Compassionate Care Conference (3C Conference) | A quarterly conference for all disciplines in the health system to have a forum to discuss social and emotional issues they face daily in caring for patients and families |
| "Resiteering" | The program coordinates volunteering events for residents to support and give back to the local community |
| Resident Lounge | A centrally located lounge has been designated specifically for residents to have a communal space to socialize, share cases, and have fun together |
| Farmer's market | Held on the Duke University Hospital campus (runs spring-fall each year |

| | |
| --- | --- |
| Residency Professional Development Coaching Program | The program pairs residents with faculty members who can coach them on individual growth throughout their training and encourage self-reflection during this pivotal period in their careers as physicians |
| Narrative Medicine | Each year there are opportunities for residents to come together to practice reflective writing and share with their peers |
| Personal Assistance Services | Duke provides services of assessment, short-term counseling, and referrals to help resolve a range of personal, work, and family problems, all available at no charge. |
| Behavioral health services  | A team of social workers is available to provide assistance with appointments through the Duke Department of Psychiatry & Behavioral Sciences. This team also provides help with community resources and local referrals. |
| Interactive Screening Program  | This is a tool that allows any GME trainee to anonymously self-screen for the risk of depression, with an option to communicate directly with PAS. |
| Caring for Each Other  | Trainees can page 206-9785 to receive real-time support related to difficult situations occurring at work, such as unexpected patient outcomes. |
| Annual Class Retreats | Soon after orientation for the interns, and in the spring for the upper level residents, the program hosts class retreats to promote building new relationships and to guide residents in preparing for their next steps as residents and as physicians |
| Senior Development Electives | Senior residents have the opportunity to dedicate a portion of their third year to their specific needs and career interests. These electives typically include an international clinical experience on a Global Health Rotation, focusing on medical education as an Assistant Chief Resident, or focusing time on research and tailored clinical learning opportunities. |