Community & Advocacy
Our residents give back to Durham and the surrounding community through a number of activities.
In 2019, the Duke Med-Peds residency program hosted its first annual advocacy run to benefit the Cystic Fibrosis Foundation in collaboration with other North Carolina med-peds programs. Since then, the program has organized an annual run to benefit various charities, such as Vaccine Ambassadors and El Futuro. The annual Duke Charity Auction is organized by the Internal Medicine residents and raises money for a local charity called Senior PharmAssist. Residents regularly volunteer through the Resiteering Committee at the Durham federally qualified health center, Lincoln clinic, during after-hours clinics. You can also find them volunteering their time with Habitat for Humanity and a variety of other activities. Through the Pediatric Residency, there is the Advocacy and Community Council for Trainees which is a resident-led committee focused on improving the health and safety of the children of Durham. Read more. In addition to these opportunities, faculty and residents volunteer at the Samaritan Health Center, a local free clinic in Durham.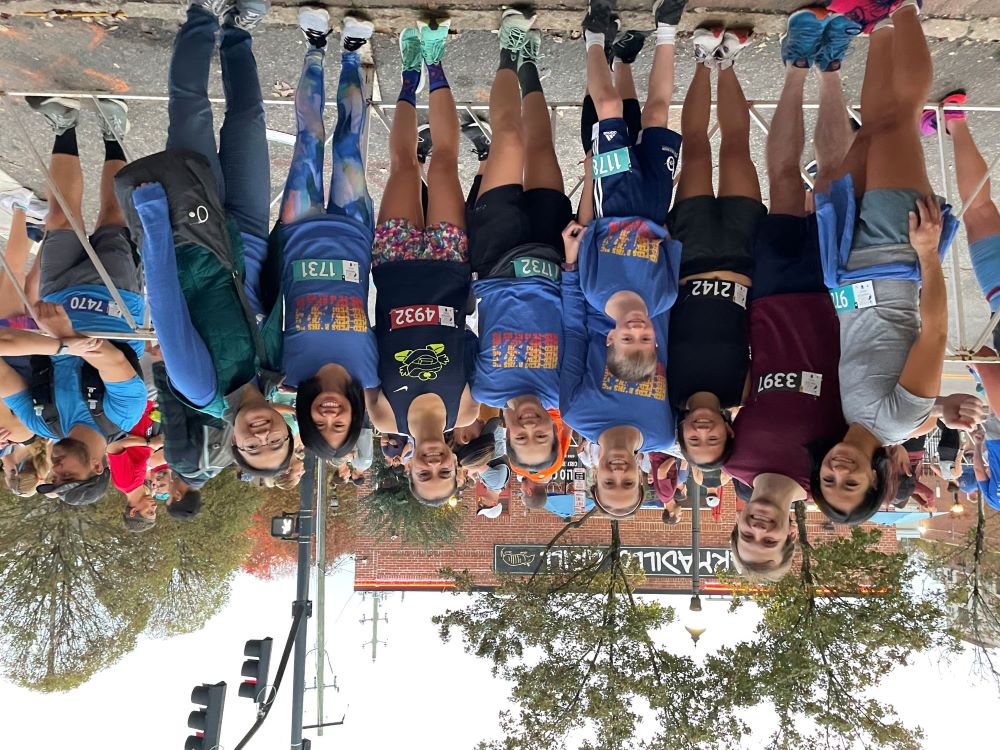 Equity and Inclusion
The Duke Med-Peds residency program, along with the greater Duke Health and Duke University School of Medicine community, stands against racism and other forms of discrimination and mistreatment. We seek equitable healthcare delivery to all of our patients. In addition to involvement in the departmental, institutional and community efforts to address systemic biases and inequalities, the Duke Med-Peds residency program has formed our own Equity & Inclusion (E&I) committee to enhance an understanding of equity and foster a culture of inclusion in which residents and faculty experience belonging, engagement and achievement.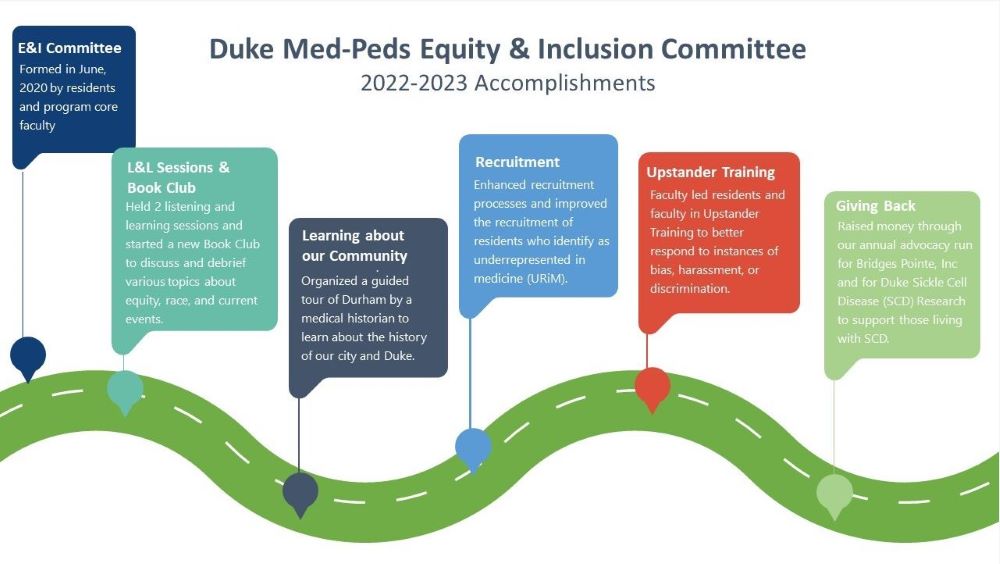 Social Activities
Medicine-Pediatrics residents participate in social events in both categorical programs, including Charity Auction, Humanities in Medicine event, ice cream socials, Durham Bulls baseball games, Broom Hockey, class retreats, hello-goodbye parties, and more. In addition, Med-Peds residents participate in a variety of other Med-Peds specific events.
Duke is a BIG FAMILY, which I believe is its biggest strength. It is a program where you feel supported, challenged, and encouraged to pursue all different avenues in medicine.

Sam Curtis, MD, PGY-3
Journal Club
Journal Club and Business Meeting takes place three times a year.  Each class (except for the intern class) is responsible for selecting an article and "hosting" the Journal Club each year.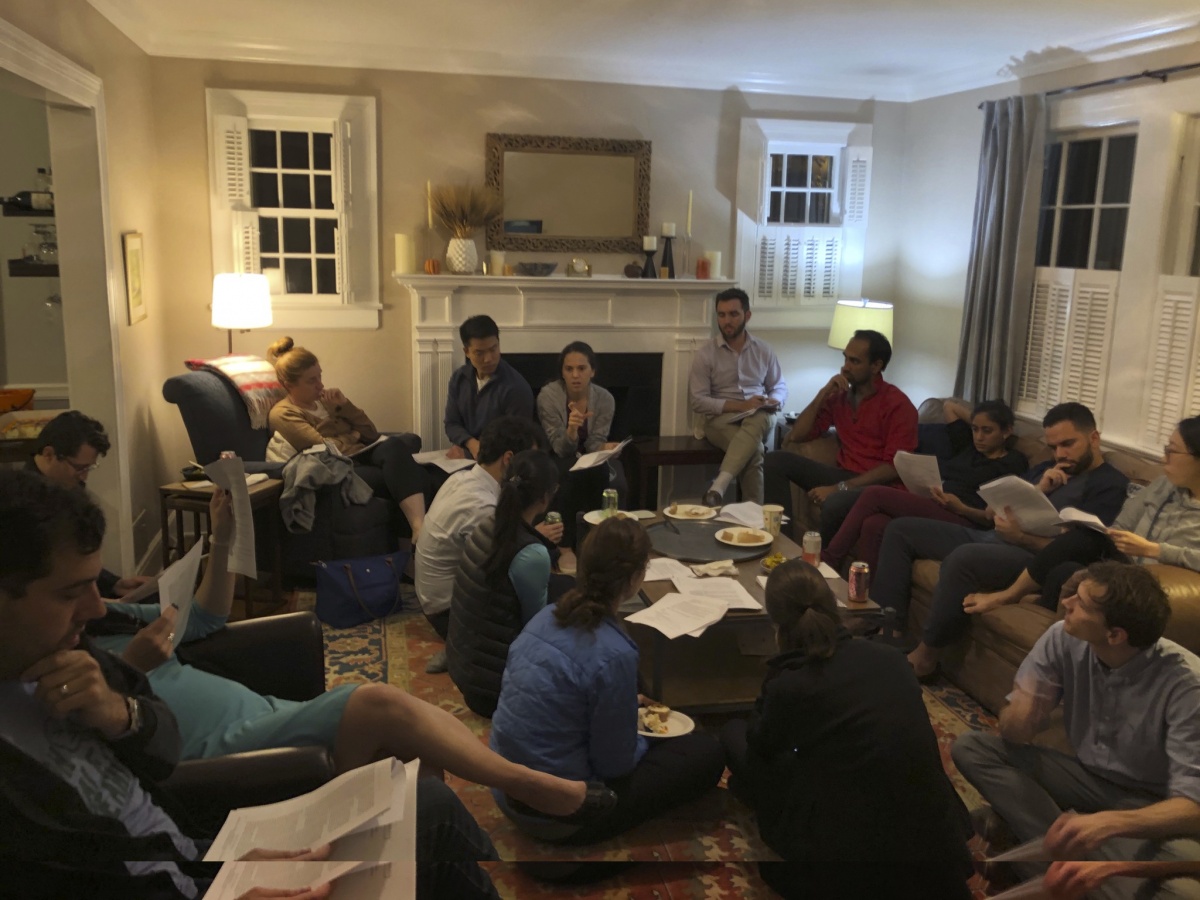 Potlucks
Semi-annual potlucks specifically for Med-Peds residents and faculty across Duke take place at a faculty member's home.
Med-Peds Senior Dinner
All residents attend the end of the year Med-Peds Senior Dinner to honor our graduating senior residents. 

Intern Dinner
Our residents often gather for dinners with each other, and finishing interns host new interns for a transition dinner before starting the new academic year.