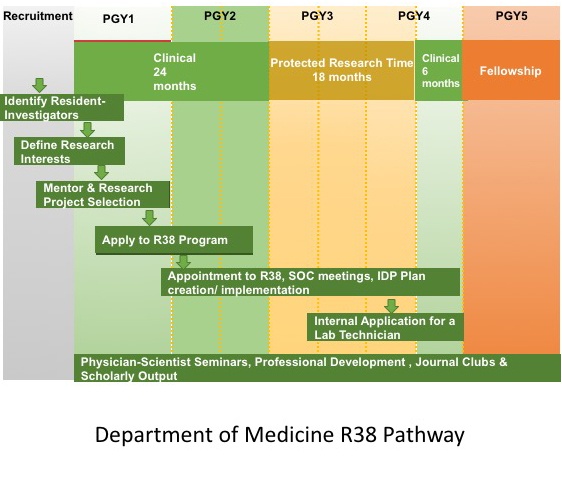 Beginning in 2018, the Department of Medicine is offering the new Duke R38 Research Pathway for residents committed to a career as a physician investigator. This NIH-funded, ABIM-approved opportunity includes a 4-year Internal Medicine residency that incorporates 18 months of protected time for research sponsored by an R38 Stimulating Access to Research in Residency (StARR) grant.
Internal Medicine residents will be selected to participate in this program each year. Residents who wish to pursue this pathway will apply to the program during their intern year. Residents in this pathway will have a primary research mentor and a scholarship oversight committee that will meet at least twice per year to help residents create an individualized career development plan.
R-38 Scholars
Eligibility and selection process
Residents who are committed to a career as a physician-investigator in academic medicine are eligible to apply for the R38 Pathway. Residents with commitment to either laboratory-based basic science research or clinical research are eligible to apply. Interviews will be scheduled and carried out with Dr. Scott Palmer, Vice-Chair for Research in the Department of Medicine, and other members of the selection committee who will make a decision about appointment to the R38 pathway with Dr. Zaas' approval. Up to a total of two residents in good clinical standing will be offered to embark on the R38 Pathway at the beginning of JAR year.
Selected residents appointed to the R38 research pathway will establish a track record of scholarly activities, including:
Submission of an application for an external individual career development award (NRSA F32 or K38/StARRTs)
Participation in scientific meetings
Submission of research manuscripts to peer-reviewed journals
Benefits of the program include:
18 months of 80% protected time for research during the 48 month program
An opportunity to apply for a technician or research assistant to maintain research productivity during the blocks of clinical residency training
Increased attractiveness for Duke School of Medicine subspecialty fellowship programs
Funds to support conference travel and research needs
Eligibility to apply for a new NIH early career award (K38 Stimulating Access to Research in Residency Transition Scholar)