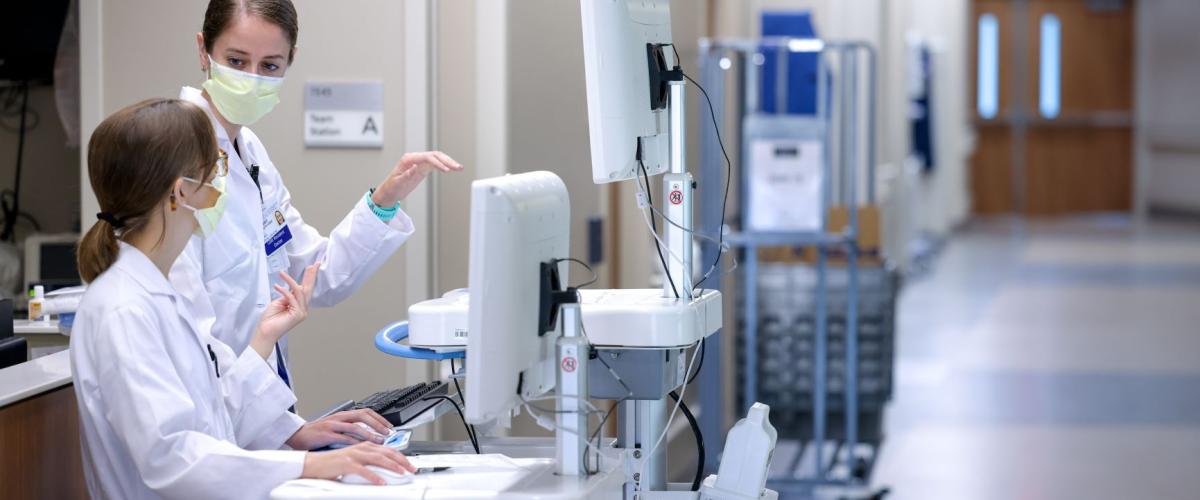 Advising
Upon entering the program, every intern receives a program advisor. Program advisors are members of the Graduate Medical Education leadership, including the program director, associate program directors, clinic directors and other core faculty.
Your advisor serves as your advocate in the program, and, in addition to the program director, as a faculty member who knows you well and can assist in your learning and development.
Advisor meetings occur at least twice per year, and have two main objectives:
Establishing a relationship with a programmatic faculty advocate
Ensuring compliance with programmatic procedures, including review of evaluations, in training exam scores, scholarly activity, reading plan and other areas;
Developing individual learning goals
Common questions about our advising program:
How is my advisor assigned?
Randomly, although for our ambulatory faculty, we generally assign residents who have continuity clinic at that faculty member's primary site to facilitate ease of meeting.
What should I do to prepare for advising meetings?
In a routine advising meeting, your advisor will review your evaluations from faculty and any peer evaluations, your procedures, in-training exam scores, conference attendance, duty hours, and discuss your involvement in quality improvement and scholarly activities. If you have questions or concerns about any of these topics, be sure to bring them up with your advisor. Your advisor will also discuss career planning with you. By working on your individual learning plan BEFORE the meeting, you will have a good springboard for career and mentoring discussions.
Is my advisor my mentor?
Maybe, but probably not. While we can easily assign an advisor to work with you on all the tasks described above. A mentoring relationship should arise from common career and research interests. Your advisor will help you FIND a mentor, and can even help you make the first contact with a potential mentor. Advisors know a lot of people here at Duke, and are knowledgeable about who might be a good mentor for you. Advisors also rely on each other to suggest possible mentors for residents.
Mentoring
Mentoring residents is one of our major priorities within the residency program. We expect that all residents will have multiple mentors during their time at Duke, including:
Program directors: All residents are assigned an advisor from among the program leadership. This advisor will also assist residents as they seek mentorship from other faculty members. Residents interested in subspecialty fellowship training are encouraged to obtain a mentor among the faculty in that field, and all program faculty can assist in this process.
Physician scientists: All residents interested in the Research Pathway or careers as a physician scientist are encouraged to seek a mentor from the faculty, and are asked to join the Robert Lefkowitz Society to obtain additional mentorship and guidance from physician scientist fellows and faculty across the university. Additional mentoring support for physician scientists comes from the Office of Physician Scientist Development.
Attendings: Residents work with world-class attending physicians from the School of Medicine's faculty and throughout the Duke Health System. These attending physicians are happy to advise residents during their day-to-day work and to answer questions about residents' research and career interests.
Minority Retention and Recruitment Committee (MRRC): All under-represented residents in medicine will receive a mentor from the MRRC faculty. Our MRRC is active in ongoing mentoring of trainees, in recruitment efforts locally and nationally (SNMA, LMSA), and in organizing social events for trainees across the many GME programs at Duke.
Coaching
The Residency Professional Development Coaching Program, which began in 2016, pairs Duke Internal Medicine residents with faculty members who will coach them on their individual professional development throughout their training here. The coach functions as another layer of support and guidance throughout training.