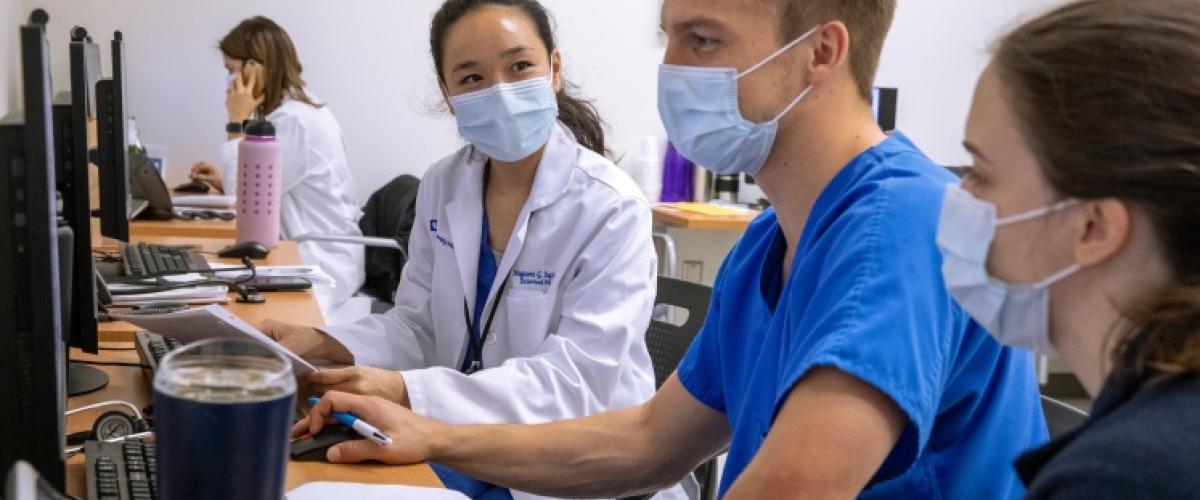 To facilitate the implementation of resident research projects, funding support is also available for selected research projects. Additionally, protected time in the form of research electives are granted to selected residents who have formulated a research project and plan with their mentor.
The Faculty Resident Research Grants consist of $2,000 awards per research proposal, part of which may be utilized for travel to scientific meetings to present research results. The request for applications (RFA) is announced in November and the grant applications are due by April of each academic year. Funding is available as of July 1 of the next academic year after a grant review process and selection of the proposals for funding by a faculty committee.
Stead Resident Research Grant applications also consist of $2,000 awards per research proposal. Applications open in the summer of each academic year, allowing a second opportunity for residents to apply for funding. Stead Resident Research grant applications are due in September of each academic year and are funded by the Stead Scholarship Committee.
The Residency Program provides travel funding for residents to attend and present their research abstracts and papers as posters or oral presentations at state, regional and national medical society or scientific meetings..
For more information about research funding opportunities, please contact Dr. Nia S. Mitchell, nia.s.mitchell@duke.edu
Faculty-Resident Research Grant Recipients
2021
| Recipient | Mentor | Project |
| --- | --- | --- |
| Aaron Hein | Darshan Kothari | Quality Improvement of Early Enteral Nutrition in Acute Pancreatitis |
| Allison Taylor | Thomas LeBlanc | Influence of socioeconomic & psychological factors on treatment patterns in Black patients with Acute Myeloid Leukemia (AML) |
| Aman Kansal | Manesh Patel | Early Identification of High Risk Cardiac Decompensation Phenotypes Via Real-time Electronic Health Record Data |
| Andrew Andreae | Jonathan Piccini | Inappropriate ICD Shocks in Patients with LVADS: Impacts and Mechanisms |
| Ann Cameron Barr | Megan Clowse | Effect of Patient Health Literacy on Discordance between Patient and Physician Assessment of Lupus Disease Activity |
| Brittany Chapman | Adam DeVore | Utilization of Guideline-Directed Medical Therapy after Hospitalization: A Secondary Analysis of CONNECT-HF |
| Colin Smith | Jane Gagliardi | Experiences of African American Individuals Treated in the Psychiatric Emergency Unit at Duke University Hospital |
| Emory Buck | Jenny Van Kirk | Visual Arts Training to Improve Internal Medicine Residents Observational Skills |
| Hayley Cunningham | Carly Kelley and Mehri McKellar | Identifying Perceptions of HIV Pre-Exposure Prophylaxis Held by Transgender, Lesbian, Gay, Bisexual, and Queer Identifying Individuals |
| John Tanaka | Sunil Rao | The Impact of the COVID-19 Pandemic on Patients with Peripheral Artery Disease |
| Joseph Wawrzynski | Katherine Garman | Assessing risk factors for H. pylori negative chronic active gastritis |
| Neesha Nama | Darshan Kothari | Predictors and Barriers to Receipt a Cholecystectomy at Index Admission for Gallstone Pancreatitis |
| Ryan Keane | Robert Mentz | Event Adjudication in the Evaluation of Worsening Heart Failure: Insights from ASCEND-HF |
| Saad Atiq | Arif H. Kamal | Disparities Between GU and Non-GU Cancer Patients Referred to Palliative Care |
| Samantha Dizon | Richard Krasuski | Right Ventricular Dilation as a Predictor of Admission for Heart Failure in Patients with Corrected Tetralogy of Fallot |
| Sean Taasan | Jeffrey Clarke | Clinical outcomes for patients with stage III NSCLC and STK11 or KEAP1 genetic alterations |
| Sebastian Franco | Matthew Sparks | Flipped Class with Kidney Bass - Enhancing Engagement at Noon Conference with Nephrology Videos and Active Learning Exercises |
| Shang Chung | Ziad Gellad | Characterization of Barrett's Surveillance Program at DUHS |
| Timothy Hopper | Svati Shah | Genetics of Chronic Kidney Disease Risk |
2020
| Recipient | Mentor | Project |
| --- | --- | --- |
| Nicholas Ashur PGY-2 | Robert Mentz | Congestion Phenotypes in Heart Failure with Preserved Ejection Fraction: Insights from the HF Network |
| Anastasiya Bagrova PGY-2 | Lisa Criscione-Schreiber | Itching to Learn: Infusion Reactions Curriculum for Medicine Trainees |
| Callie Berkowitz PGY-2 | Rowena Dolor | Documentation Quality and Billing Practices for Advance Care Planning |
| Sonali Bracken PGY-3 | Stefanie Sarantopoulos | Breaking B-Cell Tolerance to Produce Antibodies that Eradicate Leukemias and Lymphomas |
| Sara Coles PGY-2 | Svati Shah | Genetic Association of Favorable Exercise Response in Systolic Heart Failure: A HF-Action Genome Wide Association Study |
| Lena Eder PGY-2 | Kai Sun | Examining the Effect of Interactive Prescription Refill Data Review on Medication Adherence Among Systemic Lupus Erythematosus Patients Seen in Clinic  |
| Alex Grubb PGY-2 | Robert Mentz | The impact of etiology of heart failure on the response to a rhythm control treatment strategy in patients with heart failure with reduced ejection fraction and atrial fibrillation: Results from the Outcomes Registry for Better Informed Treatment of Atrial Fibrillation (ORBIT-AF) registry |
| Chester Kao PGY-2 | Tian Zhang | Neutrophil-lymphocyte ratio and F1 assay as predictors to immunotherapy |
| Nicholas Koutlas PGY-2 | Andrew Muir | A Novel Prognostic Scoring System for PSC Using Clinical and Radiographic Data |
| Cindy Pabon PGY-2 | Joe Brice Weinberg | The Role of Surface Immunoglobulin Isotype In Chronic Lymphocytic Leukemia Disease Biology and Clinical Outcomes in the Era of the Novel Agents |
| Jessica Regan PGY-3 | Susan Dent | Identifying Cardio-Oncology Needs (ICON) of Cancer Patients |
| Trent Wei PGY-2 | W. Schuyler Jones | Radiation Exposure During Percutaneous Cardiac Catheterizations |
| Austin Wesevich PGY-3 | Tom LeBlanc | Patient-Centered Daily Plan |
2019
| Recipient | Mentor | Project |
| --- | --- | --- |
| William Deardorff PGY-2 | Heather Whitson | Role of Sensory and Cognitive Impairments in Medicare Utilization and Costs |
| Jordan Gales PGY-2 | Richard Krasuski | Emergency Department Assessment of Acute Chest Pain Among Adult Congenital Heart Disease Patients |
| Kyle Geurink PGY-2 | Michel Khouri | Atrial Myopathy and Arrhythmias in Cardiac Amyloidosis |
| Tara Holder PGY-3 | William Jones | Characteristics, Treatment, and Hospital Utilization of Patients Admitted With Pulmonary Embolism |
| Syed Hussaini PGY-2 | David Casarett | EMR-based Marker for Predicting Financial Toxicity in a Cohort of Patients at a Large Academic Center |
| Alexander Sullivan PGY-2 | William Jones | Management of Massive and Submassive Pulmonary Embolism: A Prospective Registry Within the Duke University Hospital System |
| Lena Vaynberg PGY-1 | Matthew Sparks | Kidney Stone: Promoting Medical Student Engagement in Nephrology Through the use of Social Media |
| Nancy Yang PGY-2 | Cynthia Moylan | Predictors of NAFLD Development and Progression in Veterans After Successful Treatment of Chronic HCV |
| Nancy Yang PGY-2 | David Leiman | Esophageal and Gastric Motility Effects on Patient Outcomes After Lung Transplantation |
| Helen Zhang PGY-3 | Susanna Naggie | Persistent Liver Enzyme Elevation After HCV Virologic Cure in HIV/HCV Co-infection |
2018
| Recipient | Mentor | Project |
| --- | --- | --- |
| Corey Bradley PGY-2 | Ann Marie Navar | The feasibility of unobserved automatic Blood Pressure Measurement in the Primary Care Setting |
| Todd Brophy PGY-2 | Adam D. DeVore | Ischemia Evaluation in Patients Hospitalized with Incident Heart Failure |
| Godfrey Chery PGY-1 | Al-Khatib, Sana | The use of cardiac magnetic resonance imaging (c-MRI) to predict outcomes in different cardiac disease states |
| Madhulika Eluri PGY-1 | Nelson Chao and Anthony Sung | Serum biomarkers for predicting GVHD in hematopoietic transplant patients |
| Akash Goyal PGY-1 | Iglor Klem | Detection of Coronary Artery Disease Using Cardiac MRI in an Obese Population |
| Michael Grant PGY-2 | Mitchell Horwitz | Kidney disease in Allogeneic Stem Cell Transplant Recipients Treated with Foscarnet for HHV-6 reactivation |
| Jesse Gu PGY-1 | Anthony Galanos | Goals of Care Discussions and Patient Outcomes in the MICU and SICU |
| Nicole Jawitz PGY-2 | Ziad Gellad and David Leiman | Predictors of Polyp Detection during Screening Colonoscopy |
| Matthew Labriola PGY-2 | Tian Zhang | PGDx Assay Correlation with Clinical response to checkpoint inhibitors |
| Rebecca Lumsden PGY-2 | Neha Pagidipati | Management of Postpartum Women at Duke at High Risk of Cardiovascular Disease |
| Shannon Niedermeyer PGY-2 | Joel Boggan | Bariatric Metric Improvement: Improving Inpatient Care of Morbidly Obese Patients at Duke University |
| Christopher Pumill PGY-2 | Robert Mentz | Cigarette Smoking in Patients with Heart Failure: A 20-year Experience at DUMC |
| Jessica Regan PGY-1 | Robert Mentz | Interaction of Age and Comorbidities on Outcomes in Patients with Heart Failure from HF-ACTION |
| Lindsey Shantzer PGY-2 | Jeffrey Clarke | Efficacy of Combined Radiation and Immunotherapy in Advanced Lung Cancer |
| Lauren Sharan PGY-2 | Richard Krasuski | Impact of Right to Left Shunting on Future Clinical Outcomes |
| Nicholas Shelburne PGY-2 | Sudarshan Rajagopal | Identification of Metabolomic Markers of Disease Severity in Pulmonary Hypertension |
| Claire Smith PGY-2 | Michael J. Kelley | Trends in End of Life Care for Veterans with Advanced Cancer |
| Toi Spates PGY-2 | Richard Krasuski | Factors Affecting Outcomes in Patients with Congenital Heart Diseases in the State of North Carolina |
| Alexander Sullivan PGY-1 | Sunil V. Rao | Is Dual Therapy Ready For Prime Time?: A Meta-analysis of Dual Therapy with Clopidogrel vs Triple Therapy |
| Matthew Tucker PGY-2 | Andrew J. Armstrong | Evaluating Mismatch Repair Deficiency and Response to Pembrolizumab in Men with mCRPC |
| Nicholas Turner PGY-2 | Laurie Snyder | Use of a Novel Cumulative Deficits Frailty Instrument in Lung Transplant Candidates |
2017
| Recipient | Mentor | Project |
| --- | --- | --- |
| Anubha Agarwal PGY-3 | Nathan Thielman | Heart failure quality improvement in Kerala, India |
| Ankeet Bhatt PGY-2 | Robert Mentz | International variation in the management and clinical outcomes of patients with diabetes and heart failure: Insights from TECOS |
| Alexander Blood PGY-2 | Christopher Granger | STEMI Xpress: Transmission of ECGs from the field via a smartphone application |
| Robert Diep PGY-2 | Ara Metijan | The discrepancy between actual and ideal weight on platelet normalization in TTP |
| Rachel Feder PGY-2 | Katherine Garman | H. pylori-associated peptic ulcer disease: who gets guideline-concordant therapy? |
| Kelly Ground PGY-2 | Joel Boggan and Alicia Clark | Addressing goals of care and advance directives in resident continuity clinics |
| Ashley Hanlon PGY-3 | Gretchen Kimmick | Androgen deprivation therapy and its association with cardiovascular mortality: When do risks outweigh benefits? |
| Emily Kinsey PGY-2 | Jeffrey Crawford | The effect of sarcopenia on dose-limiting toxicity of chemotherapy |
| Rebecca Lumsden PGY-1 | Gerald Bloomfield | Evaluating the burden of cardiac disease in pregnancy at a national referral hospital in western Kenya |
| Anne Reihman PGY-2 | Phillip Choi | Patient and caregiver decision-making around end of life for amyotrophic lateral sclerosis |
| Caroline Sloan PGY-2 | Virginia Wang | Impact of bundled payment on dialysis facility practice patterns in the United States |
| Ashley Spann PGY-2 | Julius Wilder | Assessment of the prognostic utility of ammonia testing on admission at Duke University hospital |
| Meghan Steiner PGY-2 | Stephanie Gaillard | Estrogen receptor profiling in low-grade ovarian and endometrial cancers |
| David Sterken PGY-2 | Juliessa Pavon | Earplugs' and eye masks' effect on general medicine inpatients' delirium incidence |
| Julia Xu PGY-3 | Marilyn Telen | Thalassemia screening in Myanmar and Lao migrants in Thailand |
| George Sipa Yankey PGY-2 | Kevin Thomas | Effect of racial differences in symptoms on rates of AVR |
2016
| Recipient | Mentor | Project |
| --- | --- | --- |
| Brian Andonian PGY-2 | Kim Huffman | Skeletal muscle leukocytes in rheumatoid arthritis |
| Taylor Bazemore PGY-2 | Kristin Newby | Prognostic importance of postoperative increases in CKMB in ACS patients undergoing CABG |
| Ankeet Bhatt PGY-1 | Zubin Eapen | Emergency department characteristics and readmissions – insights from hospital compare |
| Luke Cerbin PGY-1 | Robert Mentz | Time of presentation in patients hospitalized for heart failure – an analysis of ASCEND-HF |
| Lauren Collins PGY-2 /td> | Susanna Naggie | The evolving landscape of HIV-HCV care in the era of direct-acting antivirals |
| Michael Dorry PGY-2 | Laurie Snyder | Post transplant pulmonary embolism is associated with allograft dysfunction and worse survival |
| Ariane Fraiche PGY-2 | Zubin Eapen | Improving the initiation of guideline-directed heart failure therapy |
| Peter Hu PGY-2 | Schuyler Jones | Staged versus complete revascularization in patients with multivessel coronary artery disease |
| Azalea Kim PGY-2 | Zubin Eapen | Hospital utilization metrics and readmissions – insights from hospital compare and annual AHA survey |
| Emily Kinsey PGY-1 | Jeffrey Crawford | Identifying predictive factors for the prevention and treatment of cachexia |
| David Kopin PGY-2 | Schuyler Jones | The use of antiplatelet therapy and patient outcomes in those undergoing PCI in the ARISTOTLE trial |
| Yu-Lin Amy Lee PGY-3 | Gary Maslow | Effects of adverse childhood experiences on quality of life in adolescents |
| Samuel Lindner PGY-2 | Alicia Clark | An informational intervention to reduce unnecessary lab ordering |
| Jared Lowe PGY-1 | Tom LeBlanc | Symptoms and health care utilization at the end of life among adults with acute myeloid leukemia |
| Juan Magana PGY-1 | Laura Svetkey | Characteristics of mentors and mentoring relationships for URM pre-medical students |
| Ryan Orgel PGY-2 | Schuyler Jones | Systemic embolization in patients with atrial fibrillation: results from ROCKET AF |
| Hari Ramalingam PGY-1 | Jeffrey Crawford, Michaela Dinan | The effect of location, community versus academic, on survival in Stage IV non-small cell lung cancer |
| Jenny Van Kirk PGY-2 | Ravi Karra | Factors predictive of ventricular recovery in patients with heart failure |
| Zach Wegermann PGY-2 | Sreek Vemulapalli | 3D printed models to predict outcomes in structural heart disease |
2015
| Recipient | Mentor | Project |
| --- | --- | --- |
| R. Argawal PGY-2 | Joe Brice Weinberg | Lymphocyte to Monocyte Ratio: an independent Prognostic Factor for Chronic Lymphocytic Leukemia |
| M. Atkins PGY-2 | Alicia Clark | Quality Improvement in IM Resident Clinics: Increasing Compliance with USPSTF Recommendations |
| T. Bazemore PGY-1 | Sunil Rao | Comparison of radiation exposure associated with radial and femoral PCI |
| E. Black-Maier PGY-1 | Jonathan P. Piccini | Therapeutic profile and mechanisms of ranolazine for the prevention of atrial fibrillation |
| A. Bock PGY-2 /td> | Chaten Patel | The Impact of Induction Therapy on Acute Cellular Rejection after Orthotopic Heart Transplantation: A Retrospective Analysis of the UNOS Database |
| A. Bostwick PGY-3 | Arif Kamal | Understanding the Unmet Needs of Patients with Terminal Illness |
| J. Buggey PGY-2 | Eric J. Valasquez | Assessing Mortality Using LV Global Longitudinal Strain in Acute HFpEF Patients |
| D. Clifton PGY-3 | Jason Stout | HIV testing among patients admitted with pneumonia |
| L. Collins PGY-1 | Jason Stout | Long-term Outcomes of Patients with AIDS and Disseminated Mycobacterium Avium Complex |
| A. Eisenberg PGY-2 | Matthew Crowley | How Do Group Medical Clinics for Patients with Diabetes Affect BMI? |
| A. Erdmann PGY-2 | Katherine Garman | Survey Evaluation of GI Ergonomics |
| J. Feigal PGY-3 | Wei Jang | Associations Between General Well-Being and Both Exercise Stress and Mental Stress Induced Ischemia |
| Y. Foster PGY-2 | Mitchell Horowitz | Kidney disease in allogeneic stem cell transplant recipients treated with foscarnet for HHV-6 reactivation |
| K. Glisinski PGY-2 | Scott L. Shofer | Does severity of airway exudate after lung transplantation predict development central airway stenosis? |
| S. Goldstein PGY-2 | Cary Ward | Association Between global Longitudinal Strain in Pregnancy and Adverse Clinical Outcomes |
| J. Hansen PGY-2 | Tracy Wang | Asessing trends of dual antiplatelet therapy use beyond 12 months in patients after acute myocardial infarction: Analysis of the TRANSLATE-ACS registry |
| P. Hu PGY-1 | Schuyler Jones | Impact of vascular disease on risk of stroke/ systemic embolism in ARISTOTLE |
| R. Hu PGY-1 | Arati Rao | Assessing outcomes in adult Ph+ ALL: Stem cell vs. TKI-based post-remission therapy |
| A. Jones PGY-2 | S. Yousuf Zafar | Symptom burden and treatment preference over time in patients with metastatic colon cancer |
| L. Krishnan PGY-1 | Ross McKinney | Master Clinician as Narrator: Analysis & the Art of Diagnosis in the Humanities, Medicine, and Medical Education |
| B. Matta PGY-2 | Keyur Patel | Hepatitis Clearance and fibrosis: all that glitters is not gold. |
| G. Ngeno PGY-2 | Eric Velazquez | Association between HIV viral load and Echocardiographic Characteristics of Right Ventricular Dysfunction |
| M. Nickolich PGY-2 | Louis F. Diehl | Cancer Care Experience: Evaluation of Novel Approaches to Undergraduate Medical Education |
| D. Patel PGY-1 | Sana M. Al-Khatib | The Role of Implantable Cardioverter Defibrillators (ICDs) in Patients with Left Ventricular Assist Devices (LVAD): a systematic review and meta-analysis |
| Y. Qin PGY-2 | Katherine Garman | How well is H. pylori associated peptic ulcer disease treated at Duke? |
| E. Ray PGY-2 | Richard F. Riedel | Healthcare utilization amongst cancer patients prior to hospice |
| D. Sermer PGY-1 | Michael Harrison | Muscle loss as a result of treatment with abiraterone and enzalutamide for prostate cancer |
| B. Sullivan PGY-2 | Dawn Provenzale | Risk Factors for Advanced Neoplasia in Patients with Ten or More Colon Adeno |
| J. Wyrembak PGY-2 | Brett Atwater | Prevalence of LAA Thrombus in Af Patients on NOACs Prior to Catheter Ablation |
| C. Zhang PGY-2 | Katherine Garman | A Pilot Study Evaluating Submucosal Gland Ductal Metaplasia in Barrett's Esophagus |
| J. Zhu PGY 1 | Michael Kelly | Does bevacizumab improve survival in patients with advanced NSCLC? |
2014
| Recipient | Mentor | Project |
| --- | --- | --- |
| A. Banks PGY-2 | Christopher O'Connor | Exercise Training in Heart Failure Patients with Type II Diabetes Mellitus |
| A. Bhaskar PGY-2 | Ziad Gellad | Does Bolus Sedation for Colonoscopy Shorten the Time to Patient Recovery? |
| K. Broderick-Forsgren PGY-2 | Zainab Samad | Diagnostic Characteristics of a Combination of Echocardiographic Variables for Predicting Pulmonary Hypertension |
| E. Fountain PGY-1 | Gowthami Arepally | Incidence of Prognosis of Thrombocytopenia in Hospitalized Patients |
| E. Gilbert PGY-1 | Steven Szabo | Effects of Tobacco Smoke in Schizophrenia and Inflammation: Serum Cytokines as Biomarkers of CNS Dysfunction |
| S. Goldstein PGY-1 | Kristin Newby | Clinical Outcomes of Cardiogenic Shock Syndrome after Therapeutic Hypothermia |
| LW. Huang PGY-1 | Sascha Tuchman | Safety and Efficacy of Autologous Stem Cell Transplantation in Elderly Myeloma Patients |
| K. Kirtane PGY-2 | Jessica McFarlin | The Impact of Palliative Care Consultation on Hospital Cost in a Neurologic ICU |
| C. Lehr PGY-2 | Scott Shofer | Pleural Effusions Underlying Rejection after Lung Transplantation |
| B. Lloyd PGY-2 | Katherine Garman | Survival after Esophagectomy in Atypical and High Risk EAC Patients |
| A. Lowenstern PGY-2 | Richard Becker | Platelet Response to Drug Inhibition |
| L. Musselwhite PGY-2 | S. Yousuf Zafar | Brand Name Hormonal Drug Use Among Medicare and Veteran Affairs Patients with Breast Cancer |
| A. Newhouse PGY-2 | Wei Jiang | Association Between Acute Rejection and Depression in Heart Transplant Recipients |
| R. Palsson PGY-2 | Uptal Patel | Comparative Effectiveness of Ticagrelor versus Clopidogrel in ACS and CKD |
| B. Peterson PGY-1 | Albert Sun | Prolongation in Patients with Left Ventricular Systolic Dysfunction |
| V. Reddy PGY-2 | Diana McNeill | Standardizing the Hidden Curriculum: Improving Resident Teaching at the VA |
| M. Samsky PGY-1 | Chetan Patel | Outcomes in Advanced Heart Failure Patients Supported by IABP |
| A. Swaminathan PGY-2 | Schuyler Jones | Endovascular Recanalization of SFA CTO: Wire versus CTO Recanalization |
| K. Trulock PGY-2 | Jonathan Piccini | Does Heart Failure Etiology Affect Outcomes in Patients after Catheter Ablation of Atrial Fibrillation? |
| S. Vakamudi PGY-1 | Chetan Patel | Predictors of Hospitalization Following Heart Transplant |
| J. Wagener PGY-2 | Sunil Rao | Is the Lower Revascularization Rate after CABG Due to Lack of Adequate Target Vessels? |
| M. Woodworth PGY-2 | Jason Stout | Retrospective Case Series of Nocardia Infections |
| C. Zhang PGY-1 | Luke Chen | Contamination of Food Trays and Food Carts by Nosocomial Pathogens |
2013
| Recipient | Mentor | Project |
| --- | --- | --- |
| R. Aertker PGY-2 | Chet Patel | Hemoconcentration During Treatment of Heart Failure and Rehospitalization Risk |
| L. Anderson PGY-2 | Tracy Wang | Direct Transfer to the Cath Lab: Minimizing Reperfusion Delays for Patients Transferred to STEMI Receiving Centers |
| M. Aras PGY-2 | Svati Shah | Evaluation of Common Genetic Variation as Effect Modifiers in Human Heart Failure |
| F. Babatunde PGY-1 | Brett Atwater | Predictors of Response to Cardiac Resynchronization Therapy |
| A. Bedoya PGY-2 | Laurie Snyder | Outcomes in Lung Transplant Recipients with Non-Tuberculosis Mycobacterium |
| N. Beri PGY-1 | Mark Lanasa | Vitamin D as A Prognostic Factor in Chronic Lymphocytic Leukemia |
| K. Broderick-Forsgren PGY-1 | Jon Bae | Assessing and Improving Hospitalized Patients Awareness of Their Inpatient Providers |
| M. Clements PGY-2 | Charles Hicks | Lipid Control in HIV-Infected Patients Compared to Non-Infected Patients After Diagnosis of Coronary Artery Disease |
| M. Dhawan PGY-2 | Andrew Armstrong | Clinical Outcomes of Metastatic Castration Resistant Prostate Cancer Treated with Abiraterone |
| H. Elmariah PGY-2 | Marilyn Telen | Identification of Genes Associated with Decreased Survival in Sickle Cell Disease |
| H. Elmariah PGY-2 | Jon Bae | Factors Associated with Burnout in Duke Internal Medicine Residents |
| A. Fanaroff PGY-2 | Sunil Rao | The EARLY ACS Risk Score for Unstable Angina/Non-ST Elevation MI |
| J. Gentry PGY-2 | Andrew Wang | Hypertrophic Cardiomyopathy: Is Myocardial Blood Flow Related to the Quality of Life |
| H. Lee PGY-2 | Susanna Naggie | The Response to Interferon for Chronic HBV Among African American and Caucasian Patients |
| P. Lehman PGY-3 | Bimal Shah | Does Early Telephone Follow-Up Reduce Readmission Rates for AMI and CHF Hospitalizations? |
| B. Miller PGY-2 | Aimee Zaas | Utilizing Blood Gene Transcription Signatures to Diagnose Aspergillosis |
| A. Mitchell PGY-2 | Amy Abernethy | Metastatic Renal Cell Carcinoma: Are Clinical Trial Findings Relevant to Clinical Practice? |
| R. Nipp (PGY-3) | S. Yousuf Zafar | Best Supportive Care (BSC) in Clinical Trials: Inconsistent Control Arm Design |
| M. Papademetriou PGY-2 | Deborah Fisher | Nasogastric Lavage and Time to Endoscopy in Upper GI Bleeds Presenting to the Emergency Department |
| A. Pishko PGY-1 | Gowthami Arepally | Analysis of the Temporal Course of Laboratory Recovery in Thrombotic Thrombocytopenic Purpura |
| T. Posenau PGY-2 | Sunil Rao | Age-Stratified Outcomes for DES vs CABG in Patients with Multivessel CAD |
| L. Prats PGY-2 | Blake Boggess | Economic Analysis of Image-Guided Intra-Articular Hip Injections |
| J. Rymer PGY-2 | Kristin Newby | The Impact of Early Versus Standard Post-Discharge Follow-Up on Readmission Rates |
| W. Shatila PGY-2 | Bimal Shah | Echocardiograms: Part of the Standard of Care for Heart Failure Admissions? |
| K. Tash PGY-2 | Jason Stout | Crime Rates, Community HIV Viral Load, and STI Incidence in Durham County, NC |
| C. Ursem PGY-2 | Arati Rao | Mortality of Reinduction Chemotherapy in Acute Myeloid Leukemia |
2012
| Recipient | Mentor | Project |
| --- | --- | --- |
| Lindsey Anderson | Tracy Wang | Percutaneous Coronary Intervention in Elderly Patients with Syncope and Coronary Artery Disease |
| Joel Boggan | Deverick Anderson | Automated Surveillance of Infectious Complications Following Electrophysiology Procedures |
| Elizabeth Campbell | Susan Spratt | Quality Improvement: Reducing Hypoglycemia in the Outpatient Clinical Setting |
| C. Callie Coombs | Mark Lanasa | * The Role of Cytoplasmic Polyadenylation Element Binding Protein 1 in Chronic Lymphocytic Leukemia |
| Wei (Denise) Duan-Porter | Brice Weinberg | Autoimmune Disorders and Antigenic Targets in CLL Patients at DUMC/DVAMC |
| Hany Elmariah | Marilyn Telen | Identifying Clinical and Genetic Indicators of Survival in Sickle Cell Disease |
| Adam Garber | Christopher O'Connor | Clinical Characteristics and Outcomes of Patients with Left Ventricular Thrombus Following ST-segment Elevation Myocardial Infarction: Findings from the Duke Databank of Cardiovascular Disease and the Duke Echocardiography Databank |
| Blair Irwin | Amy Abernethy | * Evidence Regarding Off-Label Indications for Targeted Therapies Used in Cancer Treatment |
| Kathleen Kiernan | Daphne Friedman / Brice Weinberg | Does Absolute Monocyte Count Predict Survival in Chronic Lymphocytic Leukemia? |
| Sahar Koubar | Stephen R. Smith | Leflunomide in PKVAN at DUMC: Observations, Outcomes, and Clinical Implications |
| Andy (John) Livingston | Arati Rao | Assessing age-specific disease biology in adolescents and young adults with AML |
| Aaron Mitchell | Amy Abernethy | Understanding Accrual Complexity in Oncology Clinical Trials |
| Ann-Marie Navar-Boggan | Eric Peterson | Feedback to Improve Hypertension Management: Impact on Patient Control and Provider Practice |
| Ryan Nipp | Amy Abernethy | CT Scan Imaging to Correlate Body Composition and Sarcopenia |
| Dale Okorodudu | Hayden Bosworth | The Role of Active Coping on Disease Control in Black Diabetes Mellitus Patients |
| Priyesh Patel | Adrian Hernandez | Predictors of Direct Thrombin Inhibitor Use in Patients with Atrial Fibrillation |
| Sundar Ramalingham | Sandeep Dave | Overcoming Resistance to EGFR Inhibitors Through Inhibition of the MTOR Pathway |
| Wassim Shatila | Bimal Shah | Validation of Genes Associated with Smoking Cessation in Patients with Coronary Artery Disease |
| Andrea Shaw | Luke Chen | Judicious Use of Ceftriaxone Among Pediatric Patients Assessed in the Pediatric Emergency Department of Duke University Hospital, NC, 2010 |
| John Stanifer | Uptal Patel | * The Prevalence of Chronic Kidney Disease and Proteinuria in the Kilimanjaro Region of Tanzania |
| Joshua Thaden | Vance Fowler | Genetic Determinants of Staphylococcus Aureus Infective Endocarditis |
| Carling Ursem | Gretchen Kimmick | Differences in Presentation and Treatment of Elderly Breast Cancer Patients Based on Socioeconomic Status |
| Dale Okorodudu, Tiffany Randolph, and Omobonike Oloruntoba |   | Diverse Medicine Vitual Mentoring Project |
2011
| Recipient | Mentor | Project |
| --- | --- | --- |
| Recipient | Mentor | Project Title |
| K. Dicks | Luke Chen | Automated Surveillance of Bloodstream Infections After Cardiac Catheterization |
| K. Hornsby | Tracy Wang | Characteristics and Clinical Outcomes Among Acute Coronary Syndrome Patients with Atrial Fibrillation |
| M. Naveed | Daniel Wild | Characterization of Safety and Efficacy of Retrograde Spiral Enteroscopy at DUMC |
| V. Patel | Lori Bastian | Do Multiparity and Breastfeeding Affect the Severity of Hepatic Steatosis? |
| S. Sumner | Nathan Thielman | Effect of War on Physician Emigration from Developing Countries |
| A.M. Navar-Boggan | Eric Peterson | * Evaluating Outpatient Hypertension Control Among Patients of Duke Cardiology |
| S. Katrak | Susanna Naggie | Hospital Utilization in HIV/HCV Co-Infection |
| J. Chiarchiaro | James Tulsky | ICU Impact on Health Trajectories of Patients with Advanced Chronic Illness |
| M. Chenier | Tracy Wang | Long Term Outcomes Associated with Hospital Acquired Thrombocytopenia in ACS |
| S. Martin | Tracy Wang | * Modifiable Factors Associated with Lipid Goal Attainment After Acute Myocardial Infarction |
| J. Roberts | Uptal Patel | Outcomes in patients with chronic kidney disease after treatment for clinically significant CAD |
| S. Pendharkar | Deverick Anderson | Positive Blood Culture for Enterococcus: What is the Significance? |
| R. Gupta | Manesh Patel | Predicting Obstructive Coronary Artery Disease in Elective Coronary Angiograms |
| T. Zhang | Jeffrey Peppercorn | Prevalence and Impact of Correlative Science in Breast Cancer Phase II Trials |
| C. Kaiser | Charles Hicks | Prevention and Recognition of Coronary Artery Disease in an HIV Clinic Population |
| P. Park | Jason Stout | Public Health Cost of Unnecessary Tuberculosis Treatment |
| C.C. Coombs | Mark Lanasa | * Race as a Determinant of Disease Biology and Outcomes in CLL |
| A. Owen | James Jollis | RACE CARS in the Classroom |
| S. Hodavance | Howard Rockman | The Role of Beta-Adrenegic Receptor and CaMKII Activation in Heart Failure |
| K. Patel | Jeffrey Peppercorn | Targeted Therapies in Metastatic Breast Cancer: The Phase II Experience |
| M. Durheim | Charles Hargett | Utility of Serum NT-pBNP in Idiopathic Pulmonary Fibrosis and Secondary Pulmonary Hypertension |