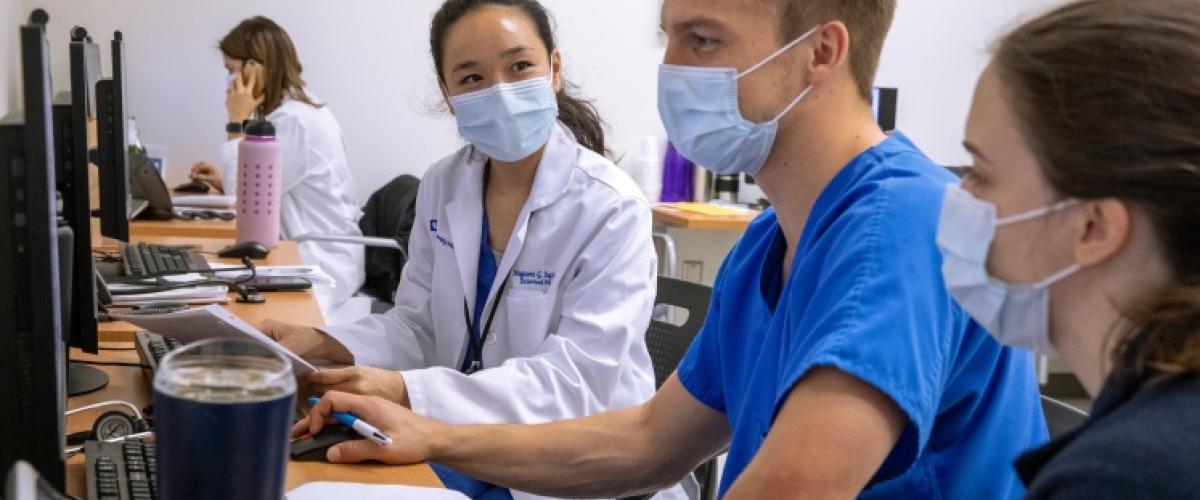 To facilitate the implementation of resident research projects, funding support is also available for selected research projects. Additionally, protected time in the form of research electives are granted to selected residents who have formulated a research project and plan with their mentor.
The Faculty Resident Research Grants consist of $2,000 awards per research proposal, part of which may be utilized for travel to scientific meetings to present research results. The request for applications (RFA) is announced in Spring and the grant applications are due by the end of July of each academic year. After a grant review process and selection of the proposals by a faculty committee, the funding will be awarded. The funding is available to the trainee until their residency ends.
Stead Resident Research Grant applications also consist of $2,000 awards per research proposal. Applications open in the Fall of each academic year, allowing a second opportunity for residents to apply for funding. Stead Resident Research grant applications are due in September of each academic year and are funded by the Stead Scholarship Committee.
The Residency Program provides travel funding for residents to attend and present their research abstracts and papers as posters or oral presentations at state, regional and national medical society or scientific meetings..
For more information about research funding opportunities, please contact Dr. Nia S. Mitchell, nia.s.mitchell@duke.edu
Faculty-Resident Research Grant Recipients
2023
Recipient
Mentor
Project

Peter Albares, MD

Kara Wegermann, MD and Alyson Johnson, MD

Endoscopic management of enterocutaneous fistulas, a systematic review. & Endoscopic management of enterocutaneous fistulas, a quaternary care center experience. 

Clare Anderson, MD

Jie

 

Wang MD, MS 

Clinical Significance of Positive T-Cell Clonality Testing 

Benjamin Berger, MD

Elias Pratt, MD

Anticoagulation Targets in VV ECMO Patients with COVID-19 ARDS 

Mark Brahier, MD, MBA

Jonathan P. Piccini, MD, MHS

Repeat catheter ablation for atrial fibrillation: a study of procedural techniques, recurrence mechanisms, safety, and outcomes 

Melissa Cutshaw, MD, MPH

Nwora

 

Lance Okeke, MD

Determinants associated with weight gain among persons with HIV who switch to integrase strand transfer inhibitors (INSTI) 

Sanjay

 

Gadi, MD

Jeremy Brown, MD, MSc

Development of a Scoring System for the Evaluation & Comparison of Computer-Aided Detection Programs in Colonoscopy Using a Modified Delphi Approach

Alexander Gunn, MD, MS

Robert Mentz, MD

Association of sacubitril-valsartan versus valsartan with healthcare utilization following worsening heart failure in patients with EF>40% 

Madeleine Hamilton, MD

Craig Rackley, MD 

Predictors of Survival in Lung Transplant Patients Who Require Venovenous Extracorporeal Membrane Oxygenation in the Post- Transplant Period 

Jacquelyn Kercheval, MD

Craig Rackley, MD

Risk of Healthcare-associated Infections for Patients Supported with VV-ECMO for COVID-19 ARDS vs. ARDS from Other Causes 

Elizabeth Kobe, MD, MHS

Nishant Shah, MD

Cardiovascular Disease in People Living with HIV: Disparities in Risk Factor Optimization and Outcomes 

Kate Lee, MD, MS

Anthony Galanos, MD

The Role of Artificial Intelligence in Medical Creative Writing: Comparative Analysis of Medical Poems by Physician and GPT-4 

Evan Murray, MD

Robert Mentz, MD

Effects of Sacubitril/Valsartan or Valsartan in De novo vs. Chronic HFpEF and HFmrEF: The PARAGLIDE-HF Trial 

Bret Pinsker, MD

Richard Krasuski, MD

Cardiac MRI Predictors of Atrial Arrhythmia Ablation Outcomes in Repaired Tetralogy of Fallot 

Shelief

 Robbins-Juarez, MD

Jonathan P. Piccini, MD, MHS

A Systematic Review with Meta-Analysis: Botulinum Toxin Type A for Prevention of Post-Operative Atrial Fibrillation after Cardiac Surgery

Bari Rosenberg, MD

Thomas LeBlanc, MD, MA 

Do Adult Patients with Acute Lymphoblastic Leukemia (ALL) who Receive Asparaginase as Part of Their Chemotherapy Regimen Have Improved Five-Year Overall Survival Compared to Adults with ALL Who Do Not Receive asparaginase? 

Nivita

 

Sharma, MD

Cecelia Zhang, MD

Evaluation of Factors Affecting Deployment of Biologic Therapy in the Management of Inpatient Acute Severe Ulcerative Colitis at Duke Regional Hospital 

Karen Young, MD

Stephanie Garbarino, MD

Alcohol relapse after liver transplantation: risk factors, outcomes, and a comparison of risk stratification models 
2022
| Recipient | Mentor | Project |
| --- | --- | --- |
| John Barber, MD PGY 2 | Garnett Kelsoe, MD | Investigation of the role of TLR pathway mediators in AID-mediated central B-cell tolerance |
| Emory Buck, MD PGY 3 | John David Ike, MD | Visual Arts Curriculum to Mitigate Internal Medicine Residents Burnout and Enhance Empathy and Tolerance for Ambiguity |
| Joanna Cavalier, MD PGY 4 | Michel Khouri, MD | Racial Differences in Phenotypes and Outcomes of Cardiac Amyloid |
| Michelle Ferreira, MD PGY 3 | Brent Hanks, MD  | Characterizing steroid-refractory immunotherapy toxicities and effect of second-line immunosuppression on survival |
| Jordan Infield, MD PGY 3 | Michael Harrison, MD   | Assessing Malnutrition and the Impact of the Dietician Input in Patients with Chronic Pancreatitis |
| Jacquelyn Kercheval, MD PGY 2 | Rajesh V. Swaminathan, MD  | Acute Myocardial Infarction related Cardiogenic Shock Survivorship: A Pilot Study in Quality of Life |
| Jacob Pierce, MD, MPH PGY 2 | Stephen J. Greene, MD | Quality of Care and Clinical Outcomes in Patients Hospitalized with Heart Failure in Rural and Urban Hospitals: Insights from Get With The Guidelines – Heart Failure |
| Sukrit Jain, MD PGY 3 | Darsh Kothari, MD  | Assessing Malnutrition and the Impact of the Dietician Input in Patients with Chronic Pancreatitis |
| Anand Shah, MD, MBA PGY 3 | Robert J Mentz, MD | Hospital Virtual Heart Failure Consultation for Goal-directed Medical Therapy Optimization |
2021
| Recipient | Mentor | Project |
| --- | --- | --- |
| Aaron Hein | Darshan Kothari | Quality Improvement of Early Enteral Nutrition in Acute Pancreatitis |
| Allison Taylor | Thomas LeBlanc | Influence of socioeconomic & psychological factors on treatment patterns in Black patients with Acute Myeloid Leukemia (AML) |
| Aman Kansal | Manesh Patel | Early Identification of High Risk Cardiac Decompensation Phenotypes Via Real-time Electronic Health Record Data |
| Andrew Andreae | Jonathan Piccini | Inappropriate ICD Shocks in Patients with LVADS: Impacts and Mechanisms |
| Ann Cameron Barr | Megan Clowse | Effect of Patient Health Literacy on Discordance between Patient and Physician Assessment of Lupus Disease Activity |
| Brittany Chapman | Adam DeVore | Utilization of Guideline-Directed Medical Therapy after Hospitalization: A Secondary Analysis of CONNECT-HF |
| Colin Smith | Jane Gagliardi | Experiences of African American Individuals Treated in the Psychiatric Emergency Unit at Duke University Hospital |
| Emory Buck | Jenny Van Kirk | Visual Arts Training to Improve Internal Medicine Residents Observational Skills |
| Hayley Cunningham | Carly Kelley and Mehri McKellar | Identifying Perceptions of HIV Pre-Exposure Prophylaxis Held by Transgender, Lesbian, Gay, Bisexual, and Queer Identifying Individuals |
| John Tanaka | Sunil Rao | The Impact of the COVID-19 Pandemic on Patients with Peripheral Artery Disease |
| Joseph Wawrzynski | Katherine Garman | Assessing risk factors for H. pylori negative chronic active gastritis |
| Neesha Nama | Darshan Kothari | Predictors and Barriers to Receipt a Cholecystectomy at Index Admission for Gallstone Pancreatitis |
| Ryan Keane | Robert Mentz | Event Adjudication in the Evaluation of Worsening Heart Failure: Insights from ASCEND-HF |
| Saad Atiq | Arif H. Kamal | Disparities Between GU and Non-GU Cancer Patients Referred to Palliative Care |
| Samantha Dizon | Richard Krasuski | Right Ventricular Dilation as a Predictor of Admission for Heart Failure in Patients with Corrected Tetralogy of Fallot |
| Sean Taasan | Jeffrey Clarke | Clinical outcomes for patients with stage III NSCLC and STK11 or KEAP1 genetic alterations |
| Sebastian Franco | Matthew Sparks | Flipped Class with Kidney Bass - Enhancing Engagement at Noon Conference with Nephrology Videos and Active Learning Exercises |
| Shang Chung | Ziad Gellad | Characterization of Barrett's Surveillance Program at DUHS |
| Timothy Hopper | Svati Shah | Genetics of Chronic Kidney Disease Risk |