The Duke Internal Medicine Residency Program accepts applications through the Electronic Residency Application Service (ERAS). Any information submitted outside of ERAS cannot be accepted.
Our program offers interviews on a rolling basis as we go through our holistic review process.  Interview offers will be extended in batches on Mondays and Thursdays, on a rolling basis starting in mid-October.   We do not offer more interviews than we have space to accommodate.  Our interviews will be held virtually only, with invited applicants participating in a morning OR afternoon (EST) interview session. 
Interview dates are shown below for the 2023-2024 season: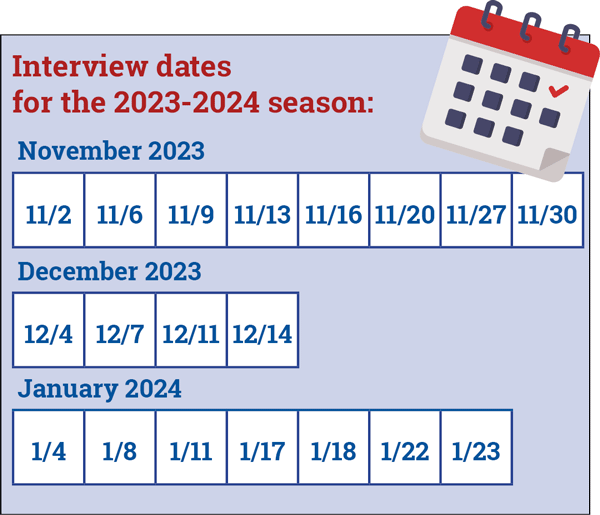 Invited applicants will have an opportunity to meet virtually with small groups of our residents the night before their scheduled interview day.
As an invited applicant, if you have a special interest (PSTP, Global Health Residency, MLP-R), you will have an opportunity to request participation in additional interview and information sessions at the time you select your interview date.  We will also host optional meet and greet sessions discussing ACLT, equity/diversity/inclusion, and life as a partner of a resident. 
We look forward to seeing your applications and meeting many of you on the interview days.
For information during the application process and support during the interviewing season, please check out our Frequently Asked Questions page or contact Recruitment Coordinator, Kayla Humphreys at kayla.humphreys@duke.edu.
To apply for the Duke Internal Medicine Residency Program, submit the following documents:
USMLE Step 1 report
Medical school transcript
Personal statement
3 or 4 letters of recommendation
MSPE (Dean's letter)
Residents accepted into the program will need to successfully complete USMLE Step 2 to start the program. We strongly encourage applicants to take USMLE Step 2 before March 1 to permit reporting of scores before the start of orientation in late June. Reporting of USMLE scores can take approximately 8 weeks. 
Visa Information
We only accept the J-1 Visa.
Openings other than PGY 1
We do not accept applications for PGY 2 or PGY 3 positions. 
Medicine-Pediatrics
For information about applying to the Medicine-Pediatrics Residency Program, contact Program Director, Colby Feeney, MD at colby.wilson@duke.edu or contact Program Coordinator, Ashley Bowes at ashley.bowes@duke.edu or 919-681-3009. 
Medicine-Psychiatry
For information about applying to the Medicine-Psychiatry Residency Program, contact  Program Director Nicole Helmke, MD at nicole.helmke@duke.edu or Program Coordinator, Bridget Copen, MBA at bridget.copen@duke.edu