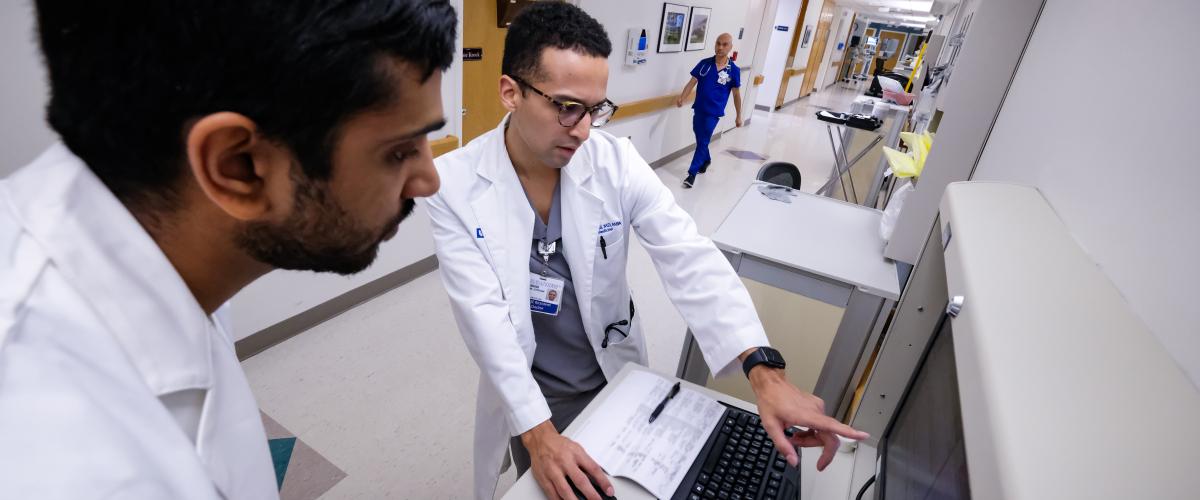 Here at Duke, our dedicated faculty nurture the intellectual curiosity of our internal medicine trainees. Our program will train you, challenge you and prepare you for your future career and life in medicine.


 We know that you will graduate from this program as an outstanding clinician.  We are also committed to helping you  "find your 'and'", whether that is research, quality improvement, advocacy, global health, medical education, master clinician status,  community engagement, administration, and more. 
Program leaders and faculty work with residents to develop their clinical skills, their professional path and as citizens of our community. Intensive career development ensures successful training in Internal Medicine and provides trainees the opportunity to differentiate along many possible career paths. We are proud to offer an optimal, adaptable clinical learning environment coupled with personal attention, allowing trainees to grow into outstanding clinicians and future leaders in medicine. Learn more about our Curriculum, Training Pathways, and our Diversity Equity and Inclusion.
Together, we also support residents as they participate in scholarly, academic and research activities across the medical center – see the Scholarly Activities section to learn more.
The Duke Internal Medicine Residency Program provides a rigorous, rewarding experience in medicine. We invite you to learn more about the program and look forward to hearing from you soon.
Welcome to Duke Internal Medicine Residency