The Global Health Pathway for Residents and Fellows develops academic leaders in global health who work to reduce human suffering caused by health disparities.
Jointly administered by the Hubert-Yeargan Center for Global Health and Duke Global Health Institute, the GH Pathway delivers tailored postgraduate training experiences integrating specialty-specific research opportunities, masters-level didactic training, and close mentorship to develop careers in global health.
Learn more about the program's structure and origins:
Program Structure
Global Health Residents from the Department of Internal Medicine extend the duration of their residency training by 12 months to gain specific global health core competencies. This extended residency includes nine months of coursework which will lead to a Master of Science in Global Health (MSc-GH) and a total of nine months providing clinical care and conducting research at a Duke University international partner site.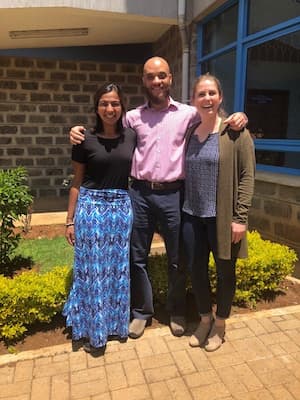 While attending master's classes, Global Health Internal Medicine Residents will continue to engage in weekly continuity clinics to meet requirements for board certification in Internal Medicine. Following the master's level coursework, residents will complete their Global Health master's fieldwork and thesis while engaging in mentored clinical and research activities at their global health training site. In addition to a biweekly journal club, there will be ample opportunity to access special events and lectures throughout the training program.
Global Health Residents have worked in Nicaragua, Brazil, Peru, Kenya, Tanzania, Rwanda, South Africa, India, Thailand, Nepal, and Sri Lanka.  Site options for field training continually evolve as Duke's Global Health Faculty continues to nurture partnerships abroad. Please refer to the Hubert-Yeargan Center for Global Health's website for past and current trainees' profiles.
Applications
Internal Medicine Residents who have successfully completed PGY1 and have the approval of their Program Director are eligible to apply for entry into the program, which will start in July of PGY3.
Applications are accepted from July to September 1. Preference will be given to individuals who have already demonstrated a commitment to address health disparities and who intend to pursue an academic career in global health. Placements are competitive and contingent upon the qualifications of the applicant, availability, and approval from the Medicine Program Director. For more information including application instructions, visit the Global Health Pathway Website.
Global Health Elective Rotation
In addition to the GH pathway, select two- to three-month Global Health Elective Rotations are available for third-year residents on a competitive basis. Duke residents from internal medicine, the pediatrics program, and the combined programs of internal medicine/pediatrics and internal medicine/psychiatry programs are welcome to apply. 
Duke's international elective rotations have a long history of providing valuable and unique experiences for our residents. In addition to choosing from a wide selection of available locations, residents will provide clinical care services to patients abroad. In some locations, only visual observation is permitted, however, many opportunities are available for residents to expand their teaching and lecturing skills. Read more about the global health rotation for residents.