"From the top down, Duke has built a program that values their trainees and puts a premium on their growth, education, and well-being." 

Maxine Chan, PGY-4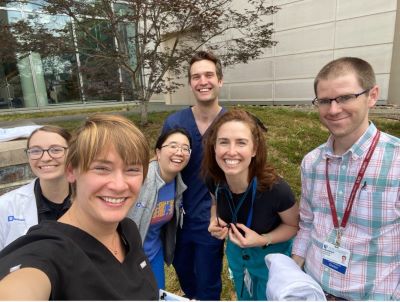 Curriculum
Medicine-Pediatric residents are regarded as categorical residents by both departments and are highly respected. Because Medicine-Pediatrics residents bring a special wealth of knowledge to both departments, their expertise is valued. We welcome applicants whose career goals are academic medicine, the practice of general internal medicine or pediatrics, or disciplines that require these backgrounds.
Internship
Intern year is 12 months in duration and is divided into four, three-month blocks on internal medicine and pediatrics. Although specific rotations may vary from year to year, a special effort is made to provide residents with an effective balance of intensive care, ambulatory, and inpatient ward experience. The pediatric blocks contain one ambulatory rotation, two nursery rotations (full-term and intensive care), two inpatient ward rotations and community rotation. The medicine half of the internship consists of one-month rotations in geriatric medicine, two subspecialty rotations (Hematology/Oncology and Cardiology), two general medicine experiences, 2 weeks in the cardiac intensive care unit, and 2 weeks of an adult community rotation.
Second and Third Years
These two years are categorized as junior residency. Residents continue to rotate between medicine and pediatrics every three months to maintain a continuity of experience and proficiency in both disciplines. The experience in each department is very similar to that offered to the categorical medicine and pediatric residents to achieve board eligibility. The rotations include inpatient wards, intensive care units, electives, ambulatory clinics, the local federally qualified health center (FQHC) both on medicine and pediatrics, and emergency department experiences.
Fourth Year
Medicine experiences consist of an inpatient supervisory general medicine rotation at DRH, inpatient specialty electives, an intensive care month, and an emergency medicine acute care rotation. The pediatric portion of the schedule includes six one-month rotations with electives and inpatient experiences at Duke and an option at Wake Med.
View a sample of the Duke Medicine-Pediatrics Residency Program four-year curriculum
Combined Medicine-Pediatrics Continuity Clinic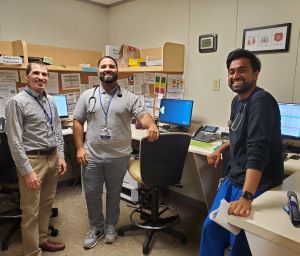 We serve a diverse patient population with a wide range of medical conditions and socioeconomic status. Our residents have a combined medicine and pediatric clinic on a regular basis throughout the four-year program. Interns have approximately one half-day per week in clinic depending on the rotation, and upper level residents have up to two half-days weekly in clinic. The clinic is strategically placed within the north Durham community and on a bus route; it is approximately a 15-minute drive from the main hospital in the Duke Medical Plaza on North Duke Street. It is an integrated office building with pediatric, and med-peds faculty practices. The clinic is a primary care medical home accredited by the Joint Commission, serving patients with complex medical issues and social needs. The clinic has on-site social work, nurse clinicians, lactation consultants, lab services, and mental health triage nurse and licensed counselors for our patients. We have 4 Spanish interpreters on site as well as video interpreters for all other languages. In addition, we benefit from sharing clinical space with our pediatric Healthy Lifestyles (obesity), pediatric mental health, and child abuse and foster care clinics. Since the COVID-19 pandemic, DukeHealth has been a leader in telemedicine. Our residents are trained in telemedicine and have conducted patient visits using telehealth platforms according to need.
Combined Medicine-Pediatrics trained faculty precept the house officer continuity clinic. Interns and residents are encouraged to follow the patients they discharge from the hospital, nursery and care for in the Emergency Department, and these patients help form each resident's clinic population over a four-year period.
Pre-clinic conferences on ambulatory topics in both medicine and pediatrics are held weekly. Conferences are a collaborative experience with residents and faculty.
The residents establish a continuity experience with their patients and have annual adult exams, pediatric well child checks, return appointments and acute visits scheduled weekly. Residents have a balanced outpatient experience and see approximately 50% pediatric and 50% adult patients in each session.
"I was looking for a program with my best interests at heart. One that could set me up for fellowship training in any field. Great strengths [of the program are] a world renown medicine institution as well as a place with who truly takes care of the NC community."  -Shane Clark, MD, PGY-2
Unique Opportunities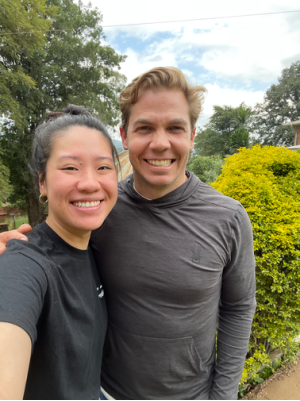 As our program has grown and evolved over the last 35 years, our residents and faculty have developed many unique experiences and rotations for our residents. Some of these innovations include our International Health rotations in Tanzania, Nicaragua, Sri Lanka, Kenya, China, Thailand, Indian Health Services, and Australia. Read more about Global Health at Duke.
Our residents participate in the Comprehensive Introduction to Research Course elective, a combined Med-Peds Ambulatory elective (see below), a community pediatrics elective, dedicated procedure electives, simulation training, and an integrated Evidence-Based Practice curriculum. In addition to the unique clinical experiences, our residents have an opportunity to contribute to both the internal medicine and pediatrics residency programs' Residency Councils and teaching workshops.
The Duke Med-Peds program values innovation in education. In 2019, Dr. Trinh and categorical faculty launched a leadership development curriculum for pediatrics and med-peds residents. In the 2020 academic year, the program rolled out a dedicated Transition curriculum which utilizes didactic podcasts and clinical application activities in order to obtain a flipped classroom experience and cater to different learning styles. The transition curriculum was created with transition leaders at Duke Health and provides teaching and training on the key aspects of transition from pediatric to adult-oriented care. The curriculum has been expanded to incorporate assessment of transitions by residents of their own clinic population by focusing on health maintenance and other needs of their adolescent and young adult patients. Finally, in 2022, the program is introducing a new Adult Community rotation for Med-Peds interns to gain exposure to various resources in the community to help them care for their adult patients. The rotation includes clinical experiences in health departments treating patients with opioid use disorder and tuberculosis, working in Med-Peds resident clinic, and learning about various resources such as the clinic food market, local advocacy groups, the history of Durham, population health resources, and more.
Medicine-Pediatrics Ambulatory Elective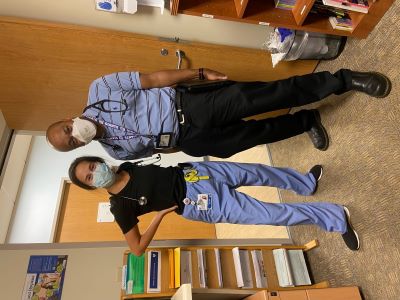 Our residents participate in a one month rotation during both of their junior residency years. The Medicine-Pediatrics resident adult ambulatory elective provides the opportunity for our residents to rotate with specialty faculty preceptors in the outpatient setting with a focus on transitions. Experiences include a pediatric complex care clinic, adult congenital heart clinic, hematology/sickle cell clinic, dermatology, rheumatology, and opportunities in developing quality improvement projects and working on other scholarly activity. Residents complete the Transition Curriculum during their Med-Peds ambulatory elective in the second and third years of training.
Conferences
While the programs successfully transitioned to virtual platforms in response to the COVID-19 pandemic, the programs have now resumed in-person didactic experiences.
Combined Med-Peds Conferences
In addition to the categorical residency program conference, Medicine, Pediatrics and Medicine-Pediatrics residents have the opportunity to attend combined Medicine-Pediatrics conferences, about six to eight times per year. Speakers include the fourth-year med-peds residents giving their senior talks and other faculty speakers who cover topics relevant to internal medicine, pediatrics, and med-peds trainees.
Scholarly Activities
Medicine-Pediatric residents often participate in a wide variety of additional scholarly activities during their training. Many have the opportunity to present their research at meetings and represent Duke at conferences. View examples of some of the recent scholarly accomplishments of our Medicine-Pediatrics residents. 
Latest Med-Peds News
Take a look at the latest Med-Peds Newsletters for information on incoming trainees, program graduates and highlights and accomplishments.