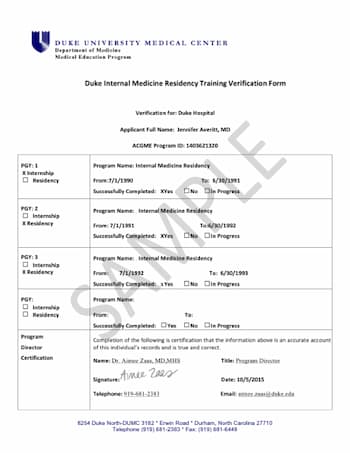 The Department of Medicine provides official verification of successful completion of residency training, using our standard verification letter and/or your institutional form.
Verification is available for the following fees:
 Basic verification of training Dates: $25.00
 Completion of your institutional form: $50.00
 Completion of your institutional form PLUS notary services: $55.00
Training verification is provided at no-cost for current trainees or those who have graduated within one calendar year of their graduation date.
Please contact Vashyra Morris at vashyra.morris@duke.edu if you have any questions.
Please note: For Medicine-Pediatrics requests, please contact Ashley Bowes at ashley.bowes@duke.edu.
How to request verification
Request a verification letter via the request form below.
Download the Authority to Release form, which you will need to complete, sign and upload with your submission.
After submission contact bridget.copen@duke.edu please include form that needs completed, if a basic verification form is need indicate so, your invoice will be send shortly after.
Once payment is received, you will receive the verification letter in 7-10 business days.
You may choose to receive the letter by delivery, email or fax.
See a sample of the basic verification letter at right.
Refund policy
Refund requests must be received in writing within 10 days of receiving the verification letter.
Privacy Statement
Duke is committed to protecting your online privacy. In general, you can visit Duke Web sites without revealing any personal information. However, you may be asked to provide personal information to gain access to some of our content and services. This information helps us to better ascertain and address the health care needs and concerns of site visitors.
All personally identifiable data that you enter on this site is not sold or given to any third parties.
We use analytics tools and other third party technologies, such as Google Analytics, to collect non-personal information regarding you in the form of various usage and user metrics when you use our online Sites and/or Services. These tools and technologies collect and analyze certain types of information, including cookies, IP addresses, device and software identifiers, referring and exit URLs, onsite behavior and usage information, feature use metrics and statistics, usage and purchase history, MAC Address, mobile unique device ID, geo-location, demographic and interest data, and other similar information.
If you have a complaint or problem, or if you believe your privacy rights have been violated, you may contact us. Please indicate the reason for contacting us. Our customer service department will forward your complaint to the appropriate Duke University Health System department for response or resolution.