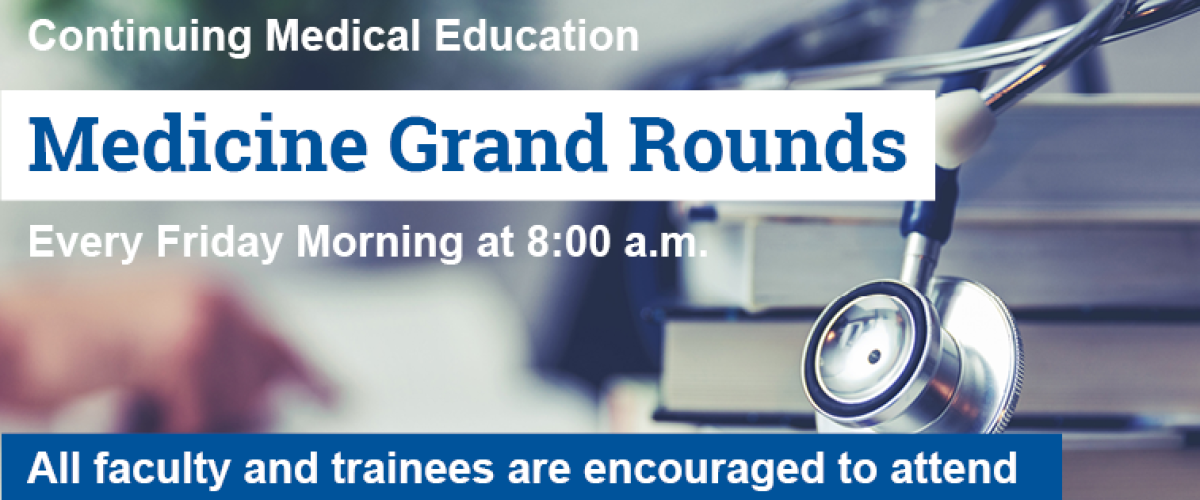 Medicine Grand Rounds (MGR) is a weekly seminar series to support the academic environment of the Duke Department of Medicine. Topics and speakers are selected to provide faculty and trainees with up-to-date knowledge about timely issues in internal medicine. MGR occurs every Friday at 8 a.m in Duke North 2002 unless otherwise noted below.
Faculty and trainees should use this Zoom link to join each week:
Meeting ID: 912 2757 9393
Passcode: 393431
Dial by Phone: +1 301 715 8592
Having trouble connecting? Get help from Duke OIT.
Category 1: Duke University Health System Department of Clinical Education and Professional Development designates this activity for a maximum of 1.0 AMA PRA Category 1 Credit(s)™. Physicians should claim only credit commensurate with the extent of their participation in the activity.
Attendance and CME credit is tracked online by Duke Continuing Medical Education.
Faculty can now receive MOC credit. In order to receive credit please be sure to update your profile in in Ethos in order for your MOC credit to be sent to the specialty board.  Failure to ensure your information is correct in your profile, including identifying your specialty board, diplomate number and birth date will result in no MOC credit being reported for you. It is not CEPD's responsibility to ensure the correctness of the individual's information.
2023-2024 MGR Schedule
Date
Presenter
Title
Learning Objectives
07/07/23
Chris Beyrer, MD, MPH
Professor of Medicine, Infectious Diseases
Director, Duke Global Health Institute (DGHI)
 
Global Health: Advancing Equity Through Science

Understand the role of health equity in global health
Review the research, teaching, and service opportunities available to Duke faculty at the Global Health Institute

07/14/23

Svati Shah, MD, MHS
Ursula Geller Distinguished Professor of Research in Cardiovascular Diseases
Professor of Medicine, Cardiology
Professor of Biostatistics and Bioinformatics, Basic Science Departments

Anisha Chandiramani, MD
Assistant Professor of Medicine, General Internal Medicine
Duke Department of Medicine

Enabling Precision Medicine through Collaboration

Understand the principles of precision medicine, including the role of genomics, AI and implementation science to improve patient care
Discuss a new genomic medicine program at Duke University, discussing potential scientific output, benefits, challenges, and ethical considerations
Discuss strategies for integrating precision medicine into clinical practice and improving patient outcomes through a new Duke collaboration with a data science company

07/21/23
David Casarett,MD
Professor of Medicine, General Internal Medicine
Section Chief of Palliative Care, General Internal Medicine
Duke Department of Medicine
How Duke Health is Using Design Thinking to Promote Goal-Concordant Care for All Patients

Define goal-concordant care
Explain obstacles to achieving goal-concordant care in advanced serious illness
Describe how design thinking can promote behavior change

07/28/23
Ilan Schwartz,MD, PhD
Associate Professor of Medicine, Infectious Diseases
Duke Department of Medicine
Brave New World: Promise and Peril of Generative AI in Medicine

Define generative artificial intelligence, language models, and chatbots
Describe promising use cases for language models to improve work flows in clinical medicine
Describe limitations of current language models that make them poorly suited for some tasks in medicine

8/4/23

2023 Joseph C Greenfield Visiting Professor


Martha Gulati, MD, MS, FACC, FAHA, FASPC, FESC
Director of Preventative Cardiology at the Smidt Heart Institute
Associate Director of the Barbara Streisand Women's Heart Center
Cedars-Sinai Medical Center, Los Angeles, CA

Understanding Sex Differences in Cardiovascular Disease

Address the persistent sex-specific gaps found in guidelines, recommendations and prevention of cardiovascular disease strategies for women, and recognize diagnostic and therapeutic adherence
Understand the differences in coronary artery disease patterns in women and its impact on prognosis
Recognize sex-specific risk factors that affect women that should be part of risk assessment of women

08/11/23
Sudarshan Rajagopal, MD, PhD
Associate Professor of Medicine, Cardiology
Duke Department of Medicine
Associate Professor of Cell Biology and Biochemistry,
Basic Science Departments
Pulmonary Hypertension: From Bench to Bedside

Gain knowledge about the various clinical definitions and classification systems used to categorize pulmonary hypertension
Explore the underlying pathologic processes contributing to the development of pulmonary hypertension
Discuss potential therapeutic targets related to receptor signaling in PH
Understand the advantages, limitations, and potential future directions of advanced imaging techniques for improving the diagnosis, monitoring, and management of pulmonary hypertension

08/18/23
Susan L. Murray, MD
Medical Instructor, Department of Medicine, Nephrology
Duke Department of Medicine

Lies, Damned Lies and Statistics: Medicine in the Age of Alternative Facts

 

(This lecture is approved for 200-level RCR credit. To receive credit, attendance must be for the entire 60 minute event.)

State the historical context of data manipulation in medicine
Explain some of the challenges facing us in today's research
Describe future challenges to research integrity

08/25/23

Kathleen Cooney, MD
Chair, Department of Medicine

Fireside Chat
Watch the Recording
09/01/23

No Medicine Grand Rounds

 
 
09/08/23
Dr. Gene Nichol
Professor of Law, University of North Carolina at Chapel Hill

Poverty and Equal Dignity in North Carolina

T

he challenges of intense poverty and economic marginalization in one of the most economically vibrant states of the richest nation on earth, the richest and most unequal nation in human history

09/15/23
Chetan B. Patel, MD
Associate Professor of Medicine, Cardiology
Duke Department of Medicine
Heart Transplant at Duke: Tradition and Innovation

Help audience understand donor and recipient limitations in heart transplantation
Describe the framework utilized for overcoming these limitations at our institution and how we are providing advanced heart therapies to more patients in need
Understand the potential for new science in heart transplantation

09/22/23

Danielle M. Brander, MD
Assistant Professor of Medicine,
Hematologic Malignancies and Cellular Therapy, Duke Department of Medicine

Chronic Lymphocytic Leukemia in 2023

Understand the heterogeneity of CLL/SLL in diagnosis, disease course, and treatment outcomes, and the factors that contribute to high risk CLL/SLL
Contrast available treatment options for patients in the frontline and relapsed setting
Recognize common toxicities of BTK inhibitors and venetoclax and describe strategies to mitigate and manage these side effects
Identify remaining areas of unmet need for patients with CLL/SLL and Richter's Transformation

09/29/23
Robert M. Tighe, MD
Associate Professor of Medicine, Pulmonary, Allergy, and Critical Care Medicine
Duke Department of Medicine
Climate Change and Health as Viewed Through the Prism of the Impacts of Air Pollution

Broadly define the impact of climate change and human health
Define sources and health effects of air pollution
Define mechanisms of susceptibility of air pollution

10/20/23

Keynote Speaker:

John Duronville, MD
Assistant Professor of Medicine, Nephrology
Faculty Leader, Stepping In 4 Respect
Duke University School of Medicine

Guest Speakers:

Margaret Plews-Ogan, MD
Annie E. and Bernard B. Brodie Professor of Medicine, UVA School of Medicine,
Co-Director, Wisdom and Wellbeing Program, UVA Health
Co-Founder and Co-PI, Stepping in for Respect National Collaborative, University of Virginia

Gregory Clarke Townsend, MD
Associate Professor of Internal Medicine, Division of Infectious Diseases and International Health,
Associate Dean for Diversity, and Medical Education, UVA School of Medicine,
Co-Developer of Stepping In 4 Respect,
University of Virginia

Phillips-Winn Memorial Lecture
 

Stepping In 4 Respect: Upstander Training Nationally and at Duke University

Understand the importance of Upstander intervention in the academic/medical work environment
Gain insight on the incidents of bias and disrespect in the medical environment both at Duke and nationally
Learn how Stepping In 4 Respect training is utilized to promote a culture of respect and inclusion

 
Date
Presenter
Title
06/30/2023
Cancelled for Holiday & Transition Period
 
06/23/2023

Chief Resident Talks

Sara Coles, MD
Ryan Duffy, MD
Nathaniel Harris, MD, PhD
Lonnie Sullivan, MD
 

Parenting in Graduate Medical Education…Past, Present, and Future

06/16/2023

2023 Joseph C Greenfield Visiting Professor

Quinn Capers IV, MD
Associate Dean for Faculty Diversity
Vice Chair for Diversity and Inclusion,
Department of Internal Medicine
Rody P. Cox, M.D. Professorship in Internal Medicine
UT Southwestern Medical Center

Please note, this will not be offered virtually.

View Presentation (no audio recording)
06/09/2023

2023 Clipp-Speer Medicine Grand Rounds
Location: Great Hall, Trent Semans Center

Senior Associate Dean 

for Health Equity and Inclusive Excellence 

 

Vanderbilt University Medical Center 

Watch the recording
06/02/2023

Kathleen A. Cooney, MD, MACP
George Barth Geller Distinguished Professor of Medicine
Chair, Department of Medicine

2023 Department of Medicine End of Year Review

 

05/26/2023

2023 Neil Spector Art of Medicine, Medicine Grand Rounds

Heather E. Whitson, MD, MHS
Professor of Medicine
Ophthalmology, Neurology, and Head & Neck Surgery and Communication Sciences
Director,Center for the Study of Aging and Human Development
Co-Director, Duke & UNC Alzheimer's Disease Research Center
Duke University School of Medicine & Durham VA GRECC

Dave D'Alessio, MD
James B. Wyngaarden Distinguished Professor of Medicine
Professor of Medicine
Chief, Division of Endocrinology and Metabolism

Watch the recording
05/19/2023

2023 Resident Research Day
Location: 6th floor, Trent Semans Center

Califf Resident Research Award Recipients

Nicole Dussault, MD, MS - PGY2
Mentor: Jessica Ma, MD
Internal Medicine Resident Barriers to Advanced Care Planning in the Primary Care Clinic

Sriya Muralidharan, MD - PGY3
Mentors: Darin Dufault, MD/ Jessica Seidelman, MD/ Becky Smith, MD
Pathogenic flora continue to contaminate duodenoscopes despite novel disposable tips

Allison Taylor, MD, MS - PGY3
Mentor: Thomas W. LeBlanc, MD, MS
Facilitators and Barriers to Care Encountered During Treatment in Non-Hispanic Black Patients with Newly Diagnosed Acute Myeloid Leukemia

2023 Resident Research Day

05/12/2023

Lisa Cristopher-Stine, MD, MPH
Professor of Medicine and Neurology
Director of the Johns Hopkins Myositis Center

Please note, this will not be offered virtually.

Statin Myopathy for the Internist: Recognizing When It Is an Autoimmune Disease

05/05/2023

Tracy Setji, MD
Associate Professor of Medicine
Division of Endocrinology, Metabolism, and Nutrition

Beatrice Hong, MD
Assistant Professor of Medicine
Division of Endocrinology, Metabolism, and Nutrition

Sugar and Safety: Improving Glycemic Care in the Hospital

04/28/2023

2023 Department of Medicine Research Day

Location: Great Hall, Trent Semans Center

Medicine Grand Rounds Presenter:
Kathleen A. Cooney, MD, MACP
George Barth Geller Distinguished Professor of Medicine
Chair, Department of Medicine

Hereditary Prostate Cancer: From Gene Discovery to Clinical Implementation

04/21/2023

Brian Andonian, MD, MHSc
Assistant Professor of Medicine
Division of Rheumatology & Immunology
Duke Molecular Physiology Institute
Duke University School of Medicine

Kim Huffman, MD, PhD
Associate Professor of Medicine
Division of Rheumatology & Immunology
Duke Molecular Physiology Institute
Duke University School of Medicine

Going Beyond Pharmacotherapy: Lifestyle Interventions for Improving Health in Patients with Rheumatoid Arthritis

04/14/2023

Pamela S. Douglas, MD, MACC
Ursula Geller Distinguished Professor for Research in Cardiovascular Disease
Duke University School of Medicine

Strengthening Medicine for the Future: Beyond Clinical Care

04/07/2023

Honoring Retirees

David Lee Simel, MD, MS
Professor of Medicine
Division of General Internal Medicine
Vice-Chair for Veterans Affairs
Duke Department of Medicine

Joanne A. Peebles Wilson, MD
Professor of Medicine
Division of Gastroenterology
Duke Department of Medicine

Watch the recording
03/31/2023

Susan Dent, MD
Professor of Medicine
Associate Director of Breast Cancer Clinical Research
Co-Director Duke Cardio-Oncology Program

Heather Moore, CPP, PharmD
Clinical Pharmacist Practitioner
Duke Cancer Center Breast Clinic

The European Society of Cardiology (ESC) Cardio-Oncology Guidelines: Pearls for health care providers

03/24/2023

Lori A. Orlando, MD MHS MMCI
Professor of Medicine, Division of General Internal Medicine
Director, Duke Precision Medicine Program
Duke Executive Health

Are We Ready for the Era of Genomic Medicine?

03/17/2023

2023 Match Day Theme | Honoring Retiree Dr. David Butterly

Presented by Drs. Aimee Zaas, Lisa Criscione-Schreiber, and Diana McNeill

Creating the DukeFamily: Recruiting and The Match, with a Tribute to Dr. David Butterly

03/10/2023

Moira A. Rynn, MD
Chair, Department of Psychiatry and Behavioral Sciences
Duke University School of Medicine

Behavioral Health: Before and After Covid-19

03/03/2023

Annual Faculty vs Housestaff Trivia

Please note, this will not be recorded.

02/24/2023

Cathy Anne Petti, MD
CEO HealthSpring Global, Inc.
Adjunct Professor of Medicine,
Division of Infectious Diseases
Duke Department of Medicine
Former Duke University School of Medicine IM Resident and Fellow

Critical Thinking Applied to Infectious Diseases Diagnostics

02/17/2023

2023 Joseph C. Greenfield Visiting Professor

Hyung (Harry) J. Cho, MD, FACP, SFHM
Vice President of Quality
Department of Quality and Patient Safety
Brigham and Women's Hospital, Boston, MA

Value Implementation in the Safety Net: Lessons Learned

02/10/2023

Serena P. Wong, DO
Assistant Professor of Medicine
Duke University School of Medicine

C. Barrett Bowling, MD, MSPH
Associate Professor of Medicine
Associate Director, Durham VA GRECC  

What does Age-Friendly really mean? Updates on geriatrics clinical and research initiatives

02/03/2023
Cancelled
 
01/27/23

Jessica Regan, MD
Cardiovascular Disease Fellow
Duke Department of Medicine

Bennett Caughey, MD
Hematology-Oncology Fellow
Duke Department of Medicine

Clonal Hematopoiesis of Indeterminate Potential: Spanning Pre-Malignant, Malignant and Cardiovascular Disease

01/20/23

Professor of Medicine

Director of Education and Teaching, Duke Primary Care

Duke University Medical Center

Outpatient Teaching at Duke-Opportunities, Challenges, and Best Practices

01/13/23

2023 Martin Luther King Jr. Memorial Medicine Grand Rounds

Location: Great Hall, Trent Semans Center

Julius M. Wilder MD, PhD
Assistant Professor of Medicine
Chair, Duke Dept of Medicine Diversity, Equity, Inclusion, and Anti-racism Committee
Vice Chair, Duke Dept of Medicine Minority Recruitment and Retention Committee       
Co-Director for the Duke CTSI- Community Engaged Research Initiative (CERI)

Hepatitis C as a Paradigm for Health Equity and Social Justice at Duke Health

01/06/23
Holiday Break - No Medicine Grand Rounds
 
12/30/22
Holiday Break - No Medicine Grand Rounds
 
12/23/22
Holiday Break - No Medicine Grand Rounds
 
12/16/22
Holiday Break - No Medicine Grand Rounds
 
12/09/22

Rana Gupta, PhD
Professor of Medicine
Division of Endocrinology
Duke University School of Medicine

Fat Fixer-Upper: Remodeling Adipose Tissue to Improve Metabolic Health in Obesity

12/02/22
Michael Gunn, MD
Professor of Medicine and Immunology
Duke University School of Medicine

Preventing the Next Pandemic: Next Generation Point of Care Diagnostics.

11/25/22
Holiday - No Medicine Grand Rounds
 
11/18/22

 

Christopher J. Hostler, MD, MPH
Chief, Office of Public Health and Epidemiology
Infectious Diseases Physician
Medical Director, Antimicrobial Stewardship Program
Durham VA Health Care System

Alexei Kudla, MD
Assistant Chief of Radiology,
Durham VA Medical Center

John Demis, MD
Internal Medicine Residency Program, PGY-1
Duke Department of Medicine

Nicholas J. Rohrhoff, MD, FACP
LCDR, MC (UMO), USN
Fellow, Pulmonary Disease & Critical Care
Naval Medical Center San Diego

Veterans Day Medicine Grand Rounds | Navy Edition

11/11/22

Lonnie Sullivan, MD
Duke Internal Medicine Chief Resident

Craig T. Albanese, MD, MBA
Executive Vice President and Chief Operating Officer,
Duke University Health System

Richard P. Shannon, MD
Senior Vice President and Chief Quality Officer
Chief Medical Officer
Duke University Health System
Professor of Medicine
Duke University School of Medicine

Armando Bedoya, MD, MMCi
ACMIO Applied Data Science | DHTS

Removing Barriers in Clinical Care Delivery. Is it possible? Is it sustainable? Is it worth it?

11/04/22

Eugene A. Stead Jr. Medicine Grand Rounds Lecture

Michael Pignone, MD, MPH, MACP
Professor and Inaugural Chair, Department of Internal Medicine
Dr. Lowell Henry  Lebermann  Endowed Chair in Internal Medicine
Co-Director, Cancer Prevention and Control, Livestrong Cancer Institutes
Dell Medical School, University of Texas Austin

Using preventive care innovation to improve equity: colorectal cancer screening

10/28/22

Michael DeBaun, MD, MPH | Phillips-Winn Memorial Medicine Grand Rounds Lecture
Director
Vanderbilt-Meharry Center for Excellence in Sickle Cell Disease
Professor
Pediatrics and Medicine
Vice Chair for Clinical and Translational Research
Department of Pediatrics
J.C. Peterson Chair in Pediatrics
Vanderbilt University Medical Center

Curing Sickle Cell Disease: the Good, the Bad and the Future

10/21/22

Joel C. Boggan, MD, MPH
Associate Program Director, Internal Medicine Residency Program
Associate Professor, Division of General Internal Medicine
Duke University Health System
Hospital Medicine, Durham VA Medical Center

To the VA and Beyond: A view across the quality improvement landscape

10/14/22

Alan Mast, MD, PhD | William H. Kane Medicine Grand Rounds Lecture
Associate Professor
Department of Cell Biology, Neurobiology, and Anatomy
Medical College of Wisconsin

Factor V and TFPI interactions in Hemostasis and Thrombosis: From Duke to East Texas

10/07/22

Cynthia Moylan, MD
Associate Professor of Medicine
Division of Gastroenterology
Joint appointment in Pathology as Associate Professor of Pathology
Member of the Duke Cancer Institute
Chair of the Women in GI committee
Director of Hepatology at the Durham VAMC
Staff Physician

Non-alcoholic Fatty Liver Disease:  Appreciating the influence of early life, environment, and collaboration.

9/30/22

Hayden Bosworth, PhD
Deputy Director, Center of Innovation to Accelerate Discovery and Practice Transformation (ADAPT) Durham Veterans Affairs Medical Center
Professor and Vice Chair for Education
Department of Population Health Sciences
Research Professor:
Department of Medicine,
Division of General Internal Medicine
Department of Psychiatry and Behavioral Sciences
School of Nursing Duke University Medical Center

Implementation science: the next big 'invention' to improve health care

9/23/22

Jamie R. Privratsky, MD,PhD
Assistant Professor
Division of Critical Care Medicine
Center for Perioperative Organ Protection
Department of Anesthesiology
Duke University Medical Center

Tomokazu Souma, MD, PhD
Assistant Professor
Division of Nephrology,
Duke University School of Medicine

Sex differences in AKI outcomes

9/16/22

Katherine N. Neal, MD, FHM, CHCQM-PH​YADV
Assistant Professor of Medicine
Duke Hospital Medicine Program
Duke University Medical Center

Kevin W. Southerland, MD
Assistant Professor of Surgery
Division of Vascular and Endovascular Surgery
Duke University Medical Center

 

 

Threatened Limbs at Duke: Multidisciplinary Care for a Multifaceted Problem

 

9/9/22

Dr. Skorton Visiting Professor Medicine Grand Rounds

David J. Skorton, MD
President and Chief Executive Officer
Association of American Medical Colleges

Advancing DEI in Academic Medicine: Its Critical Importance and the Role We All Must Play

Please note: Handout material provided within the QR code at the end of the video

9/2/22

Daniel Edmonston, MD, MHS
Assistant Professor of Medicine
Division of Nephrology
Department of Medicine, Duke University
Duke Clinical Research Institute

Cardiovascular Complications Across the Spectrum of Kidney Disease

8/26/22

Patrick H. Pun, MD, MHS,FASN
Associate Professor of Medicine
Division of Nephrology
Duke University Medical Center

Reducing Sudden Death Among Hemodialysis Patients: Can Small Things Make a Big Difference?

8/19/22 at 12pm EST

Michael Taffe, PhD
Professor
Department of Psychiatry
University of California, San Diego

The Funding IS the Science: DEI and NIH Grant Award

8/12/22

Dinushika Mohottige, MD, MPH
Assistant Professor of Medicine
Division of Nephrology
Duke University Medical Center

Racism and Kidney Health: Turning Equity into a Reality

8/5/22

No Medicine Grand Rounds

 

7/29/22

Katherine S. Garman, MD, MHS
Associate Professor of Medicine
Vice Chief for Research, Division of Gastroenterology
Co-lead Cancer Risk, Detection, and Interception, Duke Cancer Institute
Duke Molecular Physiology Institute
Department of Medicine, Duke University

H. pylori Infection and Gastric Cancer Risk, Detection, and Interception

7/22/22

Marat Fudim, MD, MHS
Assistant Professor
Cardiology, Advanced Heart Failure, Transplant
Duke University, Duke Clinical Research Institute

Pressure and Volume Management in Heart Failure

7/15/22

Daniella Zipkin, MD
Associate Professor of Medicine
Associate Program Director for Ambulatory Care, Duke Internal Medicine Residency Program
Vice Chief for Education, Division of General Internal Medicine
Chair, Program for Women in Medicine
Associate Vice Chair, Faculty Development and Diversity
Duke Department of Medicine

Promotion for Women and Black Faculty in Academic Medicine

7/8/22

Donna K. Ginther, MS, PhD
Roy A. Roberts Distinguished Professor of Economics
Director, Institute for Policy & Social Research
University of Kansas

Reflections on Race, Ethnicity, and NIH Research Awards

7/1/22

Holiday - No Medicine Grand Rounds