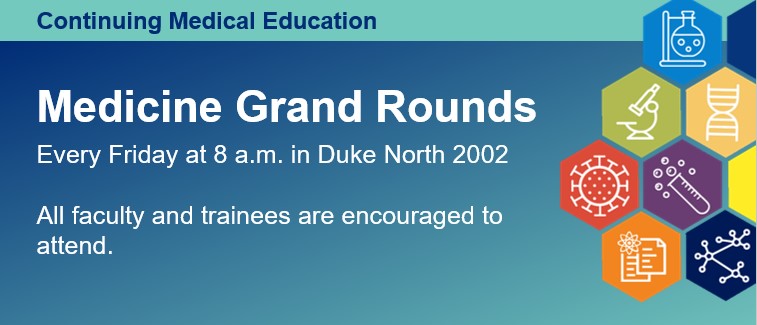 Medicine Grand Rounds (MGR) is a weekly seminar series to support the academic environment of the Duke Department of Medicine. Topics and speakers are selected to provide faculty and trainees with up-to-date knowledge about timely issues in internal medicine. MGR occurs every Friday at 8 a.m in Duke North 2002 unless otherwise noted below at a different location.
How to connect to Medicine Grand Rounds:
Faculty and trainees should use the following Zoom link to join each week:
Meeting ID: 975 4336 7627
Passcode: 181825
Dial by Phone: +1 301 715 8592
Having trouble connecting? Get help from Duke OIT.
CME credit
Category 1: Duke University Health System Department of Clinical Education and Professional Development designates this activity for a maximum of 1.0 AMA PRA Category 1 Credit(s)™. Physicians should claim only credit commensurate with the extent of their participation in the activity.
Attendance and CME credit is tracked online by Duke Continuing Medical Education.
MOC credit
Faculty can now receive MOC credit. In order to receive credit please be sure to update your profile in in Ethos (https://ja.dh.duke.edu ) in order for your MOC credit to be sent to the specialty board.  Failure to ensure your information is correct in your profile, including identifying your specialty board, diplomate number and birth date will result in no MOC credit being reported for you. It is not CEPD's responsibility to ensure the correctness of the individual's information.
2022-2023 MGR Schedule
Date
Presenter
Title
06/30/2023
Cancelled for Holiday & Transition Period
 
06/23/2023

Chief Resident Talks

Location: 6th floor, Trent Semans Center

 
06/16/2023

2023 Joseph C Greenfield Visiting Professor

Quinn Capers IV, MD
Associate Dean for Faculty Diversity
Vice Chair for Diversity and Inclusion,
Department of Internal Medicine
Rody P. Cox, M.D. Professorship in Internal Medicine
UT Southwestern Medical Center

 
06/09/2023

2023 Clipp-Speer Medicine Grand Rounds

Location: Great Hall, Trent Semans Center

Senior Vice President and Senior Associate Dean 

  for Health Equity and Inclusive Excellence 

 

Vanderbilt University Medical Center 

 
06/02/2023

Kathleen A. Cooney, MD, MACP
Chair, Department of Medicine
Duke University School of Medicine

Department of Medicine End of Year Review

05/26/2023
2023 Neil Spector Art of Medicine, Medicine Grand Rounds
 
05/19/2023

2023 Resident Research Day

Location: 6th floor, Trent Semans Center

2023 Resident Research Day
05/12/2023

Lisa Cristopher-Stine, MD, MPH
Professor of Medicine and Neurology
Director of the Johns Hopkins Myositis Center

Statin Myopathy for the Internist: Recognizing When It Is an Autoimmune Disease

05/05/2023

Tracy Setji, MD
Associate Professor of Medicine
Division of Endocrinology, Metabolism, and Nutrition

Beatrice Hong, MD
Assistant Professor of Medicine
Division of Endocrinology, Metabolism, and Nutrition

Title: TBD
04/28/2023

2023 Department of Medicine Research Day

Location: Great Hall, Trent Semans Center

2023 Department of Medicine Research Day
04/21/2023

Brian Andonian, MD, MHSc
Assistant Professor of Medicine
Division of Rheumatology & Immunology
Duke Molecular Physiology Institute
Duke University School of Medicine

Kim Huffman, MD, PhD
Associate Professor of Medicine
Division of Rheumatology & Immunology
Duke Molecular Physiology Institute
Duke University School of Medicine

Title: TBD
04/14/2023

Pamela S. Douglas, MD, MACC
Ursula Geller Distinguished Professor for Research in Cardiovascular Disease
Duke University School of Medicine

Title: TBD
04/07/2023

Honoring Retirees

David Lee Simel, MD, MS
Professor of Medicine
Division of General Internal Medicine
Vice-Chair for Veterans Affairs in the Department of Medicine

Joanne A. Peebles Wilson, MD
Professor of Medicine
Division of Gastroenterology

 
03/31/2023

Susan Dent, MD
Professor of Medicine
Associate Director of Breast Cancer Clinical Research
Co-Director Duke Cardio-Oncology Program

Heather Moore, CPP, PharmD
Clinical Pharmacist Practitioner
Duke Cancer Center Breast Clinic

The European Society of Cardiology (ESC) Cardio-Oncology Guidelines: Pearls for health care providers

03/24/2023

Lori A. Orlando, MD MHS MMCI
Professor of Medicine, Division of General Internal Medicine
Director, Duke Precision Medicine Program
Duke Executive Health

Are We Ready for the Era of Genomic Medicine?

03/17/2023

2023 Match Day Theme | Honoring Retiree Dr. David Butterly

Presented by Drs. Aimee Zaas, Lisa Criscione-Schreiber, and Diana McNeill

Creating the DukeFamily: Recruiting and The Match, with a Tribute to Dr. David Butterly

03/10/2023

Moira A. Rynn, MD
Chair, Department of Psychiatry and Behavioral Sciences
Duke University School of Medicine

Behavioral Health: Before and After Covid-19

03/03/2023

Annual Faculty vs Housestaff Trivia

Please note, this will not be recorded.

02/24/2023

Cathy Anne Petti, MD
CEO HealthSpring Global, Inc.
Adjunct Professor of Medicine,
Division of Infectious Diseases
Duke Department of Medicine
Former Duke University School of Medicine IM Resident and Fellow

Critical Thinking Applied to Infectious Diseases Diagnostics

02/17/2023

2023 Joseph C. Greenfield Visiting Professor

Hyung (Harry) J. Cho, MD, FACP, SFHM
Vice President of Quality
Department of Quality and Patient Safety
Brigham and Women's Hospital, Boston, MA

Value Implementation in the Safety Net: Lessons Learned

02/10/2023

Serena P. Wong, DO
Assistant Professor of Medicine
Duke University School of Medicine

C. Barrett Bowling, MD, MSPH
Associate Professor of Medicine
Associate Director, Durham VA GRECC  

What does Age-Friendly really mean? Updates on geriatrics clinical and research initiatives

02/03/2023
Cancelled
 
01/27/23

Jessica Regan, MD
Cardiovascular Disease Fellow
Duke Department of Medicine

Bennett Caughey, MD
Hematology-Oncology Fellow
Duke Department of Medicine

Clonal Hematopoiesis of Indeterminate Potential: Spanning Pre-Malignant, Malignant and Cardiovascular Disease

01/20/23

Professor of Medicine

Director of Education and Teaching, Duke Primary Care

Duke University Medical Center

Outpatient Teaching at Duke-Opportunities, Challenges, and Best Practices

01/13/23

2023 Martin Luther King Jr. Memorial Medicine Grand Rounds

Location: Great Hall, Trent Semans Center

Julius M. Wilder MD, PhD
Assistant Professor of Medicine
Chair, Duke Dept of Medicine Diversity, Equity, Inclusion, and Anti-racism Committee
Vice Chair, Duke Dept of Medicine Minority Recruitment and Retention Committee       
Co-Director for the Duke CTSI- Community Engaged Research Initiative (CERI)

Hepatitis C as a Paradigm for Health Equity and Social Justice at Duke Health

01/06/23
Holiday Break - No Medicine Grand Rounds
 
12/30/22
Holiday Break - No Medicine Grand Rounds
 
12/23/22
Holiday Break - No Medicine Grand Rounds
 
12/16/22
Holiday Break - No Medicine Grand Rounds
 
12/09/22

Rana Gupta, PhD
Professor of Medicine
Division of Endocrinology
Duke University School of Medicine

Fat Fixer-Upper: Remodeling Adipose Tissue to Improve Metabolic Health in Obesity

12/02/22
Michael Gunn, MD
Professor of Medicine and Immunology
Duke University School of Medicine

Preventing the Next Pandemic: Next Generation Point of Care Diagnostics.

11/25/22
Holiday - No Medicine Grand Rounds
 
11/18/22

 

Christopher J. Hostler, MD, MPH
Chief, Office of Public Health and Epidemiology
Infectious Diseases Physician
Medical Director, Antimicrobial Stewardship Program
Durham VA Health Care System

Alexei Kudla, MD
Assistant Chief of Radiology,
Durham VA Medical Center

John Demis, MD
Internal Medicine Residency Program, PGY-1
Duke Department of Medicine

Nicholas J. Rohrhoff, MD, FACP
LCDR, MC (UMO), USN
Fellow, Pulmonary Disease & Critical Care
Naval Medical Center San Diego

Veterans Day Medicine Grand Rounds | Navy Edition

11/11/22

Lonnie Sullivan, MD
Duke Internal Medicine Chief Resident

Craig T. Albanese, MD, MBA
Executive Vice President and Chief Operating Officer,
Duke University Health System

Richard P. Shannon, MD
Senior Vice President and Chief Quality Officer
Chief Medical Officer
Duke University Health System
Professor of Medicine
Duke University School of Medicine

Armando Bedoya, MD, MMCi
ACMIO Applied Data Science | DHTS

Removing Barriers in Clinical Care Delivery. Is it possible? Is it sustainable? Is it worth it?

11/04/22

Eugene A. Stead Jr. Medicine Grand Rounds Lecture

Michael Pignone, MD, MPH, MACP
Professor and Inaugural Chair, Department of Internal Medicine
Dr. Lowell Henry  Lebermann  Endowed Chair in Internal Medicine
Co-Director, Cancer Prevention and Control, Livestrong Cancer Institutes
Dell Medical School, University of Texas Austin

Using preventive care innovation to improve equity: colorectal cancer screening

10/28/22

Michael DeBaun, MD, MPH | Phillips-Winn Memorial Medicine Grand Rounds Lecture
Director
Vanderbilt-Meharry Center for Excellence in Sickle Cell Disease
Professor
Pediatrics and Medicine
Vice Chair for Clinical and Translational Research
Department of Pediatrics
J.C. Peterson Chair in Pediatrics
Vanderbilt University Medical Center

Curing Sickle Cell Disease: the Good, the Bad and the Future

10/21/22

Joel C. Boggan, MD, MPH
Associate Program Director, Internal Medicine Residency Program
Associate Professor, Division of General Internal Medicine
Duke University Health System
Hospital Medicine, Durham VA Medical Center

To the VA and Beyond: A view across the quality improvement landscape

10/14/22

Alan Mast, MD, PhD | William H. Kane Medicine Grand Rounds Lecture
Associate Professor
Department of Cell Biology, Neurobiology, and Anatomy
Medical College of Wisconsin

Factor V and TFPI interactions in Hemostasis and Thrombosis: From Duke to East Texas

10/07/22

Cynthia Moylan, MD
Associate Professor of Medicine
Division of Gastroenterology
Joint appointment in Pathology as Associate Professor of Pathology
Member of the Duke Cancer Institute
Chair of the Women in GI committee
Director of Hepatology at the Durham VAMC
Staff Physician

Non-alcoholic Fatty Liver Disease:  Appreciating the influence of early life, environment, and collaboration.

9/30/22

Hayden Bosworth, PhD
Deputy Director, Center of Innovation to Accelerate Discovery and Practice Transformation (ADAPT) Durham Veterans Affairs Medical Center
Professor and Vice Chair for Education
Department of Population Health Sciences
Research Professor:
Department of Medicine,
Division of General Internal Medicine
Department of Psychiatry and Behavioral Sciences
School of Nursing Duke University Medical Center

Implementation science: the next big 'invention' to improve health care

9/23/22

Jamie R. Privratsky, MD,PhD
Assistant Professor
Division of Critical Care Medicine
Center for Perioperative Organ Protection
Department of Anesthesiology
Duke University Medical Center

Tomokazu Souma, MD, PhD
Assistant Professor
Division of Nephrology,
Duke University School of Medicine

Sex differences in AKI outcomes

9/16/22

Katherine N. Neal, MD, FHM, CHCQM-PH​YADV
Assistant Professor of Medicine
Duke Hospital Medicine Program
Duke University Medical Center

Kevin W. Southerland, MD
Assistant Professor of Surgery
Division of Vascular and Endovascular Surgery
Duke University Medical Center

 

 

Threatened Limbs at Duke: Multidisciplinary Care for a Multifaceted Problem

 

9/9/22

Dr. Skorton Visiting Professor Medicine Grand Rounds

David J. Skorton, MD
President and Chief Executive Officer
Association of American Medical Colleges

Advancing DEI in Academic Medicine: Its Critical Importance and the Role We All Must Play

Please note: Handout material provided within the QR code at the end of the video

9/2/22

Daniel Edmonston, MD, MHS
Assistant Professor of Medicine
Division of Nephrology
Department of Medicine, Duke University
Duke Clinical Research Institute

Cardiovascular Complications Across the Spectrum of Kidney Disease

8/26/22

Patrick H. Pun, MD, MHS,FASN
Associate Professor of Medicine
Division of Nephrology
Duke University Medical Center

Reducing Sudden Death Among Hemodialysis Patients: Can Small Things Make a Big Difference?

8/19/22 at 12pm EST

Michael Taffe, PhD
Professor
Department of Psychiatry
University of California, San Diego

The Funding IS the Science: DEI and NIH Grant Award

8/12/22

Dinushika Mohottige, MD, MPH
Assistant Professor of Medicine
Division of Nephrology
Duke University Medical Center

Racism and Kidney Health: Turning Equity into a Reality

8/5/22

No Medicine Grand Rounds

 

7/29/22

Katherine S. Garman, MD, MHS
Associate Professor of Medicine
Vice Chief for Research, Division of Gastroenterology
Co-lead Cancer Risk, Detection, and Interception, Duke Cancer Institute
Duke Molecular Physiology Institute
Department of Medicine, Duke University

H. pylori Infection and Gastric Cancer Risk, Detection, and Interception

7/22/22

Marat Fudim, MD, MHS
Assistant Professor
Cardiology, Advanced Heart Failure, Transplant
Duke University, Duke Clinical Research Institute

Pressure and Volume Management in Heart Failure

7/15/22

Daniella Zipkin, MD
Associate Professor of Medicine
Associate Program Director for Ambulatory Care, Duke Internal Medicine Residency Program
Vice Chief for Education, Division of General Internal Medicine
Chair, Program for Women in Medicine
Associate Vice Chair, Faculty Development and Diversity
Duke Department of Medicine

Promotion for Women and Black Faculty in Academic Medicine

7/8/22

Donna K. Ginther, MS, PhD
Roy A. Roberts Distinguished Professor of Economics
Director, Institute for Policy & Social Research
University of Kansas

Reflections on Race, Ethnicity, and NIH Research Awards

7/1/22

Holiday - No Medicine Grand Rounds

 
Current Medicine Grand Rounds committee members:
Andrew Alspaugh, MD 

Vivian Chu, MD, MHS

Lisa Criscione-Schreiber, MD, MEd

Andrew Armstrong, MD, MSc, BSE

Julius Wilder, MD, PhD

Jenny Van Kirk, MD

Steven Crowley, MD

David Ortiz Melo, MD

Christopher Hostler, MD, MPH

Current Chief Residents: Sara Coles, MD, Nathaniel Harris, MD, Lonnie Sullivan II, MD, Ryan Duffy, MD

Program Coordinator: Jessica Nipper, MHA