The Duke Endocrinology Fellowship Program has separate Clinical and Research Tracks. Of the 3 fellows in each class, there is typically at least one Clinical and one Research fellow. Fellows in both tracks receive rigorous clinical training with extensive exposure to all Endocrinology subspecialties, and fellows in both tracks are expected to engage in scholarship appropriate to their career goals.
The 2-year Clinical Track provides an immersive, tailored clinical experience. This Track is designed to produce outstanding general Endocrinologists and Endocrinology subspecialists who are fully prepared for independent clinical work immediately following fellowship. The Clinical Track is ideal for trainees primarily interested in practice in private or academic settings (including clinician-educator roles).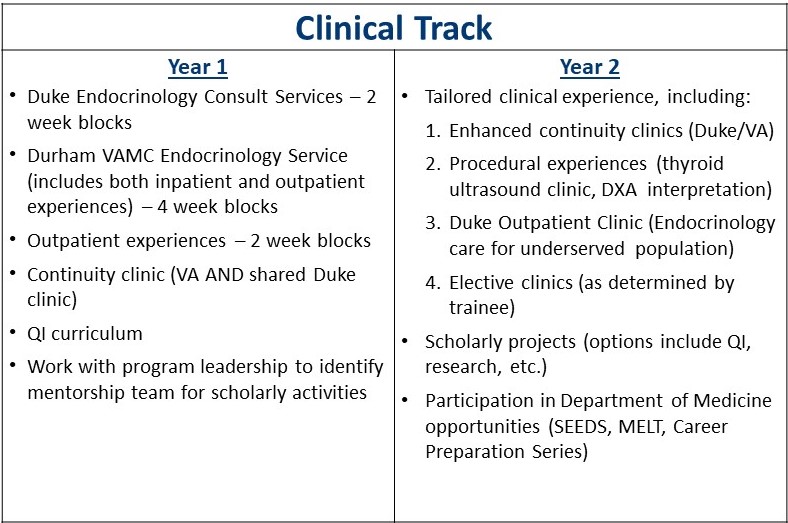 The Research Track is a 3-year program, with the second and third years supported by a T32 training grant from NIDDK. The research track provides a tailored, mentored research experience designed to produce excellent physician-scientists capable of competing successfully for career development and project funding. All interested Research Track fellows are supported to complete a 2-year Master's in Health Sciences degree through the Duke's Clinical Research Training Program.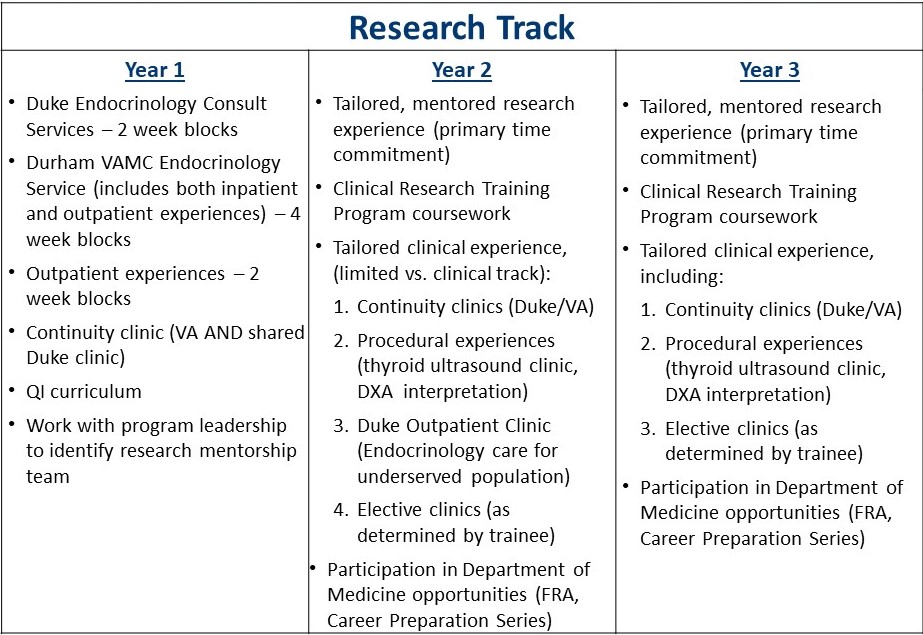 For fellows in both tracks, training centers around: 1) clinical experiences; 2) scholarly experiences; and 3) didactic educational experiences.
1) Clinical experiences: Our fellowship's core clinical experiences are outlined in the tables above. Through expert faculty mentorship at multiple complimentary training sites, our fellowship provides in-depth exposure to all aspects of inpatient and outpatient Endocrinology. In addition to these core clinical experiences, our fellows have access to a wide range of elective clinical experiences, which facilitate further tailoring of the clinical experience to trainees' interests. Elective options include: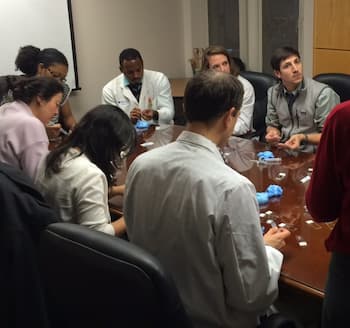 Multidisciplinary thyroid cancer clinic
Thyroid ultrasound and FNA clinics
Pituitary clinic
Bariatric surgery clinic
Endocrine surgery clinics and operating room experiences
Insulin pump/sensor clinics
Bone and calcium disorders clinics
Lipid clinic
Polycystic ovary syndrome clinic
Gender Medicine clinics
Reproductive Endocrinology clinic
Pediatric Endocrinology clinics (including pediatric/adolescent Gender Medicine clinic)
Duke Diet and Fitness Center
Many more elective options for tailoring the clinical experience
2) Scholarly experiences: All fellows are expected to engage in scholarship during fellowship. Research Track fellows typically engage in clinical, translational, or basic research. Clinical Track fellows may engage in any of these or, alternatively, quality improvement and other forms of scholarly activity. Our faculty members have a broad range of research/scholarly interests, which generates countless opportunities for fellows. Our Division has close ties to multiple research centers within Duke, further supporting successful interdisciplinary fellow research. Collaborating centers include:
Early in the first year of training, each fellow engages in Endocrinology Scholarship Week. During this protected week, the program director and other core research faculty meet individually with all first-year fellows to explore scholarly interests, outline ideas for potential projects/mentors, and arrange meetings with potential mentorship teams. In order to further facilitate identification of projects and mentors, our program has developed Scholarly Pathways, through which fellows have built-in access to expert faculty guidance and established mentorship/projects in areas of interest. Our scholarly pathways include:
Our fellows have access to many other excellent training opportunities, including the Clinical Research Training Program and high-yield, interest-specific Department of Medicine programs, including:
3) Didactic educational experiences: Finally, our fellowship offers a comprehensive educational curriculum that is designed to complement fellows' clinical- and research-based learning.