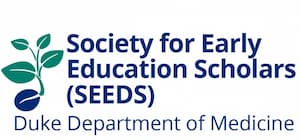 The goal of the Society for Early Education Scholars (SEEDS) is to cultivate the next generation of clinician educators. The SEEDS Program is a year-long mentored education program designed for fellows planning careers as clinician educators or education scholars. This program will develop educational leaders and scholars through participation in a focused year-long curriculum with mentored teaching opportunities.
SEEDS will cover medical curriculum design and assessment, practical teaching skills, hands-on mentored teaching activities, participation in the Duke DOM educator community, presentation skills, novel use of technology in education, and the opportunity to complete a mentored scholarly education project. This program will provide fellows with required skills for successful future careers as clinician educator scholars and leaders of the future.
SEEDS will equip fellows with evidence-based, innovative teaching skills. In this program you will actively engage with the rich network of colleagues and faculty throughout Duke in an environment of collaborative learning, support, and shared success. Graduates of SEEDS will receive a certificate of completion.
SEEDS fellows will
Enroll in the Duke GME Medical Education Leadership Track (MELT), a year-long, primarily didactic program that teaches basics of medical education theory, practice, and assessment (fellows who have completed the program at Duke will not be required to repeat the program).
Be paired with a faculty clinician educator to both learn and directly practice presenting up to two didactic teaching sessions to a diverse group of learners. 
Participate in a capstone DOM education day, in which they will either deliver an educational presentation co-developed with their mentor, present results of a scholarly education project, or reflect on their participation in SEEDS.
Complete a teaching fellow rotation within their specialty or a 1-2 week rotation as teaching attending on the Durham VA Medical Center general medicine teaching service, paired with a hospitalist who will help supervise the clinical care and give feedback on the fellows' teaching. Fellows in three-year training programs who have completed the above experience may choose to spend 2 weeks as a rounding attending on general medicine at the DVAMC.
Be invited to Department of Medicine Education Lab Meetings, where they will network with DOM educators and have an opportunity to present their own works-in-progress for feedback
Four SEEDS fellows who specifically apply to pursue scholarly work in education will complete a scholarly education project for publication or presentation. For these fellows, a project mentor and a mentorship committee will be established to ensure project success.
Eligibility/Application
Any fellow within the Duke Department of Medicine is eligible to become a SEEDS Scholar.

Applicants will be asked to write brief narratives indicating their interest in the program and how it will advance their career development.

Candidates will be recommended by either the program director of the fellows respective program.
Please discuss this additional course of study with your program director before applying. Your Program Director will be asked to complete a recommendation for you to be accepted into the program. Your PD will be asked to confirm that you are in good standing within the program, and importantly, that you will have adequate time to complete the requirements of the SEEDS curriculum.  
Fellows interested in pursuing the optional educational project will submit a brief description of their idea. Note, only 4 projects will be selected.
Applications are due June 24, 2023. Anticipated program start is August 2023.
Specifics of the program
Hands on Teaching Skills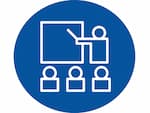 Each SEED scholar will be paired with a Department of Medicine clinician educator mentor. The paired mentor is designated to provide feedback to the SEED scholar on both clinical and didactic teaching. When the program kicks off in August, we will present one didactic session on effective bedside teaching and one on preparing an educational talk.
Clinical Teaching Options- 
Teaching fellow rotation within own fellowship

Paired experience outside of own fellowship

General medicine with hospitalist x 1-2 weeks

General medicine rotation x 2 weeks as solo VA attending is an option that would be especially encouraged for third year fellows who have completed No. 3 above.
Educational talk: Each SEED scholar fellow will create a 20-30 min didactic presentation (with guidance from the assigned faculty mentor) to be given to the Duke Internal Medicine Residency Program during noon conference. SEED scholars will also have the opportunity to deliver a didactic session and receive feedback from a faculty hospitalist during intern morning report.
2023-2024 SEEDS Fellows
Willard N. Applefeld, Cardiovascular Disease
Maria Fernanda Ortiz Kaemena, Rheumatology
Dennis Hopkinson, Pulmonary and Critical Care Medicine
Rasha Raslan, Nephrology
Ilya Shadrin, Cardiovascular Disease
Evan Andrew Schwartz, Pulmonary and Critical Care
Emily Sanders
, Pulmonary and Critical Care Medicine
Kranthikiran Earasi, Pulmonary and Critical Care Medicine
Courtney Lamberton, Pulmonary and Critical Care Medicine
Dan Loriaux, Critical Care Cardiology
Timothy Hopper, Nephrology
Athidi Earasi, Gastroenterology
Rachel White, Hospice and Palliative Medicine
Naseem Alavian, Infectious Diseases
Tareq Aljurf, Pulmonary and Critical Care Medicine
Nathaniel Harris, Rheumatology
2022-2023 SEEDS Program Graduates
Meera Babu, Palliative Care
Ann Cameron Barr, Rheumatology
Lucia Cotten, Endocrinology
Molly Hillenbrand, ID
Susan Murray, Nephrology
Joseph Neiman, Palliative Care
Cameron Oswalt, Oncology
Reinaldo Perez, ID
Micah Schub, Nephrology
Jeffrey Shen, Rheumatology
Nancy Yang, GI
2021-2022 SEEDS Program Graduates
Sipa Yankey, Cardiology
Omid Salaami, Geriatrics
Talisha Ramchal, GI
Daniel Turner, Pulmonary, Critical Care
Jeffrey Dixson, Cardiology
Charlie Burns, ID
Megan Milne, Rheumatology
Matt Labriola, Oncology
Cara Hoke, Cardiology
Stephanie Garbarino, GI
Diana Soliman, Endocrinology
Neha Kayastha, Palliative Care
Ryan Rader, Oncology
Ray Geherty, Nephrology
April Wall, GI
Optional Mentored Educational Research Project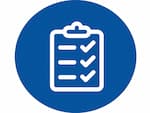 Four SEED scholars will will be selected to develop a mentored educational research project. The SEEDS program will assign a primary project mentor and a mentorship committee. The fellow will meet with the project mentor about every two weeks and with the committee once at the beginning of the project, once in the winter and once in the spring.
Department of Medicine Education Day
This is a yearly educational symposium in August designed to describe the multitudes of career opportunities as a clinician educator to fellows. The symposium will feature a keynote speaker along with presentations about educational topics and highlight available educational resources.