The Duke Geriatrics fellowship program has a long tradition of excellence in training physicians in clinical care, teaching, and research.
We offer the following fellowship programs in Geriatrics:
This one year fellowship provides trainees with in-depth experiences with the full spectrum of patients, and problems, that geriatricians are likely to encounter, across a variety of clinical settings. Upon successful completion of the year, fellows are prepared for careers caring for older adults in and across a variety of settings and eligible to take the American Board of Internal Medicine Geriatric Medicine Certification Exam.
Click here for a detailed overview of experiences and training sites.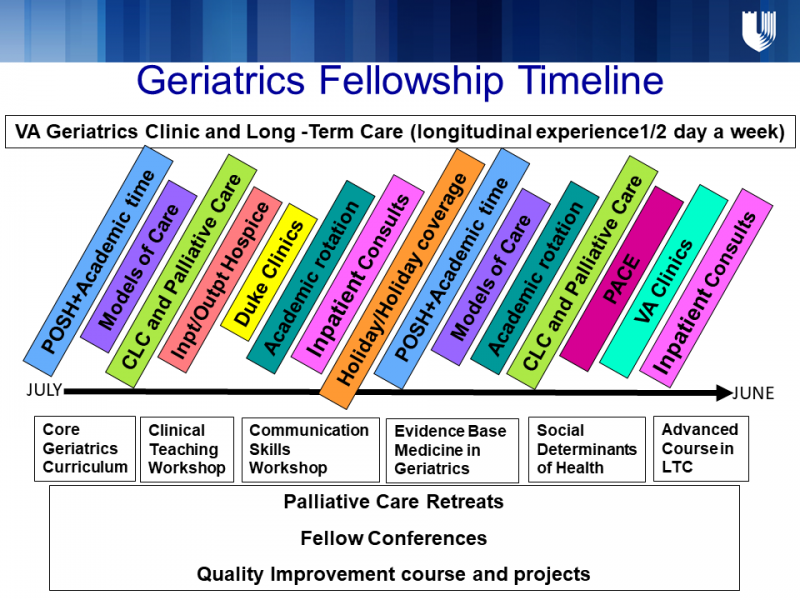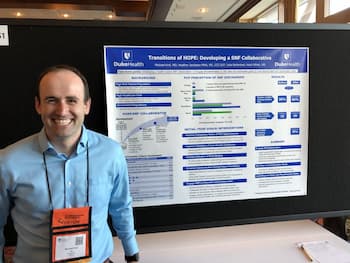 This is a 2-3 year track (1 year geriatric medicine + 1-2 aging research) for individuals who wish to pursue a career in aging research.  Graduates of this program are strong candidates for research career development awards from the National Institutes of Health, VA, and other funding agencies.
During the first year of geriatric medicine fellowship, early identification of research mentors is facilitated, and fellows have dedicated academic time to participate in research teams and begin project(s).
In the subsequent year(s), fellows have over 80% time protected for research training and projects tailored to their goals. 
Research Track fellows receive support for professional development, including earning advanced degrees, in their area of interest.  Options include: 
Click here for more information on the Advanced Fellowship Training Tracks
This is a 2-3 year track (1 year Geriatric Medicine + 1-2 years advanced fellowship) for individuals who wish to pursue careers as clinician-educators, health system leaders, medical directors, or scholars improving healthcare delivery. 
During the first year of Geriatric Medicine Fellowship, early identification of career mentors is facilitated, and fellows have dedicated academic time to participate in relevant clinical/educational programs and begin project(s). During the subsequent year(s) fellows have over 80% time protected for advanced training and projects tailored to their goals.  Training opportunities include:
Click here for more information on the Advanced Fellowship Training Tracks