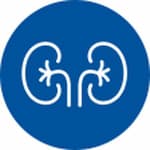 Defining a Clinical Interest During Fellowship Training
A second year clinical concentration is offered to fellows completing the two-year clinical track who after fellowship mostly seek a clinical position, either in private practice or as a clinician-educator in an academic medical center. We feel that a clinical concentration allows the fellow to capitalize on the specific expertise available within the Duke Nephrology and other divisions at Duke. Fellows spend the majority of their second year with clinical mentors and are aided by a comprehensive curriculum governing the specific concentration. Fellows develop an expertise in a subfield of nephrology, specifically renal transplantation, geriatric and palliative Nephrology, home suitable dialysis, and vascular access. 
The Transplant Concentration
This offers a one-year experience, which is integrated into the second-year of the 2-year clinical fellowship. It provides broad exposure to all aspects of kidney transplantation, including clinical transplantation, transplant administration, HLA testing and transplant pathology.
Graduates
Scott Westphal- 2015 current faculty University of Nebraska
Shalini Bumb- 2016 current faculty University of Cincinnati
Supreet Sethi- 2016 current faculty Cedars-Sinai Medical Center
Jessica Morris- 2018 current faculty, Eastern Nephrology Associates
Click here for more information on where our graduates go after fellowship
Transplant nephrology is nephrology on steroids - both literally and figuratively. The exposure I had during my first year of fellowship first piqued my interest in this field. I was able to tailor my second year to allow for the transplant concentration, which gave me the opportunity to work and learn more about kidney transplant under amazing mentors. The transplant concentration started me on a journey, which I'll now continue with another year of fellowship dedicated to kidney transplant.

Shalini Bumb, MD
Duke Nephrology, Class of 2016
The Geriatric and Palliative Care Concentration
This capitalizes on a close working relationship Duke Nephrology has built with the division of Geriatrics at Duke University. Clinical exposure involves inpatient geriatric and palliative services, workshops and focused training in communication, and a specific geriatric CKD clinic with non-dialytic treatment of advanced kidney disease. Duke also participates in the ASN Dimitrios G. Oreopoulos Visiting Program in Geriatric Nephrology. 
The Home Suitable Dialysis Concentration
The home suitable dialysis concentration offers a one-year experience, which is integrated into the second-year as well. It provides a broad exposure to all aspects of peritoneal dialysis, home hemodialysis, access care, and logistics of home suitable dialysis in a broad patient care setting including three distinct health systems. 
Graduates
Samantha Suthar- 2015 currently private group practice at Georgia Kidney Associates (Atlanta)
John Duronville- 2017 currently faculty Duke Nephrology
Rami Alsubail- 2019 currently faculty Riyad Saudi Arabia
Robert Lorch- 2020 currently private practice Tampa, Florida
Solomiia Savedchuk- 2022 currently in private practice, Arizona
Shawn Wang- 2023- currently in private practice, Asheville
Brian Jones- 2023- currently in private practice, Asheville
Click here for more information on where our graduates go after fellowship
"The clinical concentration in home dialysis has allowed me to gain extra experience in caring for patients undergoing peritoneal dialysis and home hemodialysis. Such exposure is often limited in the inpatient setting and many centers that have a limited home dialysis population. This has allowed for a better understanding of the physiology and technical aspects of these modalities. It has also enabled me to become familiar and comfortable with managing such patients longitudinally and troubleshooting common obstacles and complications that are encountered in this subset".

Samantha Suthar, MD
Duke Nephrology, Class of 2015
The Glomerular Disorders Concentration
The glomerular disorders concentration will pair a fellow with Harpreet Singh, MD who has a dedicated glomerular disorders clinic. The fellow will also be engaged in scholarly activity and participate in developing education in glomerular disorders (GN club and the Core Curriculum). The fellow will also participate in kidney biopsy and pathology.
Alexandra Grand- 2022, currently in academic medicine, Baylor, Houston, TX
The Physician Leadership Concentration
This concentration will exposure the fellow to the business of nephrology. They will have to opportuntiy to go to a national conference in this area (RPA or NBLU) and engage in scholarly activity that deals with the business of nephrology. The fellow will also have an opportunity to work with the Duke Learning Health System Training Program (LHSTP).
Graduates
Niraj Kothari, 2018 currently faculty at Virginia Commonwealth University
Anthony Provenzano, 2020 currently private practice Greenville, NC
click here for more information on where our graduates go after fellowship
Medical Education Concentration
Fellows who are interested in pursuing a career as a clinical educator can complete the medical education concentration. Fellows will enroll in the Duke Department of Medicine, Society for Early Education Scholars (SEEDS) program. 
Graduates
Ray Geherty, 2022, currently in private practice, Raleigh, NC
Susan Murray, 2023, currently in academic medicine, Duke
Micah Schub, 2023, currently Transplant Fellow, Duke
Current fellow
Rasha Raslan