The Duke Philosophy
The Duke Nephrology Fellowship Program is fully accredited and awards 5 new fellowships each year. The program provides structured training tailored to meet the goals of each individual trainee.
Our approach is to attract the most talented fellows and then equip them to accomplish whatever they wish in Nephrology.
The 4 Nephrology Scholar Pathways
World-class Training for Both an Academic or Clinical Practice Career
Whether a fellow intends to pursue a clinical career or a research career, the first year of training is composed of clinical training on four consultative services and two outpatient rotations.
Clinical Practice Career
Fellows looking for training to prepare for a career in clinical practice complete the 2 year Accreditation Council for Graduate Medical Education (ACGME) nephrology fellowship with the second year (the clinical concentration pathway) consisting of additional time on the clinical services and potentially elective experience tailored to the interests of the individual with possibilities including transplant nephrology, geriatric nephrology, home suitable dialysis, GN, public policy/administration, and many others.
Academic Career
For fellows interesting in pursuing an academic career, the first year of research is part of the ACGME nephrology fellowship. The second year (and possibly additional years) of research is served as a Biomedical Scholar, an Institutional Council for Graduate Medical Education (ICGME) fellowship. Eligible fellows will be placed under the Duke Nephrology NIH funded T32 training grant or additional funding is sought from both internal and external sources. Below is a list funding award achievements from graduates of our fellowship program since 2000.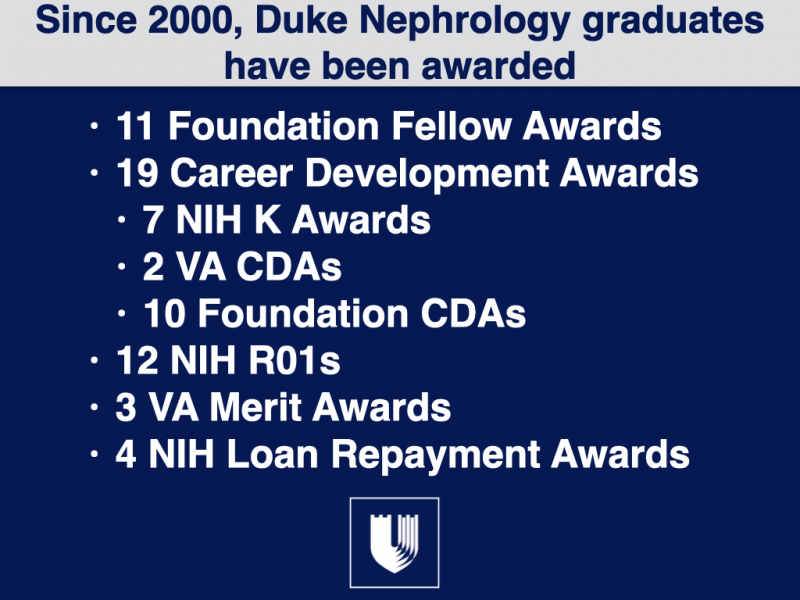 Night Float
Fellows will not take overnight call during their fellowship. We have a night float system in place since 2019.
Night float blocks are two-weeks in duration, 5 days each week

days off are covered by an attending (one day) and a upper level moonlighter (second day)

First years have 3- two-week night float blocks

Second years have 2- two-week night float blocks

Third years do not have night float
Moonlighting
After your first year you will be eligible for internal nephrology moonlighting with approval of the program director. Additional moonlighting activities are available at the Durham VA and Duke.
Women in Nephrology
Recognizing the challenges faced by women following academic careers, Women in Nephrology (WIN) at Duke aims to help support women at various stages of their careers in nephrology. The Nephrology Division and the wider Duke community are truly committed to fostering a supportive and equitable work environment for women, and facilitating career advancement among women faculty and trainees. Highlighting this, since 2011, 42% of our fellows are women (compared to 30% of nephrologists being women nationally). The Duke Program for Women in Internal Medicine provides a variety of professional development resources. This includes quarterly meetings featuring topics such as a Career in Academic Medicine', promotion and tenure information, salary equity and negotiation skills, and the impact of caregiving on academic advancement/tenure. It is also an excellent opportunity for networking with women within the department. Duke's commitment to gender equity is further exemplified by the new salary-monitoring tool that has been created in the Department of Medicine to facilitate comparing salaries within divisions to ensure equity.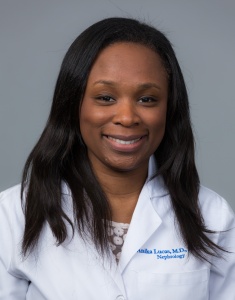 Anika Lucas, MD, Medical Instructor, Nephrology, Chair, Duke WIN
Irma Husain, MD, Transplant Fellow, Nephrology
Tyeasha Williams, NP, Nephrology
Mary Foster, MD, Professor of Medicine, Faculty Advisor
ABIM Nephrology Board Pass Rate
Since 2011, our program graduates have achieved a 100% first time board pass rate (50/50)