First Year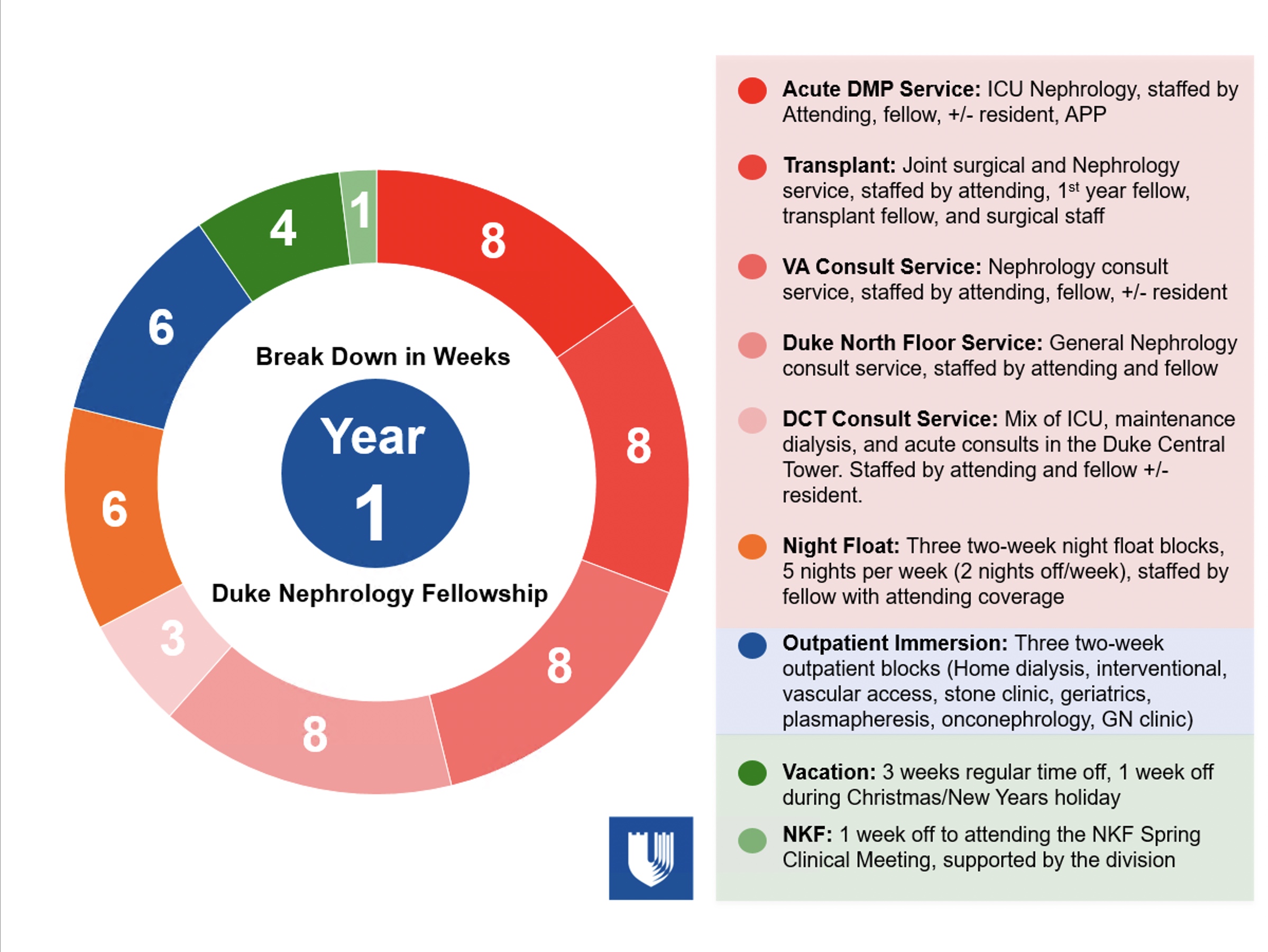 Second and Third Years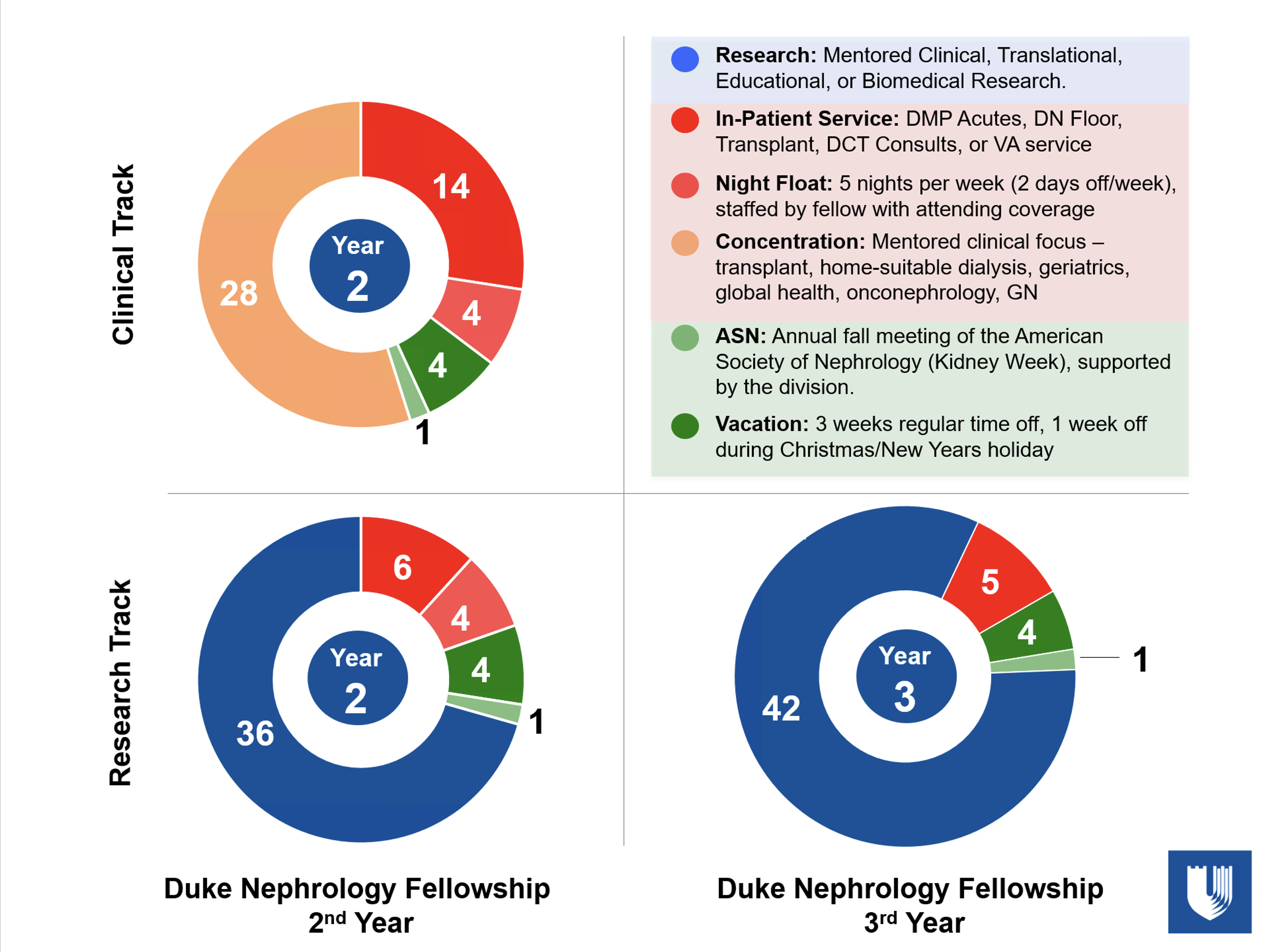 Fellow Driven Program Improvement
Work-life balance is a critical component to a successful career in medicine. Therefore, we have established a fellow-run committee called the Fellowship Improvement Committee (FIC), which is chaired by the Chief Nephrology Fellow with representation from the first year fellow class. The committee also includes the APDs, PD, and faculty members from all facets of the program (research, clinical, transplant, and education). The committee meets on a regular basis and reports directly to the division chief. This committee is tasked with reaching out to alumni, applicants, faculty, and current fellows to stay on top of needs and issues of not only current fellows but emerging needs of the program. This committee continues to make a real impact into improving the work-life balance of our fellows.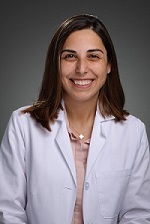 Rasha Raslan, MD, chief fellow- Chair, 2nd year fellow
Micah Schub, MD- Transplant fellow
Ben Catanese, MD- 1st year fellow
Matthew Sparks, MD- PD
Christina Wyatt, MD- APD
Harpreet Singh, MD- APD
David Ortiz-Melo, MD- Clinical
Wissam Kourany, MD- VA Chief
Scott Sanoff, MD- Transplant

Clinical Inpatient Rotations (all purely consult services)
Acute (ICU) DMP Nephrology Service — Interventional and consultative support (including CVVHDF) for patients in the intensive care units at Duke University Hospital except patients on maintenance renal replacement therapy or with a kidney transplant. Team includes a rounding physician extender (PA or NP). The service is restricted to the Duke Medicine Pavilion (DMP)
Duke North Floor Nephrology Service — Consultative support to patients admitted directly to the general medicine wards at Duke University Hospital North Tower except those on maintenance kidney replacement therapy or with a kidney transplant.
Transplant Service — Fellows on the transplant rotation work one-on-one with a nephrology transplant attending in a mix of inpatient and outpatient settings. This fellow will be responsible for all kidney transplant consultations throughout the medical center, as well as all inpatient transplant kidney biopsies. In addition, the fellow will attend transplant listing conference and monthly M&M conferences. Therefore, a first-year fellow will have direct access to all aspects of kidney transplantation.
Duke Central Tower (DCT) Consult Service — Consultative care for a mix of patients included ICU, maintenance dialysis and floor consults. This is a smaller service that will be reflective of private practice. 
Durham VA Medical Center Service — Consultative care for a mixture of fluid and electrolyte problems, acute and chronic dialysis, transplantation and general nephrology.
Ambulatory Clinics and Outpatient Clinical Immersion
Throughout the first two years of fellowship, all fellows maintain a half-day continuity clinic. These clinics alternate from Duke to the VA each week. 3rd year research fellows do not have clinical unless specifically requested and this aligns closely with their respective research interest. the director of the Duke Fellows Clinic (1A) is Dr. Sparks.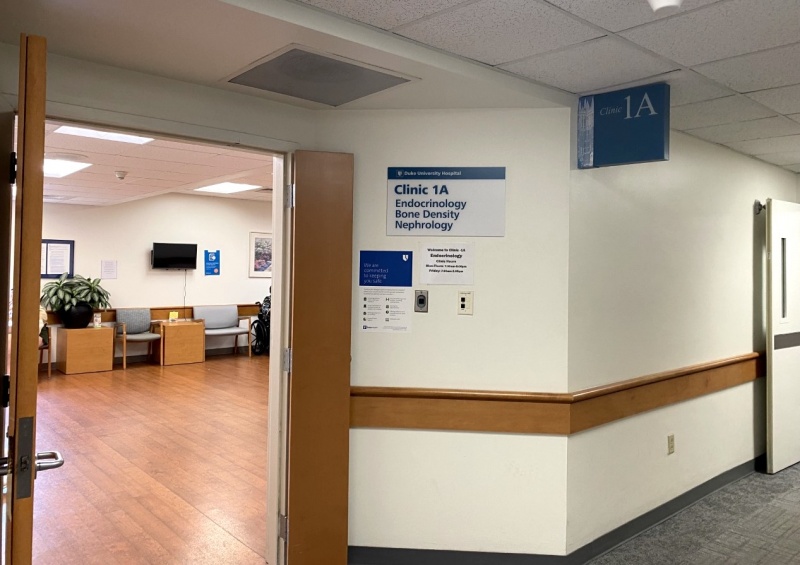 In order to facilitate a deep outpatient experience, each fellow will rotate through three 2-week long outpatient blocks during the first year of fellowship. This will allow for a wide exposure to a variety of experiences. During these 2-week blocks the fellows will not work weekends. All conferences in which first year fellows present will be scheduled during this period so they will not have to present journal club or grand rounds while on an inpatient service.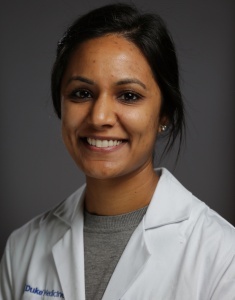 Faculty Lead- Harpreet Singh, MD
Associate Program Director 
These rotations can include any of the below:
Transplant donor and recipient surgery
Interventional nephrology
Permanent vascular access creation and maintenance
Plasmapheresis
Outpatient management of transplant patients
Palliative Care
Nephrolithiasis
Hypertension Clinic
Duke Lupus Clinic
Each fellow also participates in an outpatient dialysis rotation (6 months) and attends a monthly peritoneal dialysis clinic during the 2nd year of training.
Individualized Career Development- Scholar Pathways
What to Expect in the Second Year of the Clinical Concentration Pathway
The Division has a long history of training outstanding physicians in the practice of Nephrology and we actively encourage applicants who desire a career in practice to apply. Clinical fellows will also complete a quality improvement or research project as part of the second year of training. The clinical concentration pathway consists of additional time on the clinical services and potentially elective experience tailored to the interests of the individual with possibilities including
Glomerulonephritis Concentration- Harpreet Singh
What to Expect in the Second Year and Beyond in the Investigator Pathways
For fellows pursuing an academic career, the second and third years of the fellowship include intensive research training under the direction of a faculty mentor, with multiple sources of funding available including an NIH funded NC KUH TRIO training grant (U2C/TL1), an HSR&D grant through the VA Medical Center, other extramural grants, and endowment sources available to the Division. A mentoring committee is established for each research fellow to assist the primary mentor in guiding the fellow. Additional years of training are often desirable and often available for a small number of outstanding candidates for a career in academic medicine. Fellows can decide to enter this pathway AFTER joining the fellowship program.
Duke Nephrology Weekly Conferences
Multiple nephrology conferences are available throughout the academic year including journal club, GN club, outpatient conference, board review, nephropathology working rounds conference, clinical and research core curriculum, multidisciplinary conference, and grand rounds. All conferences are recorded, edited and archived. 
Kidney Biopsy
Multiple faculty members continue to provide kidney biopsies on their own. A kidney biopsy service staffed by John Duronville provides a majority of kidney biopsies performed at Duke. Thus, allowing fellows the ability to achieve competence in this procedure.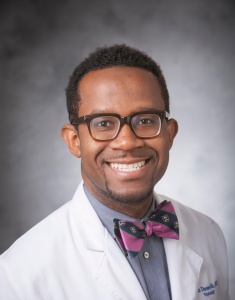 Faculty Lead- John Duronville, MD
Home Dialysis
Rigorous training in home dialysis modalities (Peritoneal Dialysis and Home Hemodialysis) is provided during the fellowship. Our division takes care of over 120 patients on peritoneal dialysis. Two of our faculty member manage a majority of these patients and help to provide robust opportunities (Dr. Duronville and Dr Lehrich). Dr Frazier helps to coordinate the clinical rotations, administer the curriculum surrounding home modalities, and ensure fellows are exposed to the home clinic including new patient education sessions.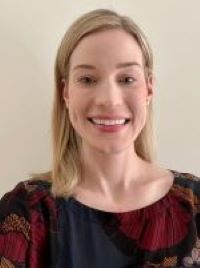 Lead- Rebecca Frazier, MD
Point of Care Ultrasound (POCUS) Training
POCUS is an integral skill to obtain for a practicing nephrologist. All first year fellows will undergo a 2-week immersion into POCUS which includes hands on sessions and didactics. In addition, a more intensive curriculum is available to second year fellows. All fellows have access to a handheld Butterfly ultrasound. In addition, the division has a Sonosite M-Turbo portable ultrasound at Duke and the Durham VA. In addition, our faculty attend POCUS training. 
Urine Microscopy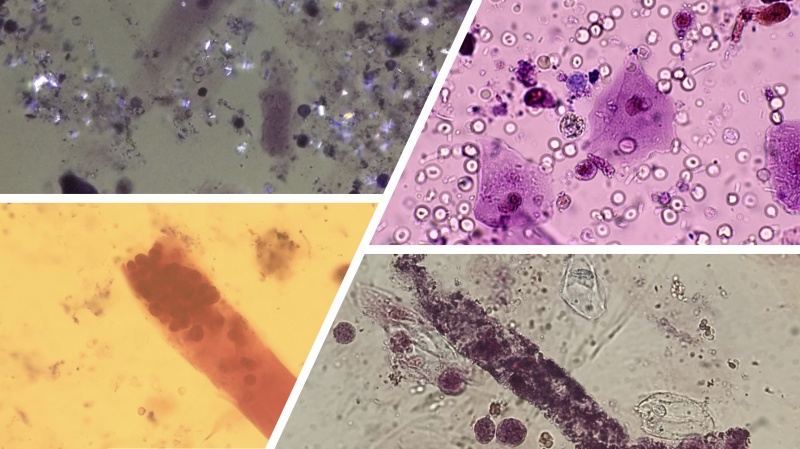 Fellows at Duke will develop skills to ensure they are competent to perform and interpret urine microscopy. Modalities include brightfield, phase contrast, darkfield, and stained specimens with Sternheimer-Malbin stain. We have 3 separate microscopes; one at the Durham VA Hospital, one at the Duke 1A Fellows Clinic, and another in Duke Hospital for inpatient use.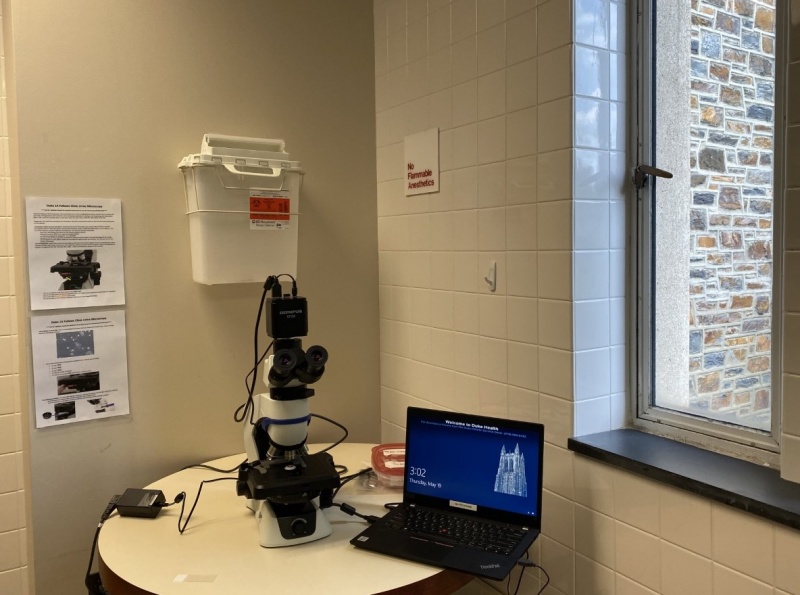 How is Mentorship Provided?
Each fellow works with faculty members to create a mentorship committee, which will last for the entire duration of the fellow's time at Duke. This committee consists of a research mentor and two to three individuals with related scientific interests at Duke University. This committee meets semi-annually to review progress, discuss plans, formally establish expectations, and help guide career development. After each meeting, the trainee should write a summary of the meeting and present this to the Mentorship Committee members, the division chief and the training program director. In addition basic science pathway fellows will have an opportunity to join the Lefkowitz Society for additional mentorship.
Ongoing Quality Improvement Projects
As part of the ACGME requirements our Nephrology Fellowship has developed a robust quality improvement (QI) program. All fellows will participate in the program throughout their fellowship training. Fellows with a strong interest in QI will have the opportunity to join the Learning Health Systems Training Program (LHSTP). The LHSTP is a novel educational program designed to train fellows in the skills needed to become physicians who are able to understand and obtain individual patient and clinician practice level data from the LHS as data scientists, analyze the data to inform current clinical questions and processes, integrate findings with published research evidence to practically solve clinical problems.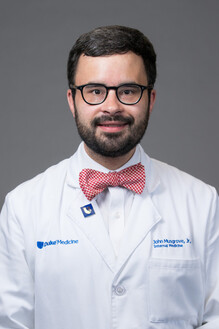 John Musgrove, MD
Director of Quality Improvement for the Fellowship Program