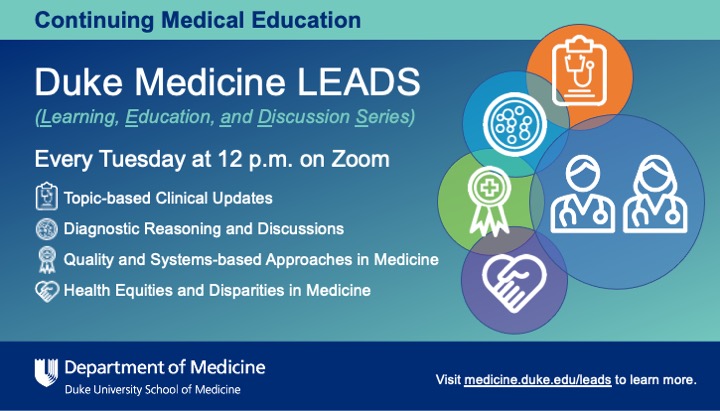 In October 2020, the Department of Medicine launched a new continuing medical education series for our faculty and trainees.
The Duke Medicine Learning, Education, and Discussion Series (LEADS) will take place each Tuesday at 12 p.m.
Together with Medicine Grand Rounds, Duke Medicine LEADS will keep our knowledge current and our skills sharp while strengthening our commitment to being a values-driven, data-driven, and anti-racist department.
Background
Chetan Patel, MD, vice chair for clinical affairs, is activity director for Duke Medicine LEADS.
"We live in a rapidly changing world, and there are many forces pushing and pulling the delivery of health care in the United States. New medical knowledge is broadly available through multiple platforms; value-based care and other payment models are creating practice changes; wearable devices and other technologies are connecting us to our patients in unprecedented ways; and there is a need for a thorough examination of racism and systemic causes of health disparities."
Duke Medicine LEADS will help fill gaps in knowledge as well as cultivate the inspiration that comes from interacting with our community of faculty and trainees.
Dr. Patel and a planning committee will tap the vast knowledge within the department to invite faculty and trainees to be presenters and discussion facilitators. See below to learn more.
Rotating themes
The series will include four rotating themes, guided by teams of faculty and our chief residents:
Health Equities and Disparities in Medicine, for ongoing dialogue about diversity, equity, and inclusion — Laura Svetkey and Kim Evans (senior leads), Julius Wilder (faculty lead), and Sara Coles (chief resident).
Diagnostic Reasoning and Discussions, a case-based discussion — Aimee Zaas (senior lead), Eileen Maziarz (faculty lead), and Lonnie Sullivan (chief resident).
Quality and Systems-based Approaches in Medicine, explorations of quality, process improvement, and value-based care — Chet Patel (senior lead), Darsh Kothari (faculty lead), and Ryan Duffy (chief resident).
Topic-based Clinical Updates, to review internal medicine guidelines and explore new therapies — Anne Phelps (senior lead), David Leverenz and Stephen Bergin (faculty leads), and Nathaniel Harris (chief resident).
Credits
Category 1: Duke University Health System Department of Clinical Education and Professional Development designates this activity for a maximum of 1.0 AMA PRA Category 1 Credit(s)™. Physicians should claim only credit commensurate with the extent of their participation in the activity.
Attendance and CME credit is tracked online by Duke Continuing Medical Education.
Special Note : Faculty can now receive MOC credit for attending "Quality and Systems-based Approaches in Medicine" sessions (beginning Feb. 22). In order to receive credit please be sure to update your profile in in Ethos (https://ja.dh.duke.edu ) in order for their MOC credit to be sent to the specialty board.  Failure to ensure their information is correct in their profile, including identifying their specialty board, diplomate number and birth date will result in no MOC credit being reported for them.  It is not CEPD's responsibility to ensure the correctness of the individual's information.
How to participate
Duke Medicine LEADS sessions will take place in Zoom. Instructions for connecting will be included in a weekly email message sent to all faculty and trainees in the Department of Medicine.
Schedule
Date
Theme
Presenter
Title
Pearls and Recordings
12/27/2022
No LEADS Conference- Holiday
 
 
 
12/20/2022
No LEADS Conference- Holiday
 
 
 
12/13/2022
Diagnostic Reasoning and Discussions

ACR LEADS

Emory Buck, MD
Aubrie Carroll, MD
Jawan Abdulrahim, MD

TBD
 
12/06/2022
Health Equities and Disparities in Medicine
TBD
TBD
 
11/29/2022
No LEADS Conference- Thanksgiving Holiday
 
 
 
11/22/2022
Topic-based Clinical Updates

Carlos Manuel de Decastro III, MD
Professor of Medicine
Division of Hematologic Malignancies and Cellular Therapy
Duke University School of Medicine

Rebecca E. Sadun, MD, PhD
Professor of Medicine Division of Rheumatology
Duke University School of Medicine
 

TBD
 
11/15/2022
Quality and Systems-based Approaches in Medicine
 

Dana Clifton, MD
Assistant Professor, Hospital Medicine,
Divisions of Medicine and Pediatrics
Associate Medical Director for Quality, Hospital Medicine Program
Associate Director, Pediatric Medical Student Education
Medical Director, Project COMET
Duke University Hospital

TBD
 
11/08/2022
NO Leads Conference - Election Day
 
 
 
11/01/2022
Diagnostic Reasoning and Discussions
TBD
TBD
 
10/25/2022
Health Equities and Disparities in Medicine
Judy Seidenstein
Associate Dean of Equity, Diversity & Inclusion
Chief Diversity Officer,
Duke University School of Medicine
TBD
 
10/18/2022
Topic-based Clinical Updates
Deepak Vora, MD
Associate Professor of Medicine
Division of Cardiology
Duke University School of Medicine

Translating pharmacogenomics research into clinical practice.

 
10/11/2022
Quality and Systems-based Approaches in Medicine
John Yeatts, MD, MPH
Assistant Professor of Medicine
Division of General Internal Medicine
TBD
 
10/04/2022
Diagnostic Reasoning and Discussions

ACR LEADS

Tyler Couch
John Tanaka
Matt Goodwin

A Breathtaking Case of Diagnostic Uncertainty

 
09/27/2022
Health Equities and Disparities in Medicine

Cornell P.  Wright, MPA
Chief Health Equity Officer
Alliance for a Healthier Generation

Health Equity in Context
View recorded session
09/20/2022
Topic-based Clinical Updates
Joshua Thaden, MD, PhD
Assistant Professor of Medicine
Division of Infectious Diseases

Managing gram-negative bacteremia: Emerging evidence for oral stepdown, shorter duration, and follow-up blood cultures

View recorded session
09/13/2022
Quality and Systems-based Approaches in Medicine
Blake Cameron, MD, MBI
Associate Professor of Medicine
Division of Nephrology
Medical Director, Digital Strategy Office (DUHS)
Medical Director, Telehealth & Access Innovation (PDC)
 

Duke Digital Health initiatives – with an emphasis on the Virtual Care Center and E-Consultation programs.

View recorded session
09/06/2022
No LEADS Conference - Holiday
 
 
 
8/30/2022
Health Equities and Disparities in Medicine

Kevin Thomas, MD
Associate Professor of Medicine, Cardiology
Vice Dean for Diversity, Equity and Inclusion
Member in the Duke Clinical Research Institute

The Journey Towards a More Equitable and Just Duke
View recorded session
8/23/2022

No LEADS Conference-Summer Schedule

 
 
 
8/16/2022
Diagnostic Reasoning and Discussions

ACRs:

Amanda Broderick, MD
Omar Martinez-Uribe, MD
Megan Barrett, MD

Rapidly Progressive Critical Illness: Chronic Condition or Something New
View recorded session
8/9/2022
Topic-based Clinical Updates
Fuad Bassam Bohsali, MD
Assistant Professor of Medicine,
General Internal Medicine
 
Updates in Perioperative Medicine
View recorded session
8/2/2022

No LEADS Conference-Summer Schedule

 
 
 
7/26/2022
Quality and Systems-based Approaches in Medicine

Alex Han Cho, MD, MBA
Assistant Professor of Medicine,
General Internal Medicine

Duke Telehealth Before, During & "After" COVID

View recorded session
7/19/2022
No LEADS Conference-Summer Schedule
 
 
 
7/12/2022
No LEADS Conference-Summer Schedule
 
 
 
7/5/2022
No LEADS Conference-Holiday
 
 
 
6/28/2022
No LEADS Conference- Summer Schedule
 
 
 
6/21/2022
Topic-based Clinical Updates
Teresa Tarrant, MD
Associate Professor of Medicine,
Rheumatology & Immunology
 
Cytokine Signaling and Biologics in Atopic Disease
View recorded session