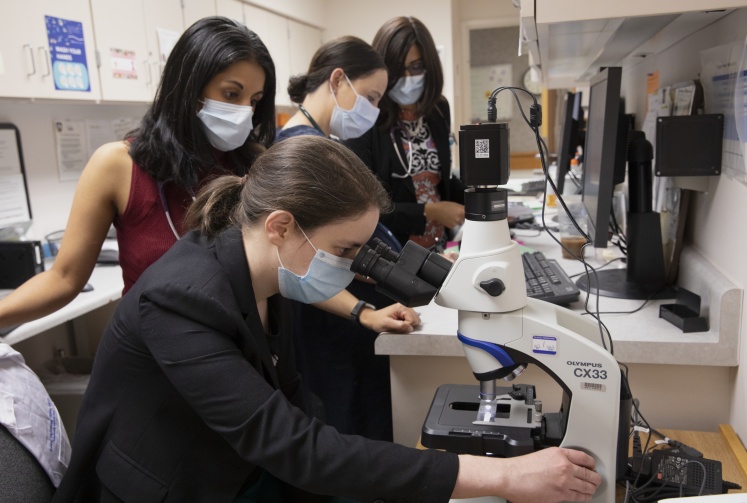 First Clinical Year
During the first clinical year, fellows are assigned to rotations on the Duke Hospital Rheumatology Consult Service, the Durham VA Medical Center Rheumatology Service, and ambulatory/academic time. Fellows spend approximately one-third of the year on each of these activities, divided into two or three week rotations.
Inpatient Consultation Services of Duke Hospital and Durham VA Medical Center
First-year fellows spend approximately 3 months leading the Duke Hospital inpatient consultation team, where about 15 inpatient consultations are performed each week. On the Duke Hospital service, fellows encounter patients with acute presentations of systemic rheumatic diseases, challenging diagnostic situations, and patients requiring diagnostic and therapeutic arthrocentesis. The Duke consultation service is supervised by a faculty member who rounds daily with the fellow, upper-level Duke internal medicine residents, fourth-year medical students, and other trainees assigned to the service. 
First year fellows spend 4 months per year on the Durham VA rheumatology service. This includes an additional half day of directly supervised new patient clinic each week and approximately 1-2 inpatient consultations each week. This fellow also provides electronic consultation (e-consult) services.
Outpatient Clinics
First year fellows also maintain their own continuity clinics at Duke University for one half-day per week and the Durham VA for two half-day sessions per week. All first year clinics are directly supervised by faculty members who do not have other patient care responsibilities during clinic time. In clinic, fellows routinely see new patient consultations, provide ongoing care for patients with the full diversity of rheumatologic illnesses and provide ongoing continuity care for patients they have seen in the inpatient setting.
Each fellow gains community rheumatology experience either through participating in a community outreach clinic off-site approximately one day each month with a rheumatology faculty member, or through participating in the Division's off-site rheumatology clinic one day each month with a faculty member. These experiences afford an opportunity to provide care in either a rural community or in a community-based rheumatology practice with one-on-one teaching. Fellows also participate in the pediatric rheumatology clinic during elective time.
Each first year fellow has approximately 3 months during the first year of "ambulatory / academic" time. During this rotation, fellows gain expertise in longitudinal lupus care by working in the Duke Lupus clinic one half day per week. In addition, fellows are given time to meet with mentors, work on academic projects, spend time in the pediatric rheumatology clinics and Clinical Immunology Laboratory, write a case report or review, and participate in elective clinical experiences.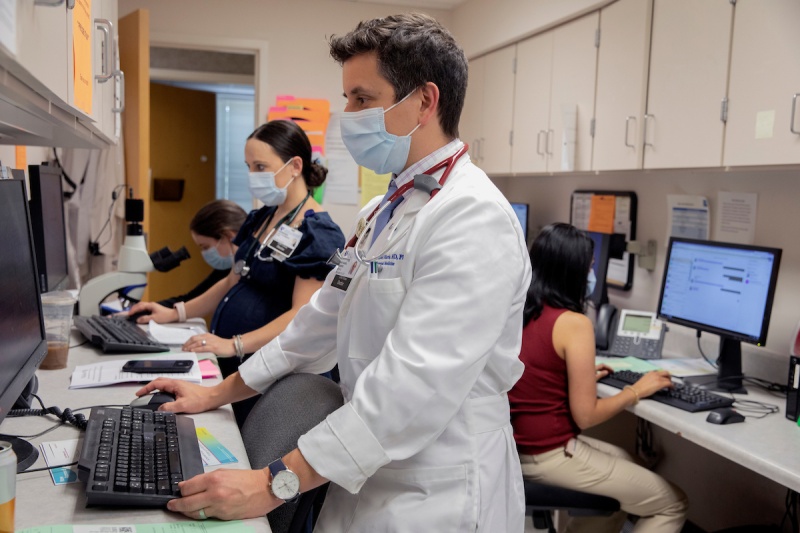 Second Year
In consultation with program leadership, fellows decide whether to pursue a clinical (two-year) or research (three-year) fellowship.  During the second year, clinical fellows complete additional rotations on the Duke consult service, including time as the teaching fellow on this service.  Clinical fellows in the second year maintain an average of two half days of continuity clinic per week.  In addition, fellows spend an additional half day of clinic per week in the Duke Autoimmunity in Pregnancy Clinic, the Duke Rheumatology/Oncology Clinic, the Inflammatory Eye Disease Clinic, Scleroderma Clinic, and/or the musculoskeletal ultrasound clinic.  Remaining time can be spent in elective clinical experiences outside rheumatology, learning musculoskeletal ultrasound, and completing a mentored academic project.
For fellows on the research track, time in the second and third year is protected to conduct research with the goal of obtaining external funding upon graduation. Clinical responsibilities include one half day of continuity clinic per week. Some research fellows may maintain an additional half day of VA or subspecialty clinic depending on their career development needs. Research fellows also spend adequate time on the inpatient service to allow them to effectively supervise fellows upon graduation (typically one or two rotations per year).
Click here to view our clinical training sites.
Elective Experiences
First year fellows can enhance their training experiences during elective/research months. Fellows can participate in other Duke Rheumatology subspecialty clinics such as inflammatory eye disease, scleroderma, myositis, and the Duke Rheumatology MSKUS Clinic. Elective clinics outside of Rheumatology may include: interstitial lung disease, osteoporosis/metabolic bone disease, musculoskeletal radiology, sports medicine, hand surgery, dermatology, neurology and others depending on fellows' personal interests.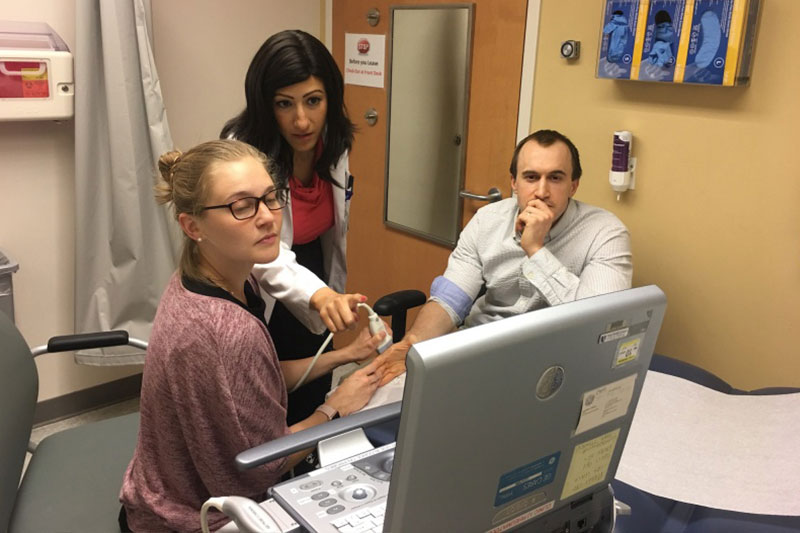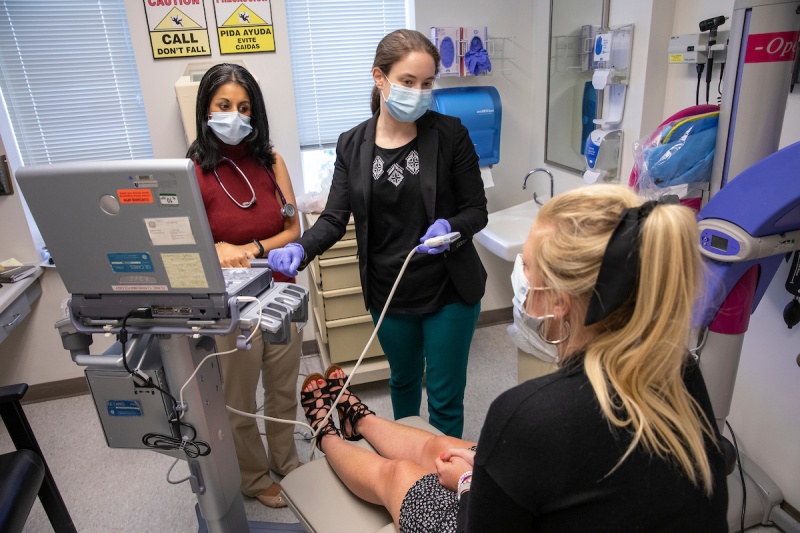 Didactics and Quality Improvement
Didactic conferences are designed by upper level fellows in consultation with a supervising faculty member. Conferences depend on fellow involvement and preparation prior to meetings. Fellows discuss the relevant scientific literature on consult rounds and in clinic, lead journal clubs, and lead weekly case conference presentations. Didactic time includes education in quality improvement science. Every year all fellows work together to lead the Division in a single quality improvement project mentored by faculty members. For the past several years, Duke fellows' quality improvement projects have been presented as oral abstracts and posters at the ACR Annual Scientific meetings and in manuscript format.  Additionally, topics such as leadership, time management, career development, and wellness are included in the core curriculum series.
Research Project
All fellows develop and conduct an independent academic project during their training. These projects are tailored to fellows' interests, keeping in mind the feasibility of suitable projects and availability of faculty mentors. Fellows are provided guidance to complete all necessary research certifications during the first year, along with training in research methodology. The research project begins during the first year and continues through the second year, with the goal of submitting an original research manuscript before graduation. Every fellow works closely with a mentor to provide guidance and oversight. Typically these projects result in publication and presentation at national or regional scientific meetings. Fellows also are required to co-author a case report, review article or book chapter during training. 
Click here to see a list of recent fellow publications and ACR abstracts.