Patient care at Duke is distinguished by a collaborative, patient-centered approach that combines the perspectives of physicians from many specialties with the broad experience of specialized nurses, physician associates, therapists, technologists, and many other health professionals.
As the Southeast's preeminent health-care provider and one of the nation's best, Duke attracts more than 60,000 inpatient stays and 1.4 million outpatient visits annually. Because of our leadership in biomedical research, Duke caregivers can offer patients immediate access to new therapies, bringing the benefits of the latest research directly to the bedside.
Our fellows primarily work at Duke University Hospital and the Durham VA Medical Center, including two hospital-based clinics.
Both of our affiliated training sites have an on-site Clinical Microbiology Laboratory, with expertise in diagnostic bacteriology, immunology, mycology, parasitology, and virology as well as non-culture-based diagnostics. Microbiology plate rounds occur a minimum of weekly at both sites.
Duke University Hospital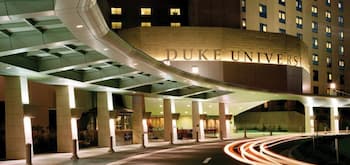 A tertiary and quaternary care hospital, Duke University Hospital is consistently rated as one of the top hospitals in the United States. Duke University Hospital has 957 inpatient beds (including over 160 critical care beds). It offers comprehensive diagnostic and therapeutic facilities, including a regional emergency/trauma center; a major surgery suite containing 51 operating rooms; an endosurgery center; the Ambulatory Surgery Center with nine operating rooms; and an extensive diagnostic and interventional radiology area.
The facility also functions as a research hospital where medical advances are created and put into use, and as a teaching hospital for students of medicine, nursing, and related health sciences.
Durham VA Medical Center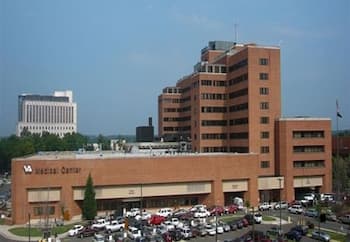 Located across the street from Duke University Hospital, the Durham VA Medical Center is a 151-bed tertiary care teaching facility affiliated with the Duke School of Medicine. All ID faculty members at the Durham VAMC are also faculty members at Duke, and many have privileges at both hospitals.
The facility, which has been in operation since 1953, provides general and specialty medical, surgical, psychiatric-inpatient and ambulatory services, and serves as a major referral center for veterans in North Carolina and surrounding states. The campus also includes a 100-bed Community Living Center (CLC), a hospital-based transitional care unit.
Clinic Sites
In addition to providing inpatient consultative care for patients at Duke University Hospital and the Durham VA Medical Center, our fellows see outpatients at the Duke Infectious Diseases Clinic (Duke Clinic 1K) and Durham VA Infectious Diseases clinics. Outpatient parenteral antimicrobial therapy (OPAT) monitoring is provided by a clinic-based advanced practice provider. In addition, the Duke HIV Clinic is supported by 4 social workers with substance abuse and mental health expertise and 2 financial resource coordinators. Our clinic providers see approximately 2,000 persons living with HIV per year.