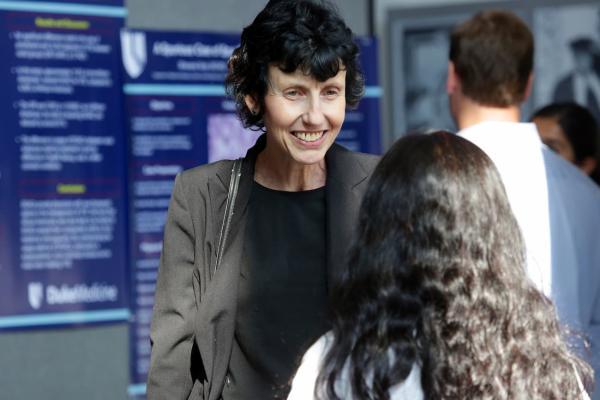 Andrew Muir, MD, chief of the division of Gastroenterology announced the first recipients of the Provenzale Resident Research Awards.
These awards were created to support research in gastroenterology and hepatology by Duke Internal Medicine residents. The awards were established with the generous support of the friends and family of Dr. Dawn Provenzale through the Dawn Provenzale Mentorship Fund. During her faculty career at Duke, mentorship of residents and support of faculty were major priorities for Dr. Provenzale. These awards are a wonderful testament to her legacy.  
2022 Recipients
Resident: Shivram Chandramouli, MD
Mentor: Cynthia Moylan, MD
Project: Liver Transplant Allocation in Veterans
Resident: Catherine Cheney, MD
Mentor: Brian Sullivan, MD
Project: Colorectal Cancer Screening Uptake and Adherence
Resident: Katie Jordan, MD
Mentor: Matt Kappus, MD
Project: Hepatic Encephalopathy Screening Tool
Resident: Kate Lee, MD
Mentor: Jane Onken, MD
Project: Dysplasia in Inflammatory Bowel Disease in the Era of Biologics
Resident: Callie Lilley, MD
Mentor: Darsh Kothari, MD
Project: Assessing Patient Perception of Pancreatic Enzyme Replacement Therapy (PERT) and Evaluating the Impact of a Patient Education Tool on Improving Patient Understanding of and Confidence with PERT
Resident: Sriya Muralidharan, MD
Mentor: Darin Dufault, MD
Project: The Adenoma Detection Rate Target in Average Risk Patients Ages 45 to 49
Resident: Sachiko Oshima, MD
Mentor: Kara Wegermann, MD
Project: Racial disparities in acceptance of HCV NAT+ and PHS IR+ solid organ transplant
Congratulations to all the residents and their mentors!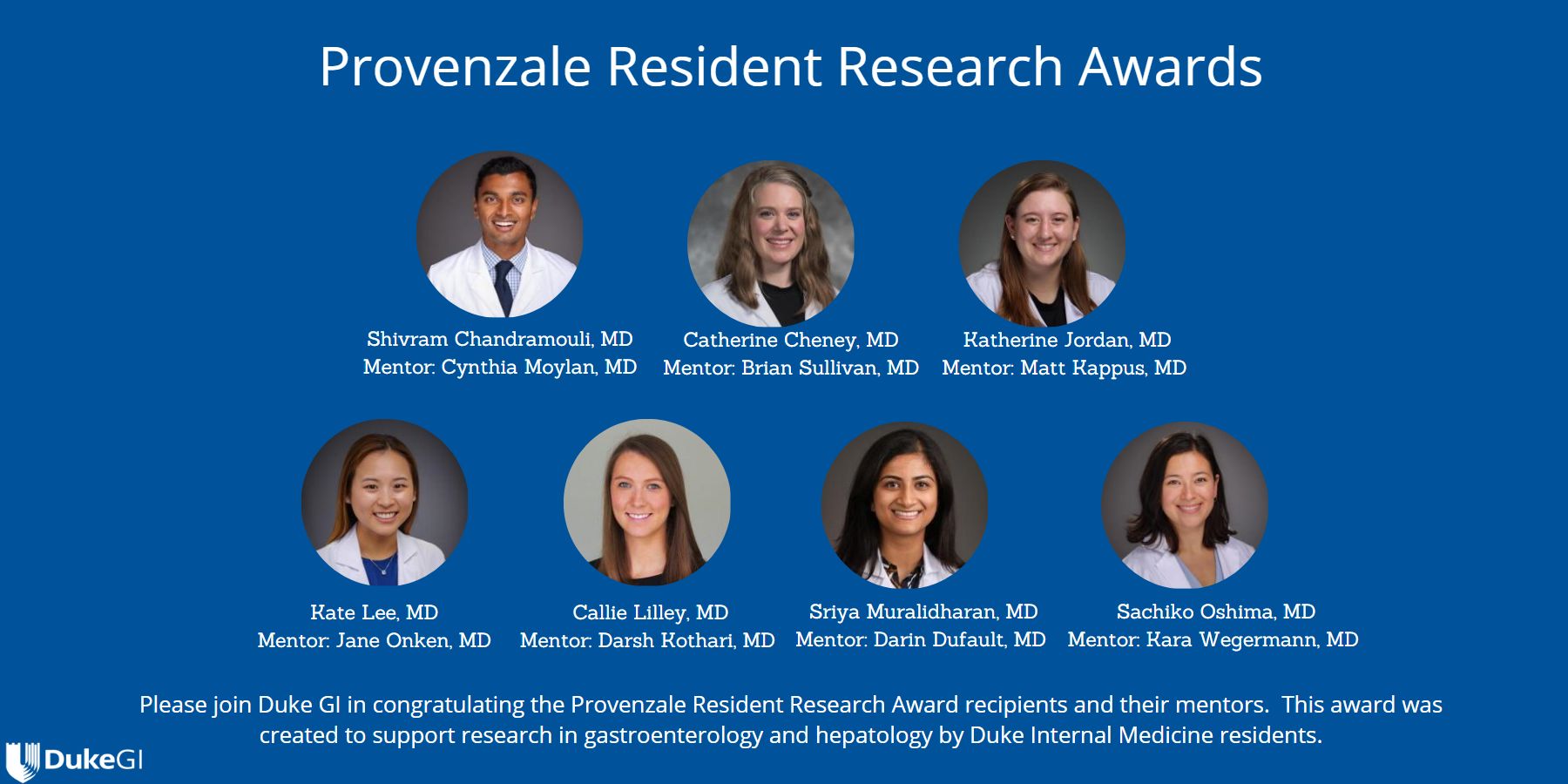 The Dawn Provenzale Mentorship Fund honors Dr. Dawn Provenzale, MD, professor of medicine (Division of Gastroenterology). As a member of the Duke faculty from 1992 until 2021, Dr. Provenzale earned a widespread and well-deserved reputation as a gifted mentor, inspiring decades of students, trainees and faculty to pursue clinical research projects and careers. This fund will support pilot projects and travel awards to Duke students, residents, fellows and junior faculty.
---