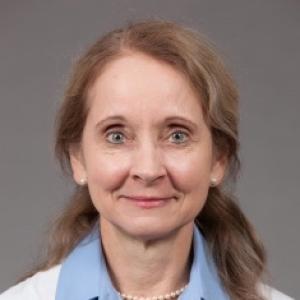 Principal Investigator
Professor of Medicine
Member of the Duke Cancer Institute

Contact Information
Address:
Duke Box 103015
Durham, NC 27710
Phone:
919-684-9788
Overview
Research Interests
Research in the Foster Lab focuses on autoimmune glomerulonephritis, a major cause of acute and chronic kidney disease worldwide.
Publications from Foster Lab on Pubmed
Our experiments explore the origins and regulation of nephritogenic immune responses, and are designed to identify tolerance mechanisms that regulate nephritogenic lymphocytes, with an emphasis on B cells and autoantibodies; determine the molecular basis of tolerance; identify defects in immune regulation and the contributions of genetic autoimmune predisposition; and identify environmental disease triggers.
For this purpose, the Foster Lab has developed several autoantibody transgenic models that are relevant to immune nephritis in both kidney-restricted and systemic autoimmunity and that are amenable to mechanistic dissection using basic immunological, molecular biological, and proteomics approaches.
We are working to understand gene-environment interactions that lead to a malfunctioning immune system, failed tolerance, and autoimmunity capable of destroying kidneys. A major goal is to develop novel translational tools to bridge the gap between the lab and patients, with the ultimate aim to identify new targets for therapeutic intervention. Our lab has generated over 30 unique mutant murine lines to study autoimmunity within the complex immunological microenvironment that can only be found in vivo. This includes an autoantibody transgene reporter system to track cell populations in vivo in multiple autoimmune backgrounds that collectively model the genetic complexity of the outbred human population. We also use humanized immune system models to support critically needed in vivo studies that facilitate human T cell-B cell interactions, in the context of human disease susceptibility genes and/or disease-linked environmental exposures. Our lab provides a technologically and intellectually rich scientific environment for careful hypothesis-driven research and welcomes undergraduate and medical students and postdoctoral scientists interested in kidney-targeted autoimmunity.
Example relevant studies:
Fee L, Kumar A, Tighe RM, Foster MH. Autoreactive B cells recruited to lungs by silica exposure contribute to local autoantibody production in autoimmune-prone BXSB and B cell receptor transgenic mice. Front Immunol. 2022;Aug 2;13:933360. doi: 10.3389/fimmu.2022.933360. eCollection 2022. PMID: 35983030.

Foster MH, Ord JR, Zhao EJ, Birukova A, Fee L, Korte FM, Asfaw YG, Roggli VL, Ghio AJ, Tighe RM, Clark AG. Silica exposure differentially modulates autoimmunity in lupus strains and autoantibody transgenic Mice. Front Immunol. 2019;10:2336. PubMed Central PMCID: PMC6781616.

Worni-Schudel IM, Clark AG, Chien T, Hwang KK, Chen BJ, Foster MH. Recovery of a human natural antibody against the noncollagenous-1 domain of type IV collagen using humanized models. J Transl Med. 2015 Jun 6;13:185. PubMed Central PMCID: PMC4467618.

Zhang Y, Su SC, Hecox DB, Brady GF, Mackin KM, Clark AG, Foster MH. Central tolerance regulates B cells reactive with Goodpasture antigen alpha3(IV)NC1 collagen. J Immunol. 2008 Nov 1;181(9):6092-100. PubMed Central PMCID: PMC2597645.

Brady GF, Congdon KL, Clark AG, Sackey FN, Rudolph EH, Radic MZ, Foster MH. Kappa editing rescues autoreactive B cells destined for deletion in mice transgenic for a dual specific anti-laminin Ig. J Immunol. 2004 May 1;172(9):5313-21. PubMed PMID: 15100270.
Lab Members 
Lanette Fee, Ph.D.
Lab Research Analyst II
Advika Kumar
Duke undergraduate student
Madi McMichael
Duke undergraduate student
Current Studies
Project 1-- Gene-Environment Interactions Modulate Nephritogenic Autoimmunity: We explored mechanisms by which autoimmunity is induced by inhaled crystalline silica dust (cSiO2), an occupational exposure linked to human systemic lupus erythematosus, rheumatoid arthritis, systemic sclerosis, and anti-neutrophil cytoplasmic autoantibody (ANCA) vasculitis. Using lupus strains and an autoantibody transgenic reporter system, we demonstrated universal induction of lung tertiary lymphoid structures, restriction of lung cell autoantibody production to strains with intrinsically dysregulated B cells and cells subject to superimposed Toll-like receptor stimulation, induction of autoantibodies of diverse disease-associated specificity, and a strong influence of genetic background. Ongoing studies are examining mechanisms of local and systemic autoimmune dysregulation, the role of environmental co-exposures in magnifying autoimmune vulnerability, and the contribution to glomerulonephritis and impact on kidney function.
Project 2 -- Goodpasture Syndrome (GPS) and anti-GBM Nephritis: GPS is the prototype autoimmune disease with organ-restricted pathology dominated by severe glomerulonephritis and a well-defined pathogenic epitope.
Using an anti-alpha3(IV)NC1 collagen Ig transgenic model, the Foster Lab demonstrated that B cells recognizing disease-relevant epitopes on alpha3(IV) collagen are regulated in vivo; these cells are deleted unless rescued in the bone marrow by receptor editing.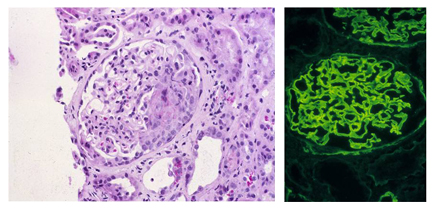 This finding was unexpected because the GPS kidney target epitopes are normally cryptic. Ongoing studies are investigating the role of collagen as tolerogen, the regulatory role of crossreactive antigens, and the molecular basis for escape from tolerance, as well as developing a humanized model for preclinical studies.
Project 3 -- Lupus Nephritis: Glomerulonephritis occurs in up to 75 percent of patients with lupus. This complex autoimmune disease is influenced by genetic and environmental factors.
Using transgenic models that express lupus antibodies reactive with DNA and basement membrane laminin, the Foster Lab demonstrated that the nephritogenic B cells are strictly regulated by deletion, receptor editing, and anergy, both in nonautoimmune backgrounds and in subjects with mild lupus.
Ongoing studies are examining the role of genetic autoimmune susceptibility, including backgrounds prone to develop severe lupus nephritis, in altering the fate of nephropathic B cells.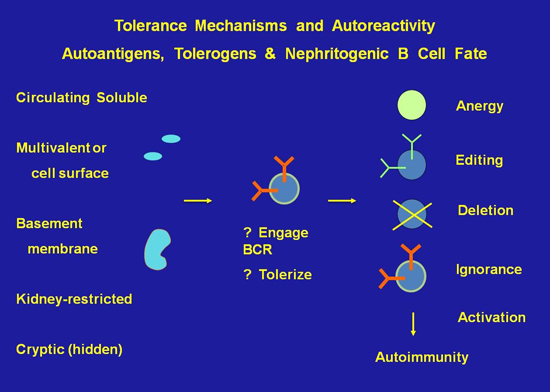 Project 4 -- The biochemistry and transcriptional profile of immune tolerance: These studies dissect the signaling pathways and molecules engaged in maintenance of immune tolerance.
The Foster Lab used representational difference analysis (RDA) and microarray to identify gene expression signatures and key molecules engaged in maintaining anergy in autoreactive B cells in nonautoimmune individuals, and to identify pathways aberrantly engaged or expressed in analogous cells in subjects with lupus.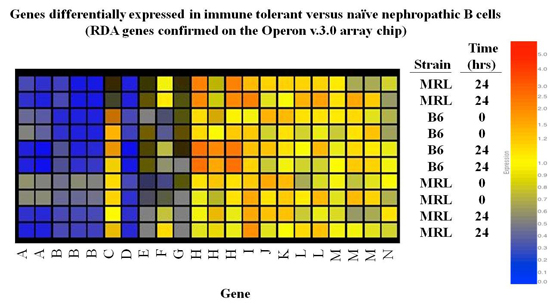 Ongoing studies are assessing the influence of distinct genetic backgrounds on tolerance pathways, and dissecting the role of previously identified key molecules, including galectin-3 and galectin-1, in determining the minimum molecular requirements for energy.