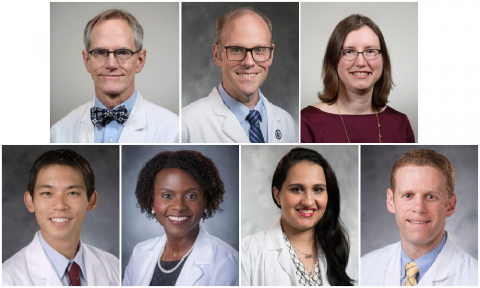 Congratulations to seven of our faculty members who are receiving distinguished academic promotions in the division of General Internal Medicine!
"It gives me tremendous pleasure to announce these promotions to Associate Professor. As you know, these academic promotions mark faculty members' scholarly achievements and are a hallmark of professional accomplishment in our school. Faculty appointed to Associate Professor have achieved recognition within Duke and at peer institutions as leaders in their fields both nationally and/or internationally."   
- L. Ebony Boulware, MD, MPH – Chief, Duke General Internal Medicine 
Promoted to Associate Professor
Effective: July 1, 2022
J. Trig Brown, MD
Dr. Brown's time at Duke is a tale of two eras. During the first period, he served as the Curriculum Coordinator for Duke's Federally-Funded and novel Primary Care Internal Medicine Residency Track and later became the Program Director. In 1991, Dr. Brown left the academic halls to become Chief of Medicine for the Permanente Medical Group. He returned to Duke as a Fellow in Hospice and Palliative Medicine in 2014, while displaying an appetite for learning that erased the fact that he was older and more experienced than almost all of his supervisors. We were excited to have him re-join our faculty at the end of this recent Fellowship and we have not been disappointed with the second phase of Dr. Brown's career at Duke. While displaying excellent clinical skills and judgement, he has been an important member of our Palliative Care team in both his teaching and leadership roles.
---
Brian Griffith, MD
Dr. Griffith joined Duke faculty in 2008, since then he has served in several critical roles as a faculty member at Duke and has grown in responsibility and leadership in clinical informatics. As one of the first provider champions for Maestro Care, Dr. Griffith contributed to the initial clinical content, training curriculum, and implementation planning across the health system for a series of successful transitions and adoptions of the enterprise electronic health record from Epic Systems. He has continued involvements in several layers of IT governance and co-chaired high level committees alongside Chief Medical Officers from the PDC and Duke University Hospital. Dr. Griffith has led and collaborated on numerous projects with expertise in the interplay of people, processes, and technology in the delivery of high value cost-conscious care.
---
Wendy Henderson, MD
Dr. Henderson joined Duke faculty in 2003 and has served in a number of teaching roles for the Department of Medicine including four years at the Duke Outpatient Clinic and four years in the PRIME clinic, which is the VA based continuity clinic for Duke Internal Medicine Residents. In January 2019, Dr Henderson was promoted to Associate Chief of Staff, Ambulatory Care Service at the Durham VA. This is a key role at the Durham VA and with it Dr. Henderson has clinical, administrative and budgeting oversight for multiple sites of primary care in Durham, Raleigh and Clayton.
---
David Ming, MD
Dr. Ming has served in various roles as a faculty member at Duke that integrate his clinical, research, education, and academic interests in both general internal medicine and pediatrics. In GIM, Dr. Ming has served as a scientific leader for our academic programs through his role as Associate Medical Director for Quality Improvement and Academics for the Duke University Hospital Medicine Program, which includes a large group of over 100 hospitalists across three hospital sites. Dr. Ming has a track record of success as a clinician, educator, leader, and innovator, and lately has shifted his focus towards strengthening his skills and experience as a researcher. His promise as an emerging implementation scientist led to his selection in 2018 for the Duke Department of Population Health Science'sK12 award supported by the National Heart, Lung, and Blood Institute.
---
Nia S. Mitchell, MD, MPH
Dr. Mitchell has emerged as a leader in research studies about the dissemination of interventions to reduce disparities in obesity since she joined Duke in 2016. Her early work in this field, and her current R01-funded work, is poised to reduce the devastating impact obesity has particularly among those most vulnerable to obesity, including women, people of color, the elderly, and people who are economically disadvantaged. Dr. Mitchell has been rapidly expanding her influence at Duke and is an important leader in research mentorship. For the last 3 years, she has co-directed the research fellowship in General Internal Medicine. In late 2020, she earned the appointment as Assistant Program Director for Research for the Residency Program in Internal Medicine.
---
Fatima Syed, MD
Dr. Syed joined Duke GIM faculty in 2019 and has served in a variety of roles as a faculty member at Duke that integrate her clinical, education and advocacy interests. She serves as Associate Director of the Primary Care Leadership Track and is co-director of the Primary Care Seminar. She is especially invested in diversity, equity, and inclusion; She serves on the Faculty for Anti-Racism and Excellence (FARE) Committee, the Department of Medicine DEIAR committee, and is a Vice Chair for Diversity, Equity, and Inclusion for the General Internal Medicine division. For Dr. Syed's clinical duties she precepts residents in Duke Primary Care (DPC) clinic at Pickett Road. She is popular with her patients for her empathetic bedside manner and attention to detail. She started the first ever group visit model for diabetes management at Duke Primary Care and is the provider champion for diabetes for the DPC network.
---
Adam Wachter, MD
Dr. Wachter joined Duke faculty in 2010 and was named Duke Regional Hospital's (DRH) Associate Medical Director of Hospital Medicine in 2014. He continues in that role today. Dr. Wachter is a phenomenal clinician-educator and has served as an attending on the Internal Medicine inpatient teaching services at DRH and Duke University Hospital (DUH) for 12 years, and on the Family Medicine Inpatient Service at DRH since it launched in July 2020. Over the past 7 years, under Dr. Wachter's leadership, the DRH APP program has grown in size, scope and reputation. Throughout his career, Dr. Wachter has been a consistent contributor to academic products related to clinical topics, cost-conscious care, and patient safety and quality.