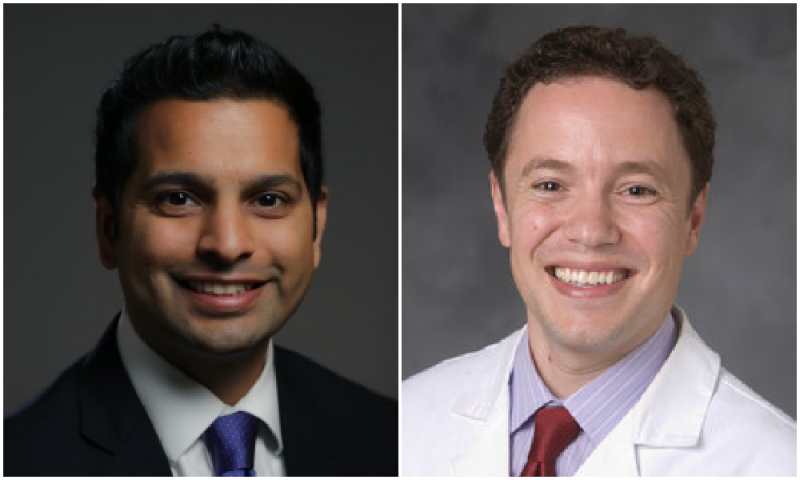 Congratulations to two General Internal Medicine (GIM) faculty members who are receiving distinguished academic promotions!
"It gives me tremendous pleasure to announce these two promotions to Associate Professor. As you know, these academic promotions mark faculty members' scholarly achievements and are a hallmark of professional accomplishment in our school. Faculty appointed to Associate Professor have achieved recognition within Duke and at peer institutions as leaders in their fields both nationally and/or internationally."  
- L. Ebony Boulware, MD, MPH
Chief, Division of General Internal Medicine 
 
To Associate Professor
Nrupen Bhavsar, MD
Since joining Duke faculty in 2012, Dr. Bhavsar has established himself as a national authority on how novel sources of data, including electronic health records, can be used for epidemiologic research, especially in the context of understanding how social and environmental factors impact health, and to predict health outcomes. 
Research
Dr. Bhavsar's research portfolio focuses on 3 main areas:
1. A career development award (K01140146) through the National Heart, Lung, Blood Institute (NHLBI) that aims to address the methodological challenges of using EHR data for epidemiologic research
2. Social informatics, a sub-field of public health informatics, that aims to quantify social science theory through extent social and environmental data linked to EHR data using methods than span informatics, epidemiology, and statistics
3. Real-world data for inferential and prediction studies. He leads and collaborates on multiple prediction and inferential studies that leverage real world data
Research that he has led or collaborated on has led to 44 publications in journals such as AJE, AJKD, Cancer, JAMA Network Open, JASN, and PLOSONE and, as of April 2021, has been cited 887 times.
Mentorship
In addition to his success in research, Dr. Bhavsar has been an excellent mentor, and he has formally mentored undergraduate and graduate students. This has resulted in publications and presentations for his mentees. He is also committed to the advancement of women and underrepresented minorities in science as demonstrated through his mentorship of doctoral students through the Interdisciplinary Association for Population Health Sciences. Dr. Bhavsar has mentored one doctoral student from Florida State University who recently accepted a post-doctoral fellowship at the University of Michigan. He is currently mentoring another doctoral student from the University of Utah. 
National Recognition
On a national level, Dr. Bhavsar has served as an ad hoc reviewer for multiple top tier journals including, JAMA Cardiology, Statistics in Medicine, Social Science & Medicine, and the American Journal of Public Health. He has been invited to present his research at multiple institutions, including Columbia University Mailman School of Public Health, Weill Cornell Medical College, the University of North Carolina Gillings School of Global Public Health, and Wake Forest University School of Medicine.