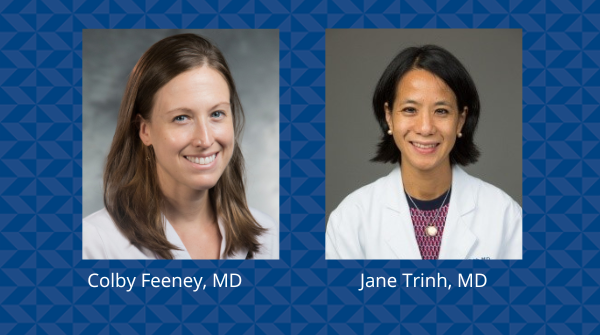 Colby Feeney, MD, hospitalist and assistant professor in the Division of General Internal Medicine with a secondary appointment in the Department of Pediatrics, will assume the role of program director for the Medicine-Pediatrics Residency Program effective September 15, 2022. 
Long affiliated with the program, Feeney, currently serves as its associate program director, a role she has held since 2018. 
Feeney, herself veteran of Duke's nationally-recognized Med-Peds program, replaces Jane Trinh, MD, associate professor of Medicine and Pediatrics who assumed the role of inaugural chief of the division of Medicine-Pediatrics in December 2020. As she transitions from the residency program leadership, Trinh will focus on her administrative responsibilities as division chief and continue her clinical practice in primary care while continuing to support the program as the interim associate program director.
"I've seen the leaders before me really work to make this program great and that requires a lot of diligence and collaboration. I want to carry that forward," Feeney says. "We've been, as a program, really fortunate to draw incredible residents who bring diverse talents and careers and I want to continue to provide that excellent training to draw that type of person to our program."
The division of Medicine-Pediatrics is primarily housed in the Department of Pediatrics but is also supported by an administrative and financial agreement with the Department of Medicine. 
"The Duke Medicine-Pediatrics program is nationally recognized for training outstanding physicians who make a positive impact on the care of patients in primary care, hospital medicine and specialty medicine," says Aimee Zaas MD, MHS, program director, Duke Internal Medicine Residency. "As a graduate of the Duke Medicine Pediatrics Program who has served as an associate program director, Colby is the perfect person to lead Duke Med-Peds.  I look forward to working with her in this role."   
"Dr. Feeney has done great work as the med-peds associate program director; she has innovated and implemented a number of curricular advances for the program. I look forward to seeing the program continue to thrive under her leadership," says Lisa Criscione-Schreiber, MD, MEd, professor of medicine and vice chair of education. 
Feeney is a 2011 graduate of the Indiana University School of Medicine and a Duke trainee. She joined the faculty in August 2015, and has received numerous special recognitions for her work including the 2021 Division of General Internal Medicine Quality Improvement Award and the Clinical Innovations Award in 2020 and 2021. 
She was additionally awarded the Division of General Internal Medicine Educational Excellence Award in 2019 and the Pediatric Residency Teaching Award in 2014 and 2015. Feeney is consistently cited by medical students as a particularly effective teacher in midyear pediatric clerkship feedback. She participates in numerous campus organizations and committees including the Duke GME Professional Development Committee, the Duke University Office of Institutional Equity, Diversity Committee, the DUHS Diversity Education for Staff Curriculum Development Steering Committee and the Transition Taskforce of Duke University Hospital, and DUKE Ahead.  

Looking Back
"I am incredibly proud of how far the Duke Med-Peds Residency Program has progressed. Established in 1986, the program has 165 trainees who have pursued careers in community practices, taken academic positions as general medicine and/or pediatrics faculty in primary care or hospital medicine, joined the CDC EIS program, participated in public or global health programs, and/or pursued combined or categorical subspecialty training," Trinh says. "They are accomplished researchers, educators, and leaders in quality improvement, patient safety, and population health locally and across the country and globe.  In fact, many of our leaders here at Duke are graduates of the Duke Med-Peds Residency Program, I am privileged to have trained in the program and to have had the opportunity to lead the program; I am excited to see Dr. Feeney take the program to the next level." 
"Dr. Trinh has provided outstanding leadership for the med-peds program, especially during the past couple years which have been so challenging. We are happy she will continue to remain involved in the program," Criscione-Schreiber adds. 
Trinh completed her medical degree at Duke in 2002 and her Med-Peds residency in 2006, serving as the DRH and Ambulatory Chief Resident before returning to Med-Peds Residency Program as associate program director for 10 years. She became program director in January 2018. 
During her time in program leadership, Trinh was responsible for developing the quality improvement (QI) curriculum and mentoring residents in QI projects, resulting in several publications and presentations, expanding the ambulatory experiences of the combined residents, and designing a leadership development curriculum for med-peds and pediatrics residents. 
She contributes to the community as a Department of Medicine Civility Champion, a Duke Medical Alumni Council member, Caring for Each Other Peer Support member, and Duke Children's Philanthropy Ambassador.  Nationally, Trinh was an active member of the Med-Peds Program Directors Association and served as Chair of the Accreditation Chair for seven years and was a member of the ACGME Internal Medicine Milestones 2.0 Work Group.  In December 2020, Dr. Trinh was named the inaugural Chief of the Division of Medicine-Pediatrics. 
Looking Ahead
Looking ahead to her new role, Feeney says she understands the many challenges faced today by residents and the continued need to support them with scheduling flexibility where possible and access to mental health while maintaining excellence in training and helping students reach their career goals.
"I don't think that there's any way that we can make it easy," she says. "It's always going to be challenging whatever residency you're in. But we can make it a positive experience where every resident feels like they're proud of the training that they have and they're proud of the program that they trained in."