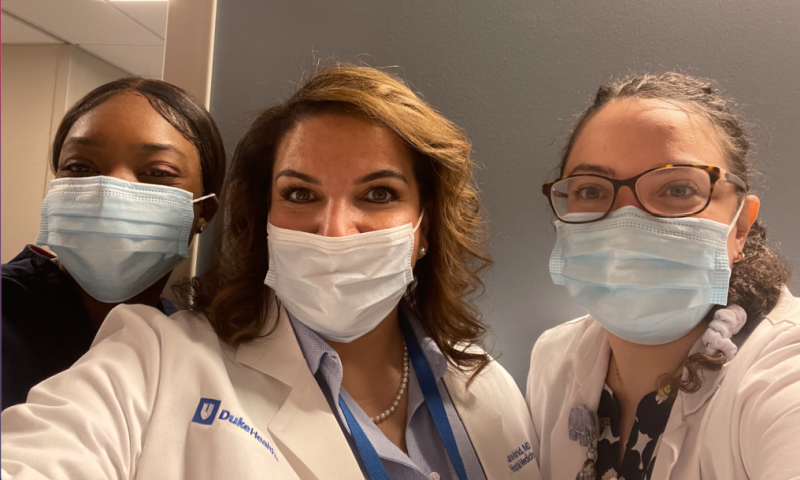 By Liz Switzer
Internal medicine hospitalist Lana Wahid, MD arrived at Duke Medical Center in April 2020 with a simple goal: becoming involved in clinical research. By December 2020, she had been named Duke site Principal Investigator of the National Institutes of Health (NIH)-funded ACTIV-4a platform trial to evaluate anticoagulation in hospitalized COVID-19 patients and quickly established the Duke Health System as one of the highest enrolling trial sites in this international collaboration.
When the interim trial results were published in the August 2021 issue of the New England Journal of Medicine, Duke was put at the cutting edge of this research which, ultimately, contributed to not only Duke changing its guidelines for therapeutic anticoagulation with patients hospitalized for COVID-19 but the NIH and American Society of Hematology as well.
The trial hypothesis was that the more severe the COVID-19 patient, the greater the benefit would be from therapeutic anticoagulation with the anti-inflammatory properties of Lovenox and heparin at the vasculature level. The results, however, showed the patients that benefited the most were actually those with moderate COVID-19, i.e. not yet requiring the intensive care unit or a ventilator but in need of oxygen and hospital admission. The trial was opened to patients at Duke Medical Center, Duke Raleigh and Duke Regional hospitals.
Practice-Changing Data
Wahid's work has led to high-quality, practice-changing data in how anticoagulation is managed in patients with COVID-19, according to Thomas Holland, MD, an infectious disease expert and one of Wahid's mentors. "As additional treatments and strategies are studied in the platform, her leadership ensures that we'll keep getting the answers we need in this pandemic," Holland said. "She is truly a rising star in Duke's clinical research efforts."
"Clinical trials conducted among diverse individuals receiving hospital care are critically needed to identify treatments for a number of illnesses, ranging from COVID-19 to blood stream infections and other conditions," said another Wahid mentor, Ebony Boulware, MD, Chief, Division of General Internal Medicine (GIM), and Director of the Duke Clinical and Translational Science Institute. "Dr. Wahid's work places Duke at the forefront of efforts to conduct these important studies that will inform medical care across our nation."
But with all of the buzz that has been created around her success, Wahid is the first to acknowledge that it is due in large part to the collaborative of dedicated people around her.
She credits Holland, Rowena Dolor, MD, GIM, Cameron Wolfe, MBBS, Infectious Diseases, Noppon Setji, MD, Medical Director of the Hospital Medicine Program, and Thomas Ortel, MD, PhD, Chief, Division of Hematology, for making the ACTIV-4a trial possible for her and Duke Health System personnel for their support—in particular the Department of Medicine Clinical Research Unit (CRU) and CRU Assistant Research Project Manager, Tammy Bishop, RN, MSN, CCRC.
"This was truly a great collaborative effort," Wahid said.
Pause for the Cause
As the ACTIV-4a trial became busier and more complex, Wahid knew she needed more help, more research coordinators. Tammy had a better idea: research nurses.
"Tammy took a moment or, as I like to say 'took a pause for the cause,' to better understand the details behind the trial and what was required," Wahid said. "It's so easy to just get caught up in the daily hustle of activities, enrolling patients and entering data but she opened my eyes to a whole new possibility. That was a pivotal point for me. It was like a light just flipped on. For somebody like myself new to research, that was a profound moment."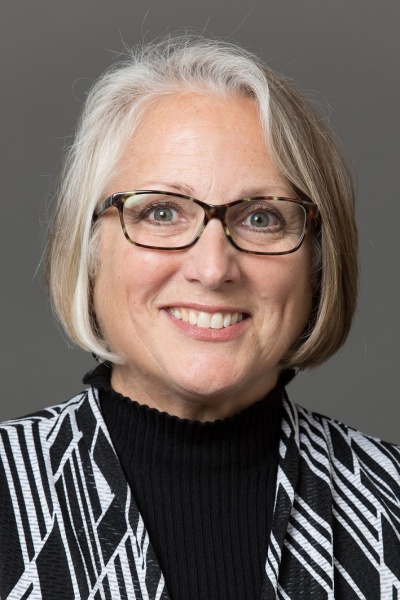 Bishop's insight came as Wahid had a second trial going on in the background with a third opening up. The timely suggestion not only freed up time for Wahid to work on additional projects and more academic work, she is adding a fourth trial to her portfolio.
Her team now includes nine hospitalists throughout Duke's three hospitals, three research coordinators, and two research nurses. The position of research program leader is in development with infrastructure to supports inpatient trials seven days a week across all three institutions and extension of the trials as a possible outpatient option.
"Great mentors like Dr. Ortel and Dr. Dolor have all mentored me in the science," Wahid said. "Tammy has mentored me in the structure and management of trials. As physicians, we're taught medicine and we're taught to be evidence-based but we're not taught the business and management end of research."
All in a Day's Work
For Bishop, who has been at Duke collectively for 30 years and involved in research since 1995, it's all in a day's work.  
"It's really about communication, engaging with the faculty, listening to their needs, understanding the protocols and what they need to successfully implement their study and identifying the resources needed to do that whether it's clinical resources, a lab or staffing," Bishop said. "It's what gets me up in the morning, seeing other people happy in their roles and helping them succeed."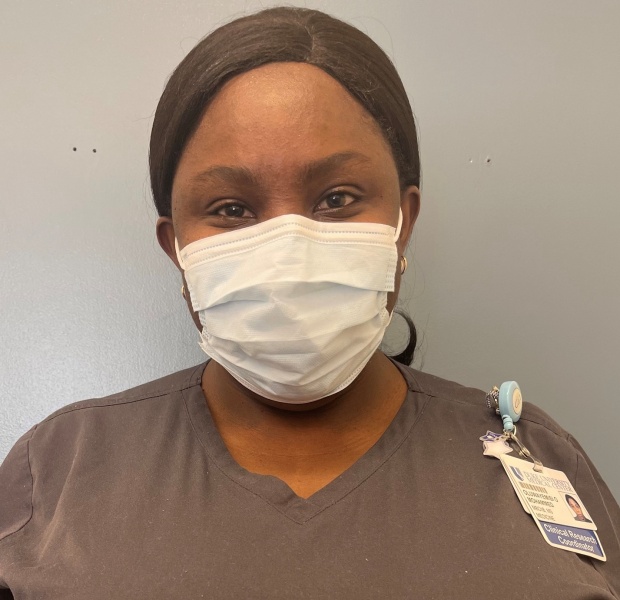 Wahid's support team at Duke University includes Oluwayemisi "Yemisi" Mohammed and Nkiruka Azuogalanya, Clinical Research Coordinators, Valerie Renard, NP,  and Tara Smith Strigo, Director of Research Programs, GIM.
A few others, Wahid said, have also played a key role in her early success. At Duke Regional Hospital, they include Emily Ray Ko, MD, PhD, Neal Stafford, MD, Grace Dryer, PA, Andrea Archibald, MD,  Megan Brooks, MD, MPH, Duke Raleigh's Tatyana Der, MD.
Photos: Top, L-R: Nkiruka Azuogalanya CRC, Lana Wahid, MD , Valerie Renard, NP Hospitalist. Middle: Tammy Bishop. Lower: Yemisi Mohammed