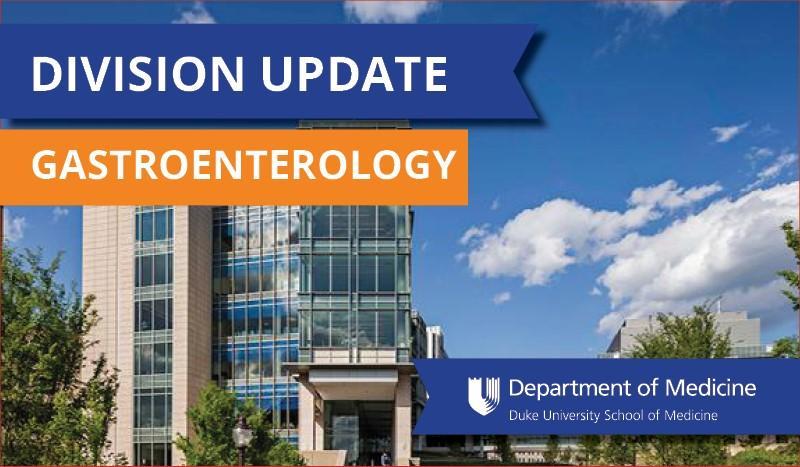 By Andrew Muir, MD, Chief, Gastroenterology
 March is National Colorectal Cancer (CRC) Awareness Month.  CRC is the third most common cause of cancer death in the United States in women and the second leading cause of death in men.  Screening is critical to diagnosis at an early stage, and CRC mortality has been declining since 1990.  However, increased incidence in patients under 50 recently led the GI societies, the American Cancer Society and the United States Preventive Services Task Force to recommend initiation of screening at age 45.
At Duke, our current first line recommendations are colonoscopy every 10 years or annual fecal immunochemical test (FIT), which directly measures hemoglobin in the stool.  At Duke GI, we are proud of our quality metrics for CRC screening.  CRC starts as an adenoma, and an important metric for effective CRC screening is the adenoma detection rate (ADR). 
The national benchmark for screening colonoscopy is an ADR of 25%, and the Duke GI faculty collectively have an ADR rate of 38%.  For veterans, the Durham VA faculty have an ADR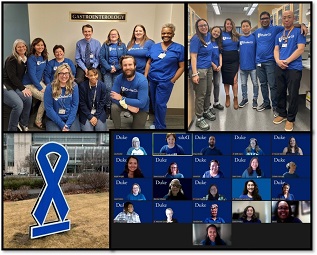 rate of 63% compared to the national average of 47%.  For our patients who start with a stool-based test, one major challenge was that a positive test would result in the procedure changing from screening to diagnostic with a resulting increase in co-pay. 
Several Duke GI faculty were involved in a successful campaign by our national societies to waive these copays.  Our faculty are also involved in research to improve CRC screening.  Dr. Brian Sullivan's research seeks to develop novel clinical and/or genomic strategies to more accurately identify individuals at high-risk for CRC, and then improve targeting of colonoscopy resources for more effective CRC prevention.  Dr. David Leiman and Dr. Jeremy Glissen Brown are engaged in research to develop artificial intelligence technologies to improve CRC screening.  We must continue efforts to improve CRC screening!  Please see our photos from national Dress in Blue Day 2023 on March 3, 2023 to raise CRC awareness. 
While we have your attention, other things we would like you to know about Duke GI:
Duke GI has 66 regular rank faculty including 59 MD/MDPhD's and 7 PhD's.  Our faculty include  44% women and 17% URiM.  Our diverse faculty has translated into success in fellowship recruitment with an incoming class that includes 3 URiM males.  The Duke GI Diversity Committee and the Duke GI Women's Committee remain very active to support our faculty and fellows.

Our practice continues to grow.  We now have 22 amazing advance practice providers (APPs) throughout the practice.  We staff services at all three Duke hospitals.  We have ambulatory endoscopy units at Brier Creek, Duke Triangle Endoscopy Center and Duke GI of Raleigh.  A new ambulatory endoscopy unit is under construction to double the size of the Duke GI of Raleigh unit.  A new clinic and endoscopy unit is also planned for the Cary site at Green Level Road.

Dr. Katie Garman is the co-director of the Cancer Risk, Detection, and Interception (CRDI) Research Program at the Duke Cancer Institute. This multidisciplinary program seeks to identify people most at risk for cancer.  One of her projects aims to decrease the incidence of gastric cancer by improving detection and treatment of Helicobacter pylori, which can set off a cascade leading to stomach cancer.
The Duke Liver Transplant program performed our 2000th transplant on February 15, 2023.  The program performed 123 transplants in 2022 with outcomes in the top 5 in the United States.  Dr. Carl Berg recently passed the torch to Dr. Lindsay King as Medical Director of Liver Transplantation.

Our most recent K awardees are

Dr. Maya Kaelberer, mentored by Dr. Diego Bohorquez.  Her K01 is titled, "Efferent vagal modulation of neuropod cells in the small intestine."
Dr. Ian Williamson, mentored by Dr. John Rawls.  His K99/R00 award is titled, "Enteric Metabolism of Branched-chain Amino Acids in Relation to Other Dietary and Microbiota Nutrients."

Dr. Darin Dufault established the Duke GI Third Space Endoscopy Program.  These procedures involve the intramural or submucosal space, and they offer advantages over major surgeries.  To date, we have performed over 150 ESD (endoscopic submucosal dissection) procedures for large polyps and early cancers, and more than 150 POEM (per oral endoscopic myotomy) procedures, including esophageal POEM for motility disorders, Z-POEM for Zenker's diverticula, and G-POEM for gastroparesis. 
Dr. Cindy Moylan is the Duke PI for the multicenter Southern Liver Health Study (STRIVE) , an NIH sponsored study, which aims to determine whether exposure to environmental contaminants increases the risk of cirrhosis and hepatocellular carcinoma.  The STRIVE study has enrolled 1100 patients including 300 patients from Duke.  The study will ultimately enroll 16,000 participants.  The other centers are N.C. State, Emory and UNC.
Dr. Dan Wild leads the Small Bowel Endoscopy Program.  Duke GI is the southeast's preeminent referral center for small bowel endoscopy with double balloon enteroscopies to evaluate and treat patients with small bowel diseases and bleeding.
Gastronauts ( https://thinkgastronauts.com/ ) is a global community of scientists that are interested in gut-brain matters.  The group was formed by Dr. Diego Bohorquez and is now led by Dr. Maya Kaelberer.  Their first symposium of internationally acclaimed scientists was held at Duke in 2016 followed by Gastronauts Singapore 2018 and the virtual Gastronauts Global in 2021.  They will be hosting Gastronauts Galapagos in June, 2023.
Duke icon Dr. Joanne Wilson will be retiring from her clinical practice in June 2023. Dr. Wilson was the first African American woman to receive tenure in the School of Medicine and the second woman of any race or ethnicity to attain the rank of Professor in the Department of Medicine.  In almost 40 years on faculty, Dr. Wilson has been a master clinician who has trained generations of students, residents and fellows.