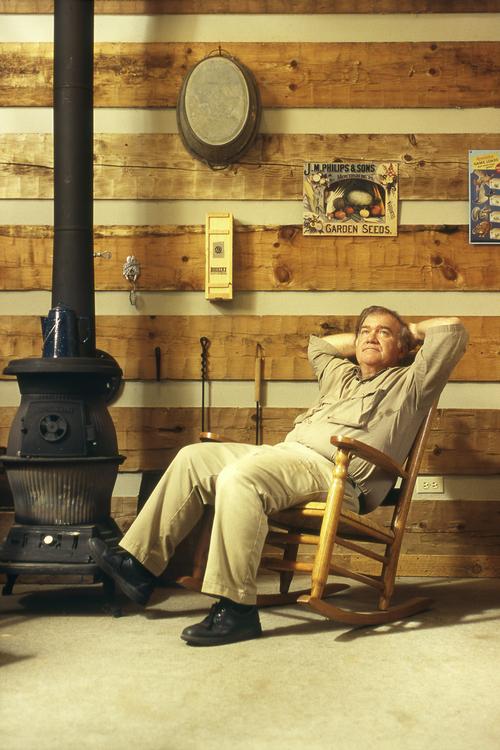 Joseph Greenfield, MD, chair of the Duke Department of Medicine from 1983 to 1995, is known by many at Duke for the clinical innovations he initiated here.
Faculty and former trainees also laud the ways he nurtured camaraderie between residents and faculty.
Though he stepped away from his leadership and clinical duties years ago, Dr. Greenfield remained active at the Durham VA Medical Center until earlier this year.
To celebrate Dr. Greenfield and his contributions to the Department and Duke Health, the Department of Medicine will hold a special Medicine Grand Rounds on Friday, Oct. 20, at 8 a.m. in the Great Hall of the Trent Semans Center for Health Education. Christopher O'Connor, MD, chief executive officer of Inova Heart and Vascular Institute and former chief of the Duke Division of Cardiology, will be the featured speaker.
Register for Medicine Grand Rounds
A passion for teaching
Dr. Greenfield was born in 1931 in Atlanta, Ga. He graduated from Emory University in 1954 with a bachelor's degree in history, completed his medical training at Emory in 1956, and came to Duke University that same year for internal medicine residency. After completing his Duke residency in 1959, he joined  the National Institutes of Health as a clinical associate in biophysics. He joined the Duke faculty in 1962; in 1981, he was named a James B. Duke Distinguished Professor.
"Perhaps his greatest passion was his dedication to training the next generation of leaders in cardiology and medicine with an emphasis on understanding the history of the institution and the history of previous leaders," wrote Dr. O'Connor, in an editor's essay for the American Journal of Cardiology (JACC).
O'Connor arrived at Duke for his internship the same week Greenfield became Chair of the Department of Medicine in July 1983.
O'Connor regarded Greenfield's term as Medicine Chair as "a remarkable time in medical learning, research, education, and training."
Even a blind hog will find an occasional acorn.

Joseph Greenfield, MD
Recounting Greenfield's accomplishments as a contributor of cardiovascular medicine, O'Connor remembers when Greenfield promoted innovative care models and studied reperfusion therapies in acute  coronary syndromes.
Greenfield also created a new, forward-thinking care paradigms to ensure that rural areas had access to emergent  cardiovascular care by sending cardiologists on helicopters to outlying hospitals to administer  thrombolytic therapy.
With the goal of delivering more efficient acute myocardial infarction care, Greenfield reorganized the cardiac catheterization lab to be adjacent to Duke University Hospital's emergency room. According to O'Connor, Greenfield also advocated for  greater use of randomized clinical trials and patient data registries to advance knowledge and improve patient care. Over his career, Greenfield authored more than 150 research articles.
In 1984, Greenfield was awarded the Distinguished Science Award from the American College of Cardiology and Duke's Eugene A. Stead Award for excellence in teaching (and again in 1995). He received the MERIT Award from National Heart, Lung and Blood Institute in 1986.
A commitment to mentoring
Greenfield collected essays from the physicians who served as chief resident and compiled a book, "Duke Chief Medical Residents: An Overview." A common theme among the essays by chiefs who served under Greenfield described him as a cornerstone of the institution's commitment to physician development and faculty support.
"He was the master of making people feel supported," said Robert Califf, MD, in a 2007 oral history interview with Duke Medical Center archivist Jessica Roseberry. With Greenfield's support and guidance, Dr. Califf and David Pryor, MD grew the Duke Cardiovascular Database into the Duke Clinical Research Institute.
Ralph Corey, MD, vice chair for education and global health, agreed.
"Joe Greenfield typically gave his trainees and colleagues independence in maneuvering and managing challenging tasks or projects," said Dr. Corey. "When needed, he was always willing to give his insight whenever they asked for it."
"Even a blind hog will find an occasional acorn," Greenfield often said when he was training residents and mentoring faculty.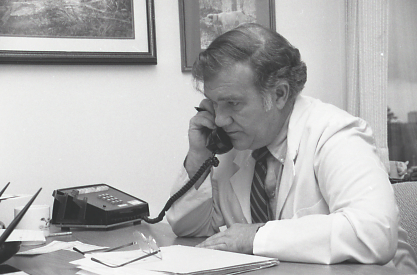 Greenfield was an advocate of one-on-one mentorship, clinical research for the improvement of patient care, and ensuring that faculty and trainees developed into global leaders in medicine. In recognition of his  lifelong support for mentorship, the Joe Greenfield Research Mentorship Award was established to recognize a faculty member who excels  in research mentorship. Mary Klotman, MD, former chair of the Department of Medicine and current dean of the School of Medicine, was the latest recipient of the award.
"Joe led by example," said Corey. "He focused on the faculty and the house staff and their personal and professional problems."
Although Greenfield was always frank and often sarcastic, several colleagues and past trainees described Greenfield as a  compassionate  advocate and key contributor to their career path. During his time as chair of Medicine, Greenfield started the tradition of "Pizza Rounds"—an informal evening gathering of trainees to talk about patients, their families or anything important to them.
Greenfield was dedicated to helping trainee and colleagues.
Corey recalled a time when an intern was considering leaving the residency program.  As Corey told Greenfield about the intern's concerns, Greenfield silently listened. That same day, he cancelled his afternoon meetings. Greenfield and the intern spent the afternoon at Greenfield's cabin feeding his hogs, chickens, and other animals while having a heart-to-heart conversation about the intern's situation.
Corey said Greenfield's supportive approach helped the intern realize that he wanted to stay and complete the program.
"Joe changed that guy's life. He did not want to go home anymore," Corey said. "Joe is kinder than the vast majority but he was tough. He had to be. He was a great leader."
---
In their words
We asked our alumni, and current and former faculty, what they remember most about Dr. Greenfield. Here are a few of their replies:
Jeff Crawford, MD
At the  VA, I took  care of a close friend of Joe's who was  dying of lung cancer. Joe taught me the importance of compassion, friendship and being there for others. At Duke, when he was chair of medicine, he taught me how to be a division chief by fulfilling administrative duties  through a focus on advocacy and mentoring of the great faculty, trainees, APPs, nurses and staff we have at Duke. In essence, he taught me, and many others, how to lead.
Nancy Allen, MD
Dr. Greenfield was immensely supportive of the housestaff program in general and of women faculty, myself included. In his first year as department chair, he made a point of meeting with every faculty member (there were only 125 then), and showed genuine interest in what each of us wanted to do in our careers. He had a way of getting us to do more than we thought we could accomplish. Together, Dr. Greenfield and I crafted the first maternity leave policy for Department of Medicine faculty in 1986 (three years before a university faculty policy). He established the Women's Committee, precursor of the current Program for Women in Medicine, so that he could seek advice on key issues. A man of few words at times, you always knew where he stood—and he stood by his words. You could trust him. And each time I left his office, I knew what he would say, "Now you be sweet."
Charles Harrison, MD
Joe taught me how to hunt quail. He showed me that it was possible to slop hogs on a pig farm in the midst of academia. He instilled confidence in my medical skills, and he demonstrated his trust in me by asking that I be his mother's physician in Atlanta. Being in Joe's presence was a constant learning experience and a treasured privilege. Joe, thanks for the memories!
Roslyn Bernstein Mannon, MD
I was Dr. Greenfield's  first "girl" chief resident. I was a bit skeptical but he was as demanding of me as anyone else. He was incredibly supportive that year, when among other things, our families both suffered significant illnesses and challenges. He did adjust Friday morning breakfast and had Betty provide cream cheese on a bagel (!) from the usual sausage biscuit. On graduation, he gave me his set of dinosaurs his grandma gave him from the Museum of Natural History as a remembrance of the many hours in that office. A couple of years later, when I was starting my research career in the lab next door to the dog lab, he understood that I had no office or privacy and he allowed me to use his personal office. This was right after my first child, Ellie, was born. I don't think anyone else on Duke faculty can say they used a breast pump in Joe's VA office!
Dr. Greenfield served as an example of the successful physician scientist. He maintained an active lab, was a solid clinician in both cardiology and general medicine, and he was an outstanding teacher. Even at a time when the "triple threat" was fading, he made me realize that we all have abilities, some in one of those areas more so than others. But he valued people, regardless of which of those abilities was the stronger. He was direct, straightforward, and caring.
I keep a picture of him above my desk at work. It reminds me of a simpler time when team work, long hours, and the patient care were our priorities. He reminds me that I can do whatever I want to do but that there is a commitment I must make. It also reminds me that one time in my life, someone I didn't really know well believed in me. And that made all the difference.
Dr. Bernstein Mannon was chief medical resident at Duke 1990-1991.
Robert Califf, MD
Joe had a unique style that made it possible for young faculty to be creative and change the system while he ran interference with the bureaucracy. He also was living proof that its not about the money! It was about the ideas and the well being of the patient. You didn't have to guess about what Joe thought about what you were doing. The modern system could use a lot of that!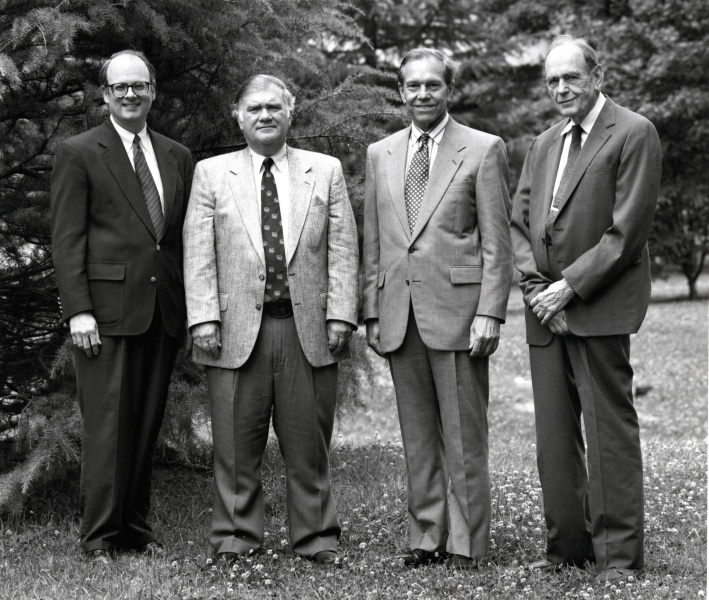 Mark Milunski, MD
There really is not enough space here to list the ways Dr. Greenfield influenced my formation as a physician and cardiologist. I literally feel his impact and presence on my medical practice everyday. He embodies what it means to be "The Doctor." While I have many fond memories of Dr. Greenfield and Duke, my fondest memory was when he showed up about 11:30 one night while I was the Junior Resident in the Duke CCU. He just wanted to know how things were going. We ended up rounding on all 16 patients and finished up around 1 or 2 AM. That was 33 years ago and I remember it like it was yesterday. Having also been taught by Dr. Stead, Dr. Greenfield was the continuation of Stead. Duke has truly been blessed to have them both.
Above, from left to right: Drs. Barton F. Haynes, Joseph C. Greenfield, James B. Wyngaarden, and Eugene Stead were the previous chairs of the Department of Medicine.