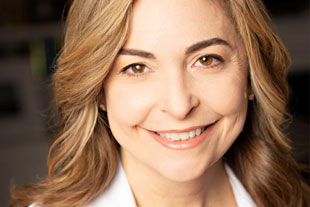 Heather Whitson, MD, MHS, is skilled at building a network. After completing her residency and fellowship at Duke and then becoming a junior faculty member, Whitson is using her connections to advance her research.
This fall, Dr. Whitson, an associate professor of medicine (Geriatrics) and ophthalmology and a senior fellow in the Duke Center for Aging and Human Development, is laying the groundwork for two recently funded research grants that will look at the relationship between age-related changes in the eyes and brain.
Having just completed a K award, the projects are Whitson's first as an independent investigator.
One project, a research grant funded by the National Institute on Aging, will examine cognitive changes and brain connectivity in seniors with and without age-related macular degeneration. For this project, Whitson and colleagues in the Brain Imaging and Analysis Center will be recruiting Duke Eye Center patients with age-related macular degeneration, as well as a matched control group, for cognitive testing and functional and structural brain imaging. Whitson hopes the findings will shed some light on why people with age-related macular degeneration (AMD) have twice the incidence of dementia than others in their age group.
"This is the first, large-scale study of its kind that is looking for functional or structural brain signatures that may help explain cognitive changes in people with AMD. Traditionally, we think of AMD as an eye disease, but it could change the way we care for these patients if we find that AMD is also associated with characteristic changes in the brain," Whitson said.
The second project, a grant funded by the Alzheimer's Association and Duke Institute for Brain Sciences, will determine whether biomarkers from noninvasive retinal images are useful in identifying patients with early Alzheimer's disease. The underlying premise is that neurodegenerative changes, such as neuronal loss and accumulation of extra-cellular material, may affect the CNS tissue of the retina and brain similarly; however, the retina is more amenable to detailed neuro-imaging, particularly using modalities such as optical coherence tomography, Whitson said.
"As a geriatrician, I jumped on this because I see so many older patients who have concerns about very mild changes in cognition. The question is always, 'is this just normal aging or do I have the beginnings of Alzheimer's?' It's frustrating as a clinician because we don't have a very good way to answer that question right now," Whitson said. "It would be such a game-changing discovery for Alzheimer's disease if suddenly, with a very simple look in a patient's eyes during a visit with the eye doctor, you could have a diagnostic test to help tell if this person has early Alzheimer's disease."
Whitson's co-PI for this project is Nora Lad, MD, PhD, assistant professor of ophthalmology. Whitson and Lad are both mentored by Scott Cousins, MD, professor of ophthalmology and immunology, who is a co-investigator on both projects. The study draws on expertise and resources from the aging center, the Eye Center, and the Bryan Alzheimer's Disease Research Center (co-investigators include James Burke, MD, PhD, and Guy Potter, PhD). When Whitson and Lad began putting together the Alzheimer's grant, Whitson said she realized the power of the network she had built earlier in her career and saw that this interdisciplinary team was in a unique position to explore new questions about age-related changes in the eyes and brain. "We already had a working team and infrastructure of people who thought about eye disease and brain disease, and I was the go-between, so we wrote this grant and it was funded," Whitson said.
Establishing a network
Whitson said her participation early in her career in the Faculty Development Academy and other Duke career development programs, along with advice from mentors, gave her a solid foundation for the work she is doing now. Through these programs Whitson said she was able to explore the expertise at Duke, establish relationships with collaborators outside of her division, and, ultimately, get funding for research.
Whitson's involvement in the Academy gave her the opportunity to take writing courses that helped improve her grant proposals, and she met other faculty in the same stage of their career and benefited from their advice and ideas. The Academy also raised her awareness of other courses and opportunities that helped develop her career. Offerings from the Program for Women in Internal Medicine and the School of Medicine's LEADER and Path to Independence programs helped Whitson improve proposals that she was writing and learn the steps she needed to take to advance her career. "Of course, it's hard to find time to go to all of the courses and sessions that are offered, but I have made a point to go to programs that offer services and teaching about advancing a research career," Whitson said. "It's just crazy not to take advantage of that. I feel like that's why I am at a place like Duke."
The power of mentorship
Having good advisors was a key part to Whitson's career development. Her Academy mentors, Kristin Newby, MD, MHS, professor of medicine (Cardiology), and James Tulsky, MD, professor of medicine (General Internal Medicine) and chief of Duke Palliative Care, advised Whitson on how to build a multidisciplinary team, find the content expertise that she needed, and form mutually beneficial collaborations.
Whitson has also benefited from mentors in Geriatrics and Ophthalmology, who have provided advice and guidance through each step of her career. Her primary mentor, Harvey Cohen, MD, Walter Kempner Professor of Medicine and director of the Duke Center for the Study of Aging and Human Development, has been a key advocate, advisor and guiding force as Whitson developed her skills as an investigator and established a research agenda.
"Harvey Cohen has been my mentor for eight years, and it is a relationship where I always feel, when I enter his office and sit down to talk with him, that he has only my best interests in mind," Whitson said. "Everyone needs to have a mentor like that."
Whitson's hard work and dedication to becoming an investigator and faculty member have made her successful, Dr. Cohen said. 
"Heather has been very strategic in developing her career," Cohen said. "She has put the time and effort in early as a fellow and junior faculty member to develop a base for her research and build a capacity to learn the skills to become a clinical investigator."
Cohen said over the years he has seen Whitson take a good idea and make it better.
"When you meet with Heather, she'll have some nascent ideas and you'll make some suggestions and she'll go and think about it and come back with something even better," Cohen said. "It's always incredible to see what she comes up with. She is really insightful and thoughtful about putting her ideas together."
Over the years, Whitson's pool of mentors has grown as she has needed advice in other disciplines. Cousins became Whitson's mentor in ophthalmology, and David Madden, PhD, professor of psychiatry, became her mentor for brain imaging. She also has a mentoring relationship with her division chief, Ken Schmader, MD, who has helped her learn to be a better mentor to the junior faculty member she is now mentoring.
All of these relationships and opportunities guided her research and helped her grow and learn along the way, Whitson said.
"It's been fun, and it's all happened naturally," Whitson said. "Dr. Cohen told me once, 'just follow the science, and it will take you to the right people and the right places.'"
Whitson, who received the 2013 Outstanding Junior Investigator of the Year Award from the American Geriatrics Society earlier this year, said her advice to junior faculty and fellows who are getting started at Duke is to get involved and begin building a network.
"These faculty development programs are not only a great way to get discrete pieces of information, but it's a way to find a network and a community," she said. "If you attend them, you start to get to know people, and chances are the other people in the audience are doing similar work."
Whitson is spending the fall hiring and training the staff she needs in order to begin patient recruitment for her research studies, which she hopes to begin in January.
"I want to extend a thank you for all that the Department has done to make my career development possible," Whitson said. "I think a real strength of Duke is the expertise, and although it does tend to exist in silos, it is relatively easy to make bridges when you have an idea that lends itself to collaboration."
Whitson completed her residency and fellowship at Duke and served as chief resident from 2004-05. She currently serves as the leader of the Internal Medicine Residency Program's Kerby Stead Society.