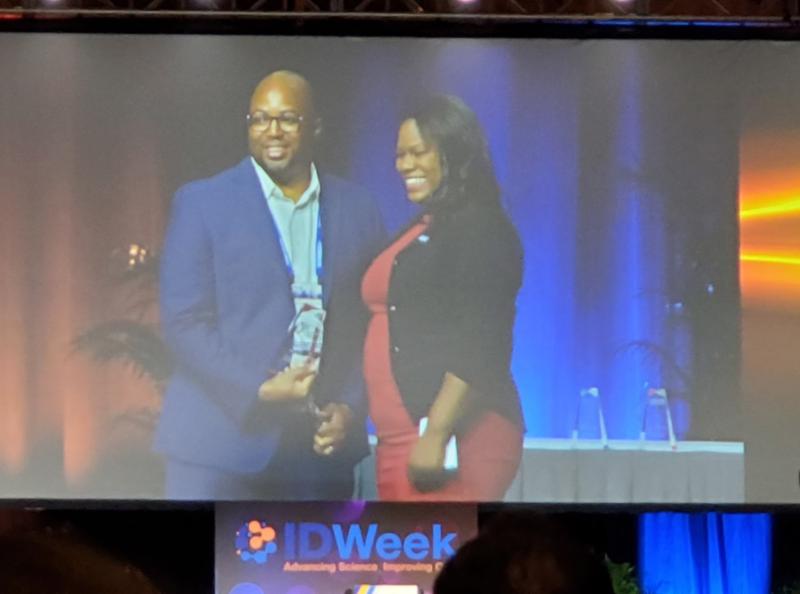 Dr. Lance Okeke, MD, MHS, has been selected by the HIV Medicine Association (HIVMA) as the 2023 HIVMA Innovative Leader Award recipient for his contributions to advancing the field through his productive research portfolio, and innovative and transformative delivery of care to people with HIV.  
Dr. Okeke is an assistant professor of medicine with dual appointments in the division of Infectious Diseases, and the Department of Population Health Sciences. The Innovator Award recognizes HIVMA members in early or mid-career who have made outstanding and original contributions to HIV medicine in clinical care, provider education, research or advocacy.  
Dr. Okeke leads a growing research program focused on optimizing the HIV care continuum, from prevention to comorbidity management using contemporary data and implementation science-informed approaches.  
To date, his work has yielded more than 55 peer-reviewed publications. Dr. Okeke is currently the co-principal investigator on a National Institute of Allergy and Infectious Diseases-funded research initiative that seeks to use electronic health record-based predictive modeling to identify persons who would most benefit from pre-exposure prophylaxis in the Deep South. 
In addition to his research, he also serves as the current vice chief of diversity, equity and inclusion for the Duke division of Infectious Diseases and associate director of the Duke Infectious Diseases Fellowship Training Program. In these roles, Dr. Okeke has developed a number of innovative educational initiatives to promote the delivery of equitable care in the field of infectious diseases.  
One of his projects is the HIV Clinical Practice Fellowship Quality Improvement Initiative, which provides a platform for infectious diseases fellows to use data-driven approaches to identify and address health inequities in HIV care at Duke. 
Dr. Okeke is also the founding director of the Evidence2Practice initiative, an innovative program that promotes careers in HIV science to students at historically Black colleges and universities by highlighting HIV-related implementation research. The program has held interactive three-day workshops at 10 HBCUs across the South to date.  
"These outstanding members and their commitment to providing care and driving research in the field and advocating for policies that improve health equity are a vital part of our efforts to end the HIV epidemic," said Michelle Cespedes, MD, HIVMA chair.  
The HIV Medicine Association consists of more than 5,000 physicians, scientists and other health care professionals dedicated to the field of HIV/AIDS. HIVMA is part of the Infectious Diseases Society of America.  
Dr. Okeke shares some additional information about his work in the following question and answer interview.   
Q: Tell us about your clinical, academic, or research interest and why you are passionate about this topic.  
Dr. Okeke: We have all the tools we need to get to zero new infections, to effectively end the HIV epidemic. The Department of Health and Human Services' Ending the HIV Epidemic initiative is a reflection and validation of this reality.  
As an HIV health services researcher with an interest in optimizing how we get HIV prevention to the most marginalized populations, the opportunity to contributing to getting to zero new HIV infections by the end of my career is too consequential not to be a part of.  
I believe the rapid emergence of the importance of data science and clinical informatics into health care opens up an exciting new dimension in the world of HIV prevention. Our work focuses on bringing data science to the optimization of uptake of contemporary HIV prevention strategies like PrEP (pre-exposure prophylaxis).  
Q: Please tell us more about the focus of your work. 
Dr. Okeke: We have a pretty robust research program that focuses on applying machine learning, predictive analytics and natural language processing to optimize the HIV care continuum from HIV prevention to comorbidity management.  
Our largest current project focuses on the implementation of electronic health-record (EHR) based predictive models to identify persons who would most benefit from HIV PrEP into two large health systems in Southeastern Louisiana. This work is part of a five-year research award funded by the National Institute of Allergy and Infectious Diseases (NIAID).  
Our team is also working on a project that seek to leverage community-facing pharmacies in the South as referring partners to HIV prevention services in the region, essentially decentralizing access to PrEP. The lack of PrEP access points in the South is a major barrier to optimizing PrEP uptake in the region. This work is led by one of our team members, Assistant Professor Dr. Charlie Burns, division of Infectious Diseases, and supported by a two-year Center for AIDS Research (CFAR) Ending the HIV Epidemic administrative supplement.  
We are also using natural language processing (NLP)-based strategies to appropriately identify persons who have fallen out of HIV care. We also hope to use the same techniques to quantify risk of HIV acquisition among women. NLP allows us to leverage the robust resource of unstructured date elements (like clinician notes) to answer health-system and population-level questions that we have not been able to address before. Being able to utilize the vast amount of data in clinician notes to answer questions on diseases of consequence to public health is really compelling, and opens an entire new dimension of investigation in the HIV care continuum optimization space. This work is led by another one of our team members, Dr. Naseem Alavian, senior fellow in the division of Infectious Diseases, in collaboration with our data science partners in the Duke Institute of Health Innovation (DIHI).  
Q: As the 2023 HIVMA Innovative Leader Award recipient, can you elaborate a bit more on the work you've done that you think most contributed to the award?  
Dr. Okeke: I believe our work incorporating EHR-based ML models to health systems in Louisiana was considered most consequential for my selection for the award. However, I think our work in diversifying the HIV and infectious diseases workforce by championing HIV-related implementation science at Historically Black Colleges and Universities (HBCUs) nationally was also considered. Our HBCU-based workshop on careers in HIV science, Evidence2Practice (E2P), has now been conducted at 12 HBCUs in 5 states to date including some of the largest HBCUs in the country.  
This CFAR sponsored project is in partnership with the Office of HIV/AIDS Network Coordination, and I have to say we have learned a lot in the two years since the program's inception. We hope to share some of our lessons learned with the rest of the DOM as we learn together how to better engage HBCUs in our efforts to diversify the Internal Medicine workforce. We are fortunate to have visionary leaders in our Department that are active champions for diversity, equity and inclusion in Medicine. Under the leadership of Dr. Aimee Zaas, director, Internal Medicine Residency Program, we have integrated E2P activities into IM resident training, and look to expand this integration in future years. I'm personally excited about the prospect of putting E2P on a sustainability path through the IM residency program.  
Q: How does your work improve health outcomes in our communities? 
Dr. Okeke: We hope that bringing data science and machine learning to the push to end HIV will ultimately mitigate the HIV epidemic locally and nationally. In alignment with stated Department of Health and Human Services goals, we hope to get to zero new HIV infections nationally by 2050 or soon thereafter. Our hope is that our work will contribute meaningfully to this cause, to the benefit of the communities we serve.