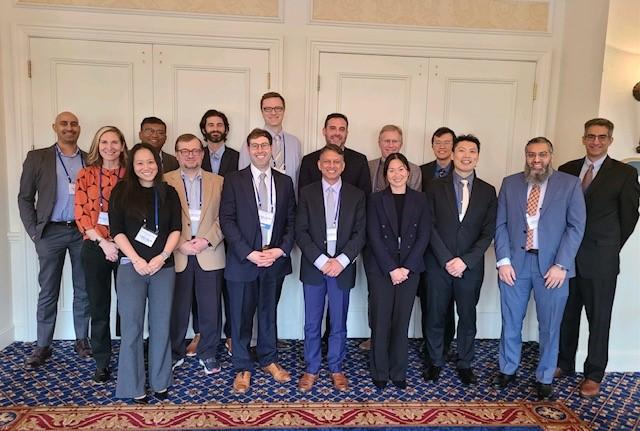 Faculty from the Departments of Medicine and Surgery co-chaired an international Symposium on the Management of Esophageal Dysfunction in Advanced Lung Disease and Pulmonary Transplant February 11 and 12 at Washington Duke Inn.
The conference brought together a multidisciplinary, interprofessional panel of experts from the fields of gastroenterology, thoracic surgery, pulmonology, otolaryngology, and speech pathology with the goal of generating consensus recommendations for the testing and management of esophageal dysfunction for patients awaiting and undergoing lung transplant.
"I was incredibly proud to see our leaders at Duke bring this meeting together," said Andrew Muir, MD, MHS, chief of the division of Gastroenterology. "The meeting builds on the multidisciplinary research at Duke in esophageal motility in lung transplantation, and we have this opportunity to work with other leading centers to advance the field and to improve management of esophageal dysfunction in our patients."
The relationship between gastroesophageal reflux disease (GERD) and pulmonary transplant outcomes has been studied extensively.  Duke University, with its long history as an international leader in lung transplant, has been a pioneer in identifying this association.
Prior studies have demonstrated that untreated GERD negatively influences outcomes among transplant patients and that treatment of GERD can reduce these harms. Nonetheless, there remains substantial variation in the management of these patients, which prompted this conference, note conference chairs, Drs. David Leiman and Jacob Klapper.  
Using established methodology, Leiman, assistant professor in the division of Gastroenterology, and Klapper, associate professor of surgery, developed a series of practice recommendations to provide guidance for all clinicians managing patients before and after lung transplant. The final consensus recommendations, which will be the first for this clinical area, will aim to optimize esophageal testing and treatment patterns to ultimately improve care and outcomes for these patients.
"It was fantastic to work with experts across so many specialties to develop practice recommendations to improve our care of these patients," Leiman said. 'It is clear from the data, and reinforced by our discussions at this conference, that the absence of guidance in the literature has led to extensive variation in care patterns. Our recommendations will provide a framework for how we evaluate and manage patients with esophageal disorders in the context of advanced lung disease and lung transplant. I hope that our symposium will also serve as the basis for future collaborations to improve outcomes for these patients."