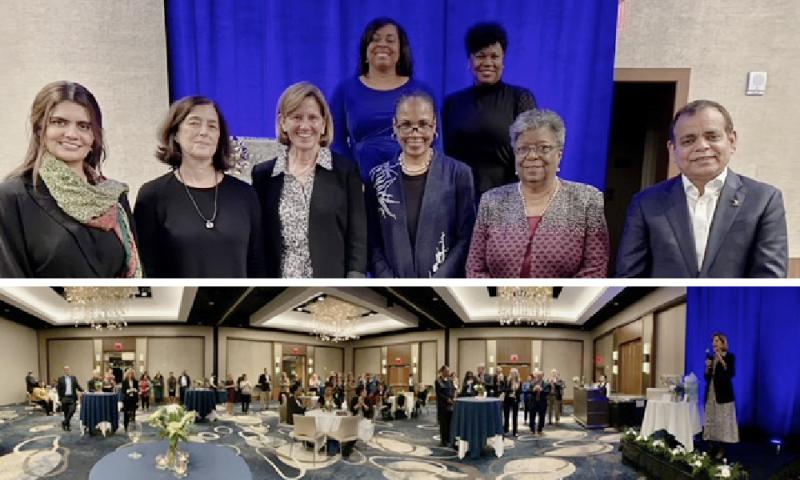 The Duke School of Medicine held a celebration and reception on Thursday, December 8, at the JB Duke Hotel to recognize and honor the contributions of L. Ebony Boulware, MD, who will become Dean of Wake Forest School of Medicine in January.
"I am so humbled, honored, and grateful to have had the opportunity to share a special moment with friends and colleagues at Duke and North Carolina Central University," says Boulware. "It was an incredibly special event for me. I am sad to be leaving this chapter of my journey, but I am excited to extend our great work through new collaborations in my new role."
Dr. Boulware has been the Division Chief of General Internal Medicine at Duke since 2013. She has served as Director of CTSI and Vice Dean for Translational Science since 2016. In her roles at Duke, she has been instrumental in accelerating the translation of research to clinical care, and she is a national leader in addressing the causes and effects of racial and ethnic health and healthcare inequities. 
"Dr. Boulware has made significant contributions to our department during her time at Duke and has generously mentored many faculty members along the way," says Kathleen Cooney, MD, Chair of the Department of Medicine at Duke. "Her passion for addressing health inequities and improving our approach to diversity, equity, and inclusion has profoundly strengthened our department. We wish her continued success as she makes her transition to Wake Forest."
During the event, Dr. Boulware spoke about her time at Duke and thanked her colleagues that she worked with during her near-decade career here. She was presented with a plaque and several gifts to fondly remember her time at Duke. View a photo gallery from the event here.