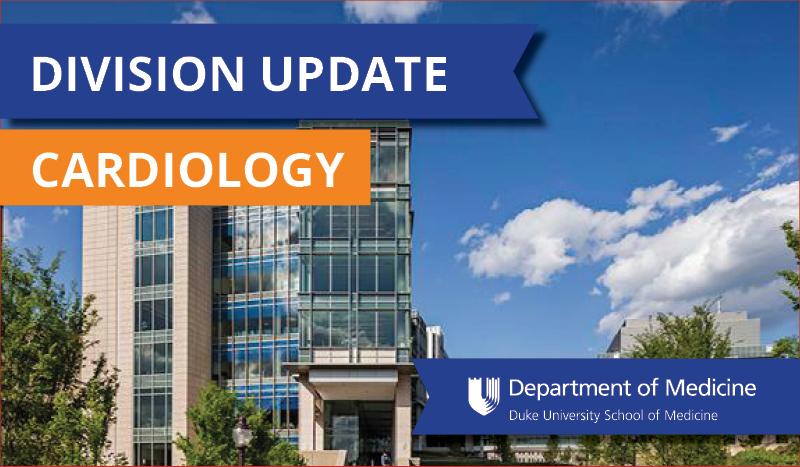 Written by Manesh R. Patel, MD, Chief, Division of Cardiology
Each February we join the American Heart Association (AHA) and other national organizations to celebrate Heart Month. We do this to raise awareness around cardiovascular disease and to celebrate all that is being done to improve our local, regional, and national care of people with heart disease. From the first Friday of the month – always National Wear Red Day – to mid-month, when we take the week of Feb. 14 to recognize not only our organ donors on "donor day" but also our cardiovascular professionals and cardiac rehabilitation specialists – the entire month is dedicated to raising awareness of risk factors and warning signs, generally, but also the particular risks of women, specifically. Despite many scientific advances, CV disease is still the leading cause of death and disability worldwide. Heart disease manifests differently in women than in men and unfortunately is still underrecognized. That's why this month is so important to our team.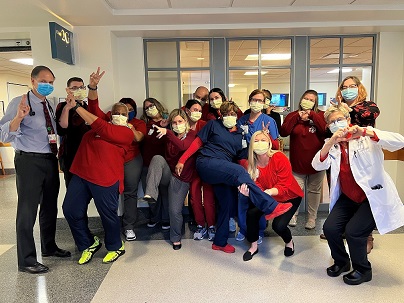 It's a month where we collectively work to educate and inform our community. Here is a great photo from our teams celebrating National Wear Red Day on the wards and on Zoom.
Thinking about Heart Month this year – I wanted to share some concepts around where I believe the world of cardiovascular care and research are going, and some of the amazing people and work taking place to make that future a reality. We can think of it as both 'last-mile work' (implementing the things we know work for cardiovascular disease) while working to discover the 'first-mile work' -- a future of precision and innovation that will provide each person with specific things they can do to live a longer, healthier life free of cardiovascular disease. We are seeing a revolution in cardiovascular care that will eventually allow the precision that fields like cancer, infectious diseases, and rheumatology already have for their patients.
Last Mile: Translating Evidence to Practice
This year we have seen more attention around the effects of cardiovascular disease given the cardiac arrest of Damar Hamlin. He is now working with the AHA to raise awareness for CPR training through his #3forHeart challenge.
Annually, 350,000 Americans suffer from cardiac arrest. We are blessed to have faculty and staff leading the country in the science and practice of cardiac emergency care, including resuscitation. Drs. Al Sun, James Daubert, Svati Shah and many others in our electrophysiology (EP) and genetics group work often on our 'first mile' of care -- the prevention of sudden cardiac arrest through our EP clinics. We have teams that are evaluating genetic conditions and patients most at risk for cardiac events.
Regarding treatment, as previously noted in TWIM, Dr. Monique Starks, with Drs. Chris Granger and Dan Mark, are working on an NIH grant (RACE CARS) that looks to improve statewide CPR and rapid defibrillation including through innovations like drone delivery of AEDs. We have a history of transformative work in this space. For example, the RACE-AMI pilot study we conducted around getting people to hospitals that can provide coronary intervention (PCI) and care as soon as possible. Work led by Drs. Granger and James Jollis and many interventionalists helped build that network in NC, which was then adopted across the country by the American Heart Association as 'Mission: Lifeline'.
We have a recent example where our teams put our clinical knowledge to practice. During the Jan. 31 Duke Men's Basketball game, members of the Duke Life Flight team were honored for their extraordinary care of a man who collapsed during the November 30 home game against Ohio State. That man, who happened to be the father of an Ohio State player, had suffered a massive heart attack. Thanks to the swift actions of the Duke Life Flight event medicine team, in conjunction with Duke Athletics staff, the patient was rushed to Duke Hospital and underwent a life-saving procedure with our Duke Heart team and was admitted to the Cardiac ICU. Thanks to everyone's quick response, he survived. He shared a special message for the medical teams that helped save him, which was recently played at Cameron Indoor.
Our teams in Duke Cardiology and the Duke Heart Center are partnering to deliver this type of care to a range of complex patients every day. Patient such as those with adult congenital disease who are seen by Dr. Rich Krasuski, or with advanced heart failure who receive care provided by our transplant and LVAD teams (led by Drs. Adam Devore, Chet Patel, Stu Russel, Jason Katz, and many others) – teams that are comprised of world-class surgeons, ICU staff, and outpatient clinical providers. This year our heart transplant and VAD volume was the highest in the U.S. – a testament to the incredible efforts made by these teams on behalf of our patients and to advance the field.  For these patients and others – those with valvular heart disease, arrythmias, and of course coronary and vascular disease – our challenge in the upcoming years will be caring for them as close to home as possible – something that we are excited about innovating and leading across an integrated health system. 
First Mile Care: How we move toward discovery and prevention
Perhaps the greatest changes in cardiovascular care can be seen as we move toward personalized care – efforts that are aimed at individual patients via preventive and/or rejuvenating therapy. In our Cardiovascular Research Center (CVRC), investigators from our labs led by Drs. Chris Holley and Neil Freedman have identified novel pathways that may be used to prevent atherosclerosis. Dr. Ravi Karra's lab is working on both cellular regeneration and helping to build our cardiomyopathy clinic with Dr. Michel Khouri so that patients with conditions like amyloidosis may get novel therapies.  
Our prevention clinics with Drs. Neha Pagidipatti, Nishant Shah, and Rob McGarrah care for patients but also look to better understand the role of novel lipid therapies, metabolic risks, and, most importantly, precision around therapies that change outcomes for some of our most vulnerable patients.
From my perspective, two examples exist around the promise and possible pitfalls for cardiovascular care. The first is the introduction of inclisiran into our clinical care. Inclisiran is a novel single interfering RNA molecule (SiRNA) that inhibits PCSK-9 receptor production in the liver and has been shown to reduce LDL levels by 50%. The therapy has to be given twice a year by infusion/injection in clinic. Imagine twice-a-year injections for reduction in lipids without any concern for adherence. It would be like giving a "flu shot" for heart disease. The catch… we have to get the therapy paid for, get patients to trust an "RNA" injection for CV disease prevention, and finally, determine how to align an infusion center for cardiovascular disease into Duke Health system. This is already happening in our prevention clinic and we are working on how to get all of our patients to goal. Each of these will be fully evaluated at Duke where we have the ability to help with the discovery and also test these therapies. 
The second big opportunity is the possibility of gene therapy for cardiovascular disease. To date, we manage cardiovascular disease by trying to treat the manifestations, but what if we knew which genetic underpinning could be targeted with therapies to prevent disease? The longstanding work by Drs. Svati Shah, Bill Kraus and others with CATHGEN and upcoming work with nference may allow Duke to quickly become the leader in understanding the genes and deep phenotypes of patients with CV disease.
Some existing possible therapeutic targets are already coming to our clinical and research arena, most notably a gene therapy for cardiac amyloidosis and possibly gene therapy for LDL lowering. Imagine identifying families with cardiomyopathy and providing them with a once in a lifetime infusion to remove the chance of future cardiomyopathy. The same challenges exist as above… how do we prove it works, how do we get patients to trust us in order to test these therapies, and finally, how do we get the therapies paid for? Paying for care is often out of reach for those who most need the therapy. Perhaps our greatest challenge with these and existing therapies will be to continue to remove the inequities in cardiovascular care for the patients in our community and throughout the U.S. 

Each February, as we celebrate Heart Month, we're reminded of the tremendous work we still must do to improve cardiovascular health. Yet there are amazing opportunities to move our field from one that is reactionary -- treating at the time of symptoms or an emergency -- to a field of precision and prevention to truly help our patients. This will require implementing what we know works, while working on innovation and discovery to move our field forward. Despite the challenges mentioned, our people, fellows, faculty, and most importantly our patients, inspire and provide confidence that this journey we're on together is a successful one.