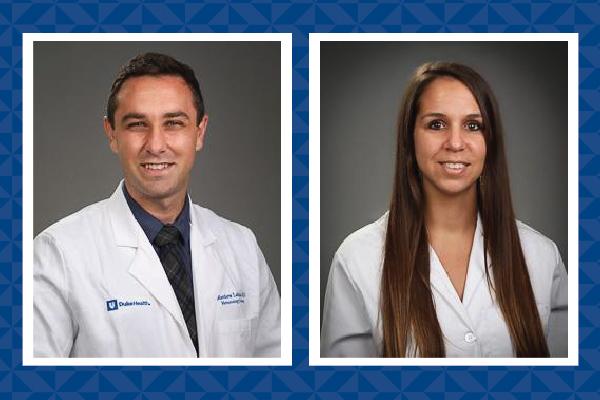 The Internal Medicine Residency Program is happy to announce that Matthew Labriola, MD, assistant professor in the division of Medical Oncology, has been named Lead Associate Program Director for Resident Recruitment and Stephanie Garbarino, MD, a hepatology fellow who will join the faculty as assistant professor in the division of Gastroenterology in July, has been named Associate Program Director for Resident Recruitment effective July 1, 2023.
"Together they will help define the recruiting mission, lead the holistic review of applicants and champion the recruitment process in order to bring talented new interns into the residency training program," said Aimee Zaas, MD, MHS, residency program director.
Both Drs. Labriola and Garbarino served as chief residents for the residency program and are focusing their careers on medical education. They also will serve as an integral part of the residency program's leadership team, assisting with resident advising, and collaborating with the residency program leadership to enhance the clinical and educational environment of the program.
"We are excited to bring these two energetic and talented individuals into our leadership team. The job of resident recruitment is a massive undertaking that sets the tone for the entire program. In a pool of highly accomplished individuals who interviewed for these positions, both stood out for their vision and commitment to continuous improvement in our recruitment process. Each will bring complementary skills and we look forward to their long-term engagement in the residency program," said Dr. Zaas.
Drs. Garbarino and Labriola will continue the outstanding tradition of residency recruitment developed by their predecessors David Butterly, MD, and Andrew Muir, MD, MHS.
"David set the standard for what residency recruitment should be.  He makes each applicant feel welcome and known, speaks with personal conviction about the Duke mission and works incredibly hard behind the scenes to ensure every detail is in place throughout the months-long application review, interview and post-interview process. With his impressive tenure, he is responsible for bringing over 800 trainees to Duke!" Zaas said.
A debt of gratitude is due to Andrew Muir for his earlier leadership of the program, Zaas notes. Muir contributed a great deal to its success through his dedication to Duke and as an effective communicator who always kept the best interests of the program participants in mind, said Diana McNeill, MD, who served as program director from 2001 to 2012.
"The APD for recruitment has a huge impact on the success of the entire Department of Medicine since so many of our residents eventually join our faculty," said Lisa Criscione-Schreiber, MD, MEd. vice chair for education. "The future of our residency will be in capable hands with Drs. Labriola and Garbarino leading recruitment."  
Dr. Labriola is the Medical Education Lead for the Division of Medical Oncology, operating as the course director for Hematology/Oncology electives and the Cancer Care Experience course. He was recently appointed as a Faculty Small Group Leader for the Clinical Skills Foundation course. Labriola is a graduate of Georgetown University School of Medicine, completed his residency and medical oncology fellowship at Duke, and served as Chief Medical Resident at Duke University Hospital.
Dr. Garbarino serves on the Duke Gastroenterology Fellowship Committee and has spearheaded GI curricular development at the Durham VA. She serves on the Committee for Inclusion and Diversity within the American Association for the Study of Liver Diseases. AASLD and participates on the Health Equities and Disparities in Medicine Committee at Duke. Garbarino is a graduate of Tufts University School of Medicine, completed her residency,  gastroenterology and transplant hepatology fellowships at Duke, and served as Chief Medical Resident at the Durham VA Medical Center. 
"I am honored, humbled, and thrilled to join such an incredible leadership team in the Internal Medicine Residency Program and utilize our skills to attract brilliant and caring physicians to Duke who reflect the diversity of our communities," says Labriola. "We share a passion for advising, coaching, and culture building, and we are excited to serve our amazing residents and the Department of Medicine in our new roles."
"I am beyond thrilled to take on the humbling task of resident recruitment for the Duke Internal Medicine Residency Program. Speaking from the heart, I simply loved my residency training experience, and it will be an honor to continue to recruit the best and brightest from around the country to what we believe is the world's best internal medicine residency training program," says Garbarino. "Dr. Butterly has certainly set an incredible standard, and we are honored to follow in his footsteps."
Dr. Zaas thanks the search team, including Kayla Travis, residency recruitment coordinator, Lynsey Easley, lead education administrator, Associate Program Directors Joel Boggan, Nia Mitchell, Jenny Van Kirk, and Daniella Zipkin and Vice Chair for Education Lisa Criscione-Schreiber.