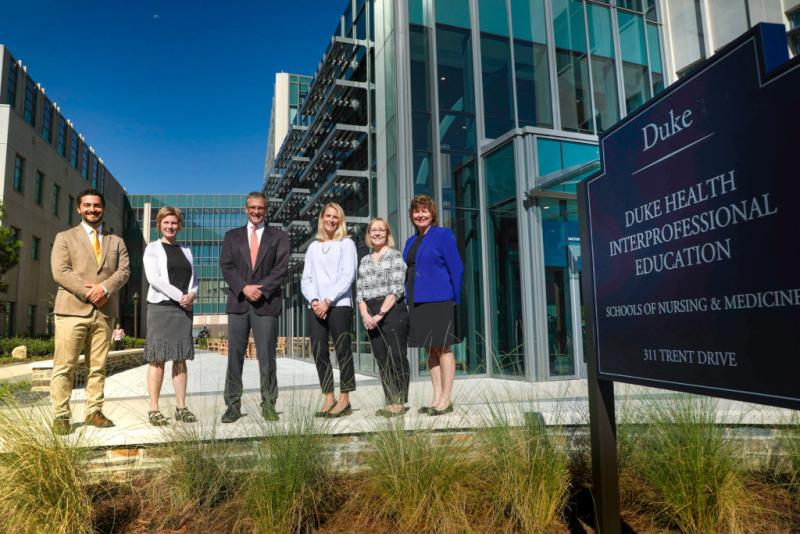 Interprofessional collaboration is critical to the successful practice of medicine, but making that dynamic happen consistently in clinical settings can be challenging. The Duke Health Center for Interprofessional Education and Care (IPEC) has accepted the challenge and is working to create and support interprofessional experiences across the Duke campus, the health system and the community.
IPEC brings the value of these collaborative experiences together within a single program that prepares students to become practice-ready partners capable of providing high quality, team-based care that optimizes health outcomes.
Such collaborations can effectively address many of the pitfalls and problems occurring in health care, notes IPEC Associate Dean and Director, Mitchell T. Heflin, MD, MHS, a professor in the division of Geriatrics. 
"In this day and age, healthcare is by its nature incredibly complex and stressful," Heflin says. "Any one profession is not going to be capable of delivering the kind of care that's needed. This collaborative interprofessional approach brings to bear the expertise of all the professions but in a model where it's a shared responsibility."
Established in 2019 through a collaborative agreement between the Duke schools of Nursing and Medicine, IPEC serves as the organizational home for this initiative, a priority goal of the education pillar of the 2016 Duke Health Strategic Framework to advance interprofessional education, research, and collaborative practice across Duke Health.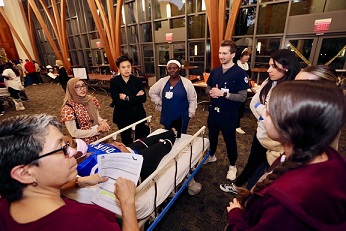 IPEC engages all first-year health profession students at Duke with about 500 students across five professions at any given time and another 500 or so taking part in other IPEC offerings such as virtual case conferences. Learners come from both the School of Medicine and the School of Nursing and include medical, bachelors and advance practice nursing, physician assistant, occupational therapy and physical therapy students and faculty.
A Flagship Clinical Experience
A foundational interprofessional training experience for Duke medical students and trainees takes place at the Interprofessional Educational (IPE) Clinic.  Since 2015, the IPE Clinic has served as a flagship clinical experience and point-of-care service that now partners with IPEC to support interprofessional care for patients.
Located in a dedicated space near the Duke Medical Center Emergency Department (ED), the IPE Clinic provides ready access for many students and non-acute patients already seeking care at Duke while leveraging infrastructure needs like labs and radiology.
"We ask all of our providers to function as and be a part of an interprofessional team so we want to show students early on how to do it. We want students to take care of real patients on real health care teams and that is what this experience is," says Erin Leiman, MD, medical co-director of the IPE Clinic and assistant professor of Emergency Medicine. "We want students to graduate and be 'practice ready' to work on these interprofessional teams and that requires an understanding of what these other professionals do, how we all work together, and how we all complement each other."
The IPE Clinic is a popular experience and an effective one in helping students understand how other professions work in real time. When asked if the IPE clinical experience changed their perception of collaboration with others, 71% percent of participating students indicated that it had.
The clinic brings beginner and more advanced students together with a faculty preceptor to examine a variety of clinical complaints and chronic health issues. Groups of usually four students - typically including a first-year medical student, a more senior medical student, and nursing (both ABSN and NP) or physical therapy students - work four-hours shifts four nights a week.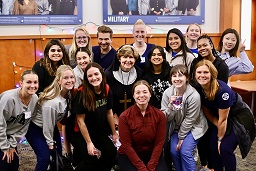 Together, the team addresses each component of the patient's visit: taking the history, performing a collaborative exam and then working together to develop an assessment and plan of care.
 "I am observing how the student is doing the history, the physical and the medical tasks but I'm also observing how they interact with their colleagues," says Kathleen Waite, MD, IPE Clinic co-director and associate professor in the division of General Internal Medicine. Waite was precepting at the IPE Clinic back in 2015 when it was started. "The med student, while dispositioning a patient, may be more focused on picking the right drug and dose where the nursing student is concerned about whether to take medication with food. It's the same thing but a different approach for each. They complement each other."
Learners may repeat their clinical time at different points during their medical education—and many do, like fourth-year medical student Kathryn Benson, who has worked in the IPE Clinic eight times. From a professional development standpoint, she says, it has been very helpful in preparing for her transition to residency.
"Medicine is inherently interprofessional and the IPE clinic presents a great opportunity to intentionally develop our interdisciplinary collaboration skills," she says. "It has also been helpful to gain a deeper understanding of the training and scope of practice of various members of the medical team."
 Third-year medical student Claire Washabaugh is heading back to the IPE Clinic too for another run after participating as first-year student in pediatrics and in emergency medicine.
"The care of a patient is not even possible without each member of the team," she says. "I'm really passionate about communication in medicine. The clinic is the best example to me of where respectful authentic, open communication can really make or break the care of a patient." 
Looking to the Future
While all of the work for the IPEC happens in the classroom, the clinics and in the communities, Heflin notes, the real work is building bridges across professions and disciplines to improve health care for all of the patients that Duke serves.
Moving forward, there are plans to apply the IPE Clinic model more broadly to other clinical sites across the health system with a clinical site development program that also stresses diversity in the types of clinical models that students are exposed to. This includes flexible models of leadership found in community long-term or home care where physical or occupational therapist are in the lead rather than the physician.  
"In the coming year, we'll look to enroll several candidate sites in this program," Heflin says. "Part of what we're interested in learning is how to make this a financially feasible part of what we do. We want to lead the way in that regard."