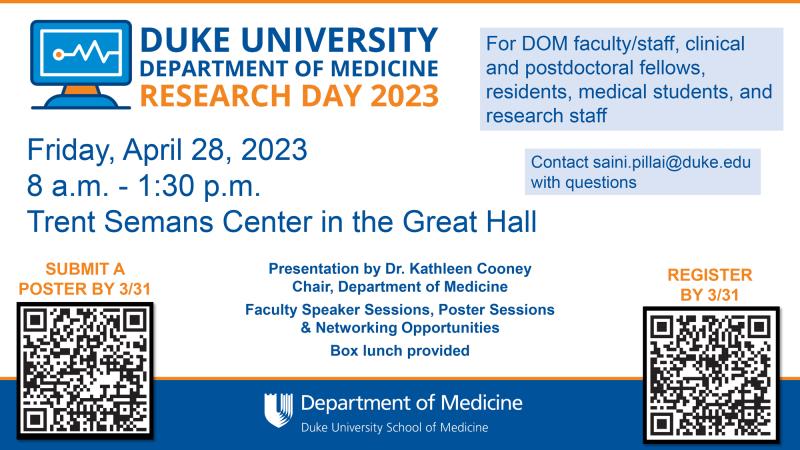 Join us for the inaugural Department of Medicine Research Day on Friday, April 28, 2023, at the Trent Semans Center in the Great Hall from 8 a.m. until 1:30 p.m.
This event is for all departmental faculty, clinical and postdoctoral fellows, residents, medical students, and research staff. Lunch is included. Register by March 31 to save your spot.
Department of Medicine Chair, Kathleen Cooney, MD, will kick things off with Medicine Grand Rounds beginning at 8 a.m. followed by an overview of DOM Research Day by Scott Palmer, MD, MHS, Vice Chair for Research.
"We have wanted to hold Research Day for some time but plans had to be put on hold due to COVID-19," Dr. Cooney said. "This is a chance for our exceptionally talented community of investigators to connect  and celebrate the Department of Medicine's strong tradition of excellence in research."
In her research career, Dr. Cooney has had the opportunity to merge her interests in inherited predisposition to disease with an understanding of the biological mechanisms underlying prostate cancer. She will discuss how the creation of a large biorepository of well-annotated clinical samples from families with multiple cases of prostate cancer led to the discovery of HOXB13 as a prostate cancer susceptibility gene.
"Research Day is an opportunity to come together as a community of investigators in the Department of Medicine," Dr. Palmer said. "Regardless of where you are—DCI, Nephrology, GI or other divisions, centers or institutes—we all share a common identity around medicine-related research. This is a chance to affirm that common identity and be together as a broader group. By doing so, you can see opportunities for collaboration, ideas for your own science, make connections, meet new friends and connect."
The faculty speaker session includes four presenters beginning at 9:30 a.m.:
Sudarshan Rajagopal, MD, PhD, Associate Professor, Cardiology




Dr. Rajagopal will discuss recent research from his lab that demonstrates new modes of signaling by receptors and its potential impact on drug development.

Opeyemi Olabisi, MD, Phd,

Assistant Professor of Medicine, Nephrology


African Americans represent 13% of U.S population but more than 35% of people on dialysis.  Dr. Olabisi will present his research on how two common changes in the APOL1 gene explain much of the excess risk of kidney failure among African Americans.

Nwora Lance Okeke, MD, MPH, Assistant Professor, Infectious Diseases




Dr. Okeke will present an overview of his research program focused on the use of patient-centered interventions and health informatics to optimize HIV care from prevention to comorbidity management. He will also present briefly on his efforts to diversify the HIV research workforce by engaging students at Historically Black Colleges and Universities (HBCUs).

Stefanie Sarantopoulos, MD, PhD, Professor, Hematologic Malignancies and Cellular Therapy




Dr. Sarantopoulos will talk about  her research with B cells aimed at improving the safety and efficacy of cell therapy for patients with cancer. Using information about the loss of B cell tolerance in chronic graft versus host disease after allogeneic hematopoietic stem cell transplant, she is working to identify anti-tumor binding antibodies.
A lunch and networking break at 11:30 a.m. will be followed by an interactive poster discussion session from noon until 1:30 p.m. Boxed lunches will be provided for all attendees.
While the focus of the poster session is to promote original research by our Department's junior faculty and fellows, any departmental faculty, postdoctoral fellow, or research staff are welcome to submit a poster for the session. If you plan to submit a poster, please complete a brief "intent to submit" registration form no later than Friday, March 31, 2023 by 5 p.m.
Event registration: https://duke.qualtrics.com/jfe/form/SV_0Go7ON7eqK4WhMy
Download a copy of the 2023 agenda
For questions regarding Research Day contact Saini Pillai, MBA