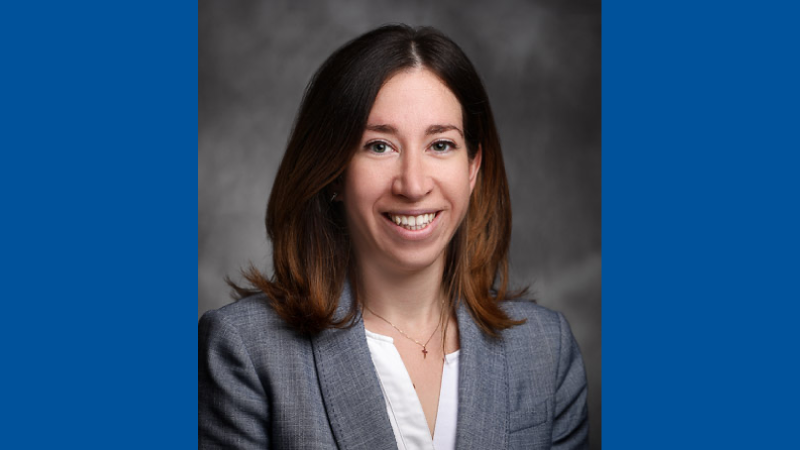 Georgia Sofia Karachaliou, MD, MSc, a postdoctoral associate in the division of Gastroenterology, ‬has received the Early Career Investigator Award in Clinical/Translational Science in the 2023 American Association for the Study of Liver Diseases (AASLD) Foundation Abstract Awards.  
Dr. Karachaliou's winning abstract is entitled, "An Age-Statin Interplay in Preventing the Development of Cirrhosis in a 10-Year Cohort of Patients with Nonalcoholic Fatty Liver Disease (NAFLD)."  
The AASLD Foundation Abstract Awards recognize excellence in liver research and promote the professional development of junior investigators. Dr. Karachaliou is one of 83 rising leaders in liver research who received an Abstract Award in 2023. 
Dr. Karachaliou is a graduate of the National and Kapodistrian University of Athens, School of Medicine, in Greece, and has a master of science degree in molecular and applied physiology from the same institution. After practicing as a physician with predominantly clinical responsibilities, she relocated to the United States to further broaden her expertise. 
In the early stages of her career, she was engaged in oncology research, and in the past two years, she has been working with the NAFLD clinical/translational research group at Duke University Medical Center. Her primary focus is on investigating gender/sex disparities in liver diseases and liver cancers. 
Dr. Karachaliou adopted an interdisciplinary approach to uncover gender/sex-specific intricacies to enhance diagnosis, prevention, and treatment strategies. Her ultimate aim is to complete clinical training in the U.S. and establish herself as an independent physician-scientist. Specializing in liver diseases, neoplasms, and transplantation, she aspires to pioneer gender/sex-specific therapeutic approaches that can significantly enhance patient care and clinical outcomes. 
Dr. Karachaliou explains more about her innovative work in the following interview.  
Q: Please tell us about the focus of your work.  
Dr. Karachaliou: This research is part of a multidisciplinary project funded by the Department of Defense, comprising three distinct projects, each led by three Principal Investigators: Drs. Manal Abdelmalek, Anna Mae Diehl, and Ayako Suzuki. The primary focus of these projects is to investigate biological disparities in the progression of Nonalcoholic Steatohepatitis (NASH) and the response to statins. 
Our research spans various aspects, ranging from hepatic gene expression analysis to comprehensive clinical and epidemiological studies. I have been actively involved in the epidemiological component led by Dr. Suzuki, who is an established hepatologist and physician-scientist, expert among others on sex disparities in liver disease and nonalcoholic fatty liver disease.  Statin medications, a commonly prescribed class of drugs designed to lower blood cholesterol levels, have shown promising results in protecting the liver against damage and fibrosis in the context of chronic liver diseases. 
Our specific area of interest revolves around determining whether both men and women suffering from fatty liver disease experience similar benefits from statin therapy, particularly in terms of preventing advanced scarring and the development of liver cancer. To address this critical question, we conducted an extensive epidemiological study involving 335,991 veterans, utilizing data from the VA Health System over a period spanning a decade. Our analysis encompassed a wide array of variables, including statin usage (dosage and duration), concomitant medications, body weight, and comorbidities. The majority of the patients in the study were male (91%), of Caucasian descent (78%), with an average age of 62 years, and overweight. 
Approximately 65% of these individuals were taking statins at the beginning of the study. Our findings revealed that patients with fatty liver disease who were prescribed statins experienced a notable 30% reduction in the risk of developing severe liver fibrosis and cirrhosis. 
Intriguingly, older patients derived a more pronounced benefit from statin therapy compared to their younger counterparts. However, our analysis did not identify any significant gender-based differences in the effectiveness of statin treatment. 
Q: How does your work improve health outcomes in our communities? 
Dr.  Karachaliou: NAFLD is a global health crisis with approximately a quarter of the worldwide adult population being affected and unfortunately, no FDA-approved therapies are currently available. The project's primary objective is to enhance personalized liver cancer chemoprevention for individuals diagnosed with NAFLD and NASH. Our ongoing research has yielded compelling evidence suggesting that statin medications may offer enhanced protection against hepatic cirrhosis progression in older patients with fatty liver conditions compared to younger populations.  
This discovery holds the potential to deepen our understanding of statins' mechanisms and subsequently advance the prospects for personalized cirrhosis prevention. Additionally, we are actively engaged in an investigation aimed at discerning the impact of statins on impeding the advancement of liver cancer in these patients. 
Q: How does the award support your work and career going forward and what is innovative about this work?     
Dr. Karachaliou: My overarching aspiration is to become a clinician-scientist in my field of expertise. This award is a pivotal step in advancing my career, as it offers essential support for my work and the opportunity to showcase our preliminary data at the largest liver-focused conference in the United States.  
Through active participation and networking at pertinent conferences, I aim to cultivate a collaborative research team comprising individuals with diverse expertise. This collaboration will allow us to deepen our understanding of biological variations related to age, gender, and reproductive lifecycle and ultimately pave the way for precision medicine within the liver field. Our objective is to integrate not only genetic factors but also considerations of age and gender into future practice guidelines.