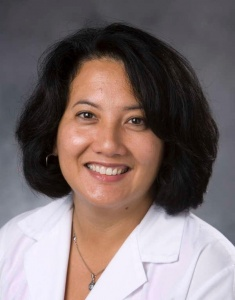 The Department of Medicine is pleased to announce that Loretta Que, MD, professor of medicine and Interim Chief, Division of Pulmonary, Allergy, and Critical Care Medicine, is the 2022 recipient of the annual Neil L. Spector Art of Medicine Award, which recognizes exemplary mentorship practices in clinical and translational research.
This award is presented annually to a faculty member in the Department of Medicine who demonstrates respect for trainees and junior faculty members and who holistically approaches mentorship to guide trainees to attain their diverse research goals. 
Dr. Que was nominated by a group of both faculty and trainee mentees who recognized her commitment to mentorship and expressed her "impact goes way beyond formal mentoring."  They went on to express that "there is not a single Duke faculty member or trainee within the Pulmonary, Allergy, and Critical Care Division who has not been touched by Loretta. She is the absolute heart and soul of the Duke Pulmonary Division." She is described as a "selfless mentor and advocate with a gift for helping fellows and junior faculty explore and define their career goals, reach for opportunities and achieve their own definitions of success all while embodying the spirit of Neil Spector."
The award was established after the passing of Dr. Neil Spector in 2020 to recognize exemplary mentorship practices in clinical and translational research. Recipients of the award demonstrate qualities well represented by Dr. Spector in his interactions with his patients, colleagues, and trainees:  integrity, compassion, altruism, respect, and empathy.
Dr. Que will highlight her mentorship best practices and her team members will highlight new research initiatives in the Medical Intensive Care Unit, issues around mentorship, or translational programs during a special Medicine Grand Rounds on Fri., May 27, at 12 p.m.