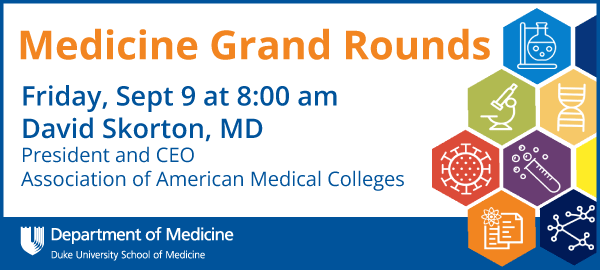 The tradition of Medicine Grand Rounds (MGR) began in the late 1800's with the goal of bringing the educational mission to the bedside. These were lively rounds on the wards that showcased clinician and patient interactions, bringing the art and science of medicine to life. However, over the years, participation in Medicine Grand Rounds has waned at many institutions, likely due in part to the use of PowerPoint which has facilitated the more traditional lecture-style format.
In 2019, I charged a committee of faculty and trainees, led by Dave D'Alessio, to review our MGR series and to make recommendations for improvement. The committee made a number of important suggestions to enhance the role of MGR as the central and essential departmental venue for presentation of impactful science and medicine. Some of the changes initiated include:
Creation of a Medicine Grand Rounds committee, currently led by Andy Alspaugh, to review the content of our lecture series, propose speakers and help maintain the overall high quality of the presentations.

The opportunity for attendees to provide feedback about the presentations.

The continued ability to receive CME credit.

Introduction of a new process to allow attendees to receive ABIM MOC credit.
In 2020, Medicine Grand Rounds moved to a virtual format due to the COVID-19 pandemic. However, since 2021, we have been slowly moving back to in-person conferences, with strong participation from our residents. The in-person format has allowed for deeper and more meaningful engagement and connection with the topic and each other.
Starting this week, I would like to invite all faculty and trainees to join me in person for our Medicine Grand Rounds. I'm really looking forward to using this venue as a way for us to connect, collaborate and learn from one another.
Our speaker this upcoming Friday, Sept 9, will be David Skorton, MD, President and CEO of the Association of American Medical Colleges (AAMC). Dr. Skorton trained in medicine and cardiology at UCLA and his clinical and research career has focused on congenital heart disease. He has led many prestigious institutions, including Cornell University, the University of Iowa, and the Smithsonian Institute, before taking the helm at the AAMC.
His talk is entitled, "Advancing DEI in Academic Medicine: Its Critical Importance and the Role We Must All Play." This will be an incredibly important lecture for our department; we have already made significant strides in our goal to be a more equitable, diverse and inclusive department, but we continue to have work to do. I look forward to learning from Dr. Skorton, and I invite you to join me at 7:45 a.m. in the lobby in front the Duke North 2002 lecture hall.