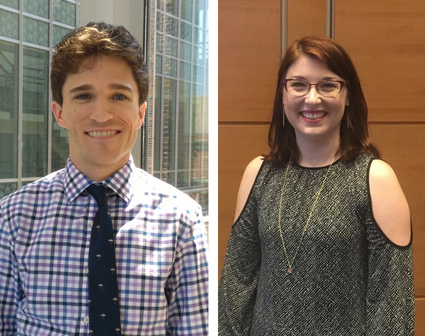 The first two fellows in the inaugural year of the Duke Post-doctoral Training Program in Genomic Medicine Research have successfully completed their first year. Supported by NIH, the Center for Applied Genomics and Precision Medicine (CAGPM) administers the two-year training program for M.D.s and Ph.D.s, which is comprised of courses, laboratory rotations and informal learning opportunities individualized to each trainee. CAGPM's first two trainees are Carolyn Baloh, M.D., and Cory Stingl, M.D.
Dr. Baloh is researching common variable immune deficiency (CVID), an immune system disorder in which a person has low levels of several antibodies that help fight infections. Patients with CVID are at an increased risk of infection, autoimmune disease and cancer. Currently, Baloh is working to identify the genetic defects leading to the disease through whole exome sequencing and biological validation with a humanized mouse model.
"I'm very grateful to be part of the Applied Genomics and Precision Medicine group and have a multidisciplinary team to train under," Baloh said. "My training mentors and committee members include people in immunology, oncology, and genomics. Each adds to the completeness and well-rounded nature of my training."
Dr. Stingl is researching a rare autoimmune condition called juvenile dermatomyositis, a disease in which the immune system attacks the skin and muscle in children. About 25 percent of children with this disease fail initial treatment after their diagnosis and others only have a partial response. Because the disease stays active in the body, these patients end up having more health issues. "Genomics has the most opportunity for helping clinicians in pediatric rheumatology better understand the biology that most influences the questions we are often asked by patients in clinic that have uncertain answers," Stingl said. He is focusing on using gene expression signatures and machine learning modeling to identify newly diagnosed children who will not respond to traditional first-line therapy and may need early escalation to other available treatments.
"The post-doctoral training program provides access to the best people at Duke doing this kind of work in a mentored environment with two great leaders in the field of genomics, Dr. Ginsburg and Dr. Haga, overseeing the experience," Stingl said. "I am also fortunate to have additional mentors like Dr. Ann Reed, the Chair of Pediatrics who helped me create a project that directly lets me do research in the patients I care for in the clinic."